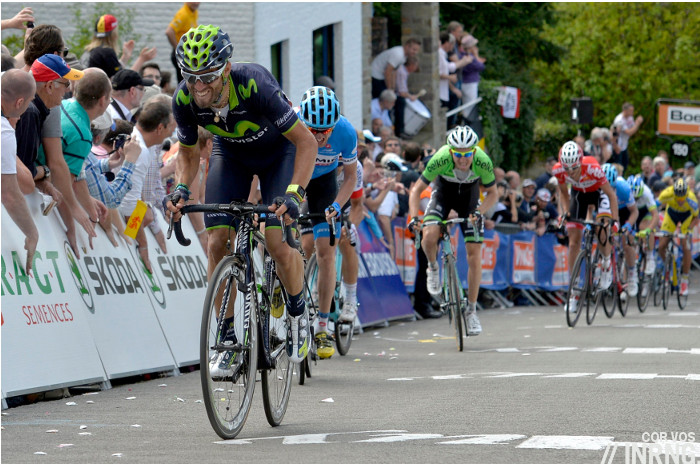 For 364 days of the year the Chemin des Chapelles climbs up the side of Mont Mosan but on Wednesday the road its renamed the Mur de Huy, the "wall of Huy". The climb is so steep it deserves mural adjective and few races see riders cross the finish line in such obvious agony. But can the race deliver more than a three minute climax?
This year's route includes a new climb right before the end to split up the field and the presence of several star names indicates that this mid-week race matters because because the finish is identical to Stage 3 of the Tour de France.
The Route: it's all about that finish but there's plenty of climbing before. The course resembles a clockwise spiral, starting in Waremme and looping around to Huy. The Mur de Huy is scaled three times. The Côte de Bohissau – better known to locals as La Flîme – is the longest climb, 2.4km at 5.5% with a steep middle section.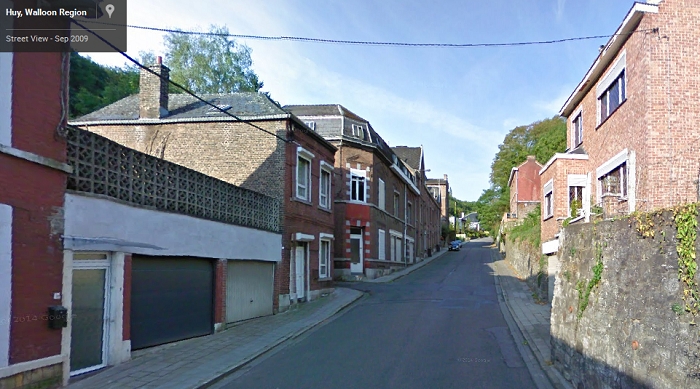 New for 2015 is the the Côte de Cherave, just 5.5km from the finish. It's 1.3km at 8% average but mostly over 10%. It's steep, the kind where you see the gradient illustrated by the way each house is higher than the next. It marks a big change from the traditional "valley" approach to the Mur de Huy when the race would run parallel to the sleepy Meuse river for several kilometres, a flat section that allowed teams to operate like sprint trains and place their leaders. Now they'll face a disruptive climb – there are cobbles and a level crossing at the start, what could go wrong? – and then the descent before only a brief passage alongside the Meuse before the Mur de Huy. It's exciting but a word of caution, it's wide and straight, hardly a launchpad and anyone attacking over this climb could hope to take 10-20 seconds but sustaining an advantage up the Mur de Huy is almost impossible. Cherave looks like a defensive feature where it's all about placing and a rider too far back is out of the race.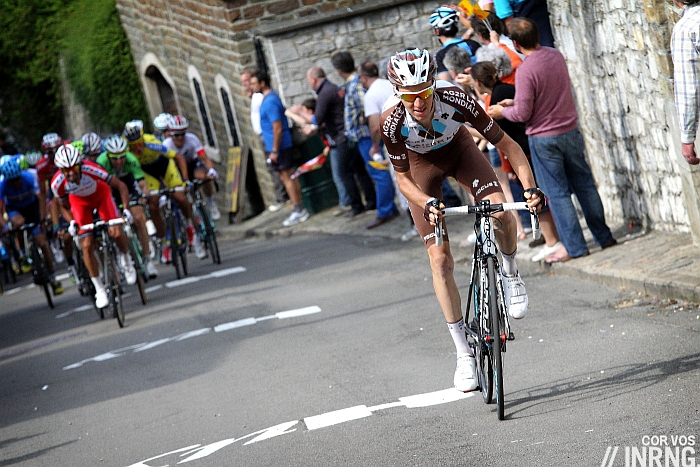 The Finish: 1.3km at 9.6% doesn't sound like much. But beware the average as this climb starts off slow when riders pass under the flamme rouge and then rises up. Take the inside line on one of the corners and the slope reaches 26% and if you have the luxury of choosing your line then it is only 19%… but longer. The road is very narrow so few get to pick their line.
Riders use gears like 39×25 or even 27 for the climb. Once you reach the last 300m the gradient eases up and some have been known to deploy the big ring. The effort is supreme and requires maximal effort but also supreme restraint. Ideally you want to be the first to surge clear but to leave the effort as late as possible. Contradictory? Yes, everyone will be at their absolute max going to the finish line and even the slightest acceleration requires a big increase in force. Launch too early and you will blow. But if you cannot follow the leaders as soon as the steep part starts then you're out.
This makes the final two minutes extremely complicated as riders try to balance lactic acid and oxygen debt with tactical finesse whilst surveying their rivals. If you watch on TV I don't think there's another race where the riders all have such a pained look on their faces.
The Contenders
Alejandro Valverde (Movistar) is the prime pick. Last year's winner is in sizzling form again and knows exactly what to do in the finish. The hillier run to the line will suit him even more. But there's no such thing as an automatic win, timing the sprint to the line is vital but it's easy to be blocked by others on the climb.
Michał Kwiatkowski (Etixx-Quickstep) is the next pick. Third last year he's back in 2015 and stronger than ever. This counts double because experience matters so much for this climb, it's all about timing. His win in the Amstel wasn't a stealthy sprint from the peloton, he was among the best up the Cauberg too.
Dan Martin has finished 6th, 4th and 2nd here and his progress suggests a win is invitable. He's not shown much form but last year he crashed out of the Amstel and didn't have any notable results either but went second. He's particularly suited to the finish, he can surge up a steep slope better than almost anyone. Some logical types will take 6-4-2 and suggest zero as the next number so let's hope he's not DNF. Team mate Tom Jelte Slagter is in good form too, there few team tactics to deploy, just doubled chances for Cannondale-Garmin.
Has Philippe Gilbert still got it? He got beaten last Sunday but it turns out his time up the Cauberg was as good as ever, he only "lost" the race because he got up the Cauberg to find Michael Matthews on his wheel; had the Australian not been able to follow things could have been different. But never mind the Cauberg counter-factuals here is a climb with the finish at the top. Expect BMC Racing to be active again.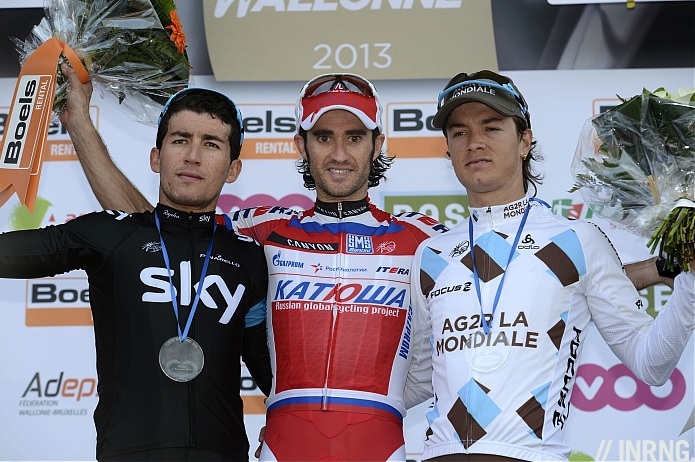 Sergio Henao is Team Sky's best bet, he was aggressive in the Tour of the Basque Country and has finished on the podium here before. Chris Froome has ridden the last few events and never got on well and his participation is uncertain, he might ride for recon purposes. Lars Petter Nordhaug and Wout Poels bring more options but might need to try a breakaway to succeed.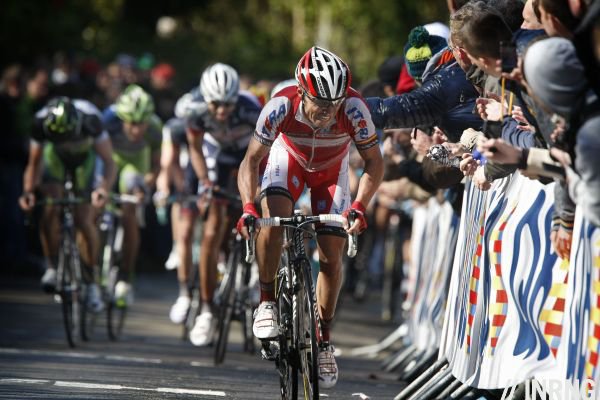 Joaquim Rodriguez got the experience thanks to a win in 2012 and two second place finishes but he seems to have lost a little of his zip with age. Once again he might have won the Vuelta al Pais Vasco but this wasn't by out-climbing everyone with his searing accelerations it was in the longer time trial stage. Better suited to Liège-Bastogne-Liège he's still a very dangerous rider here. Katusha team mate Dani Moreno has won here too and could strike again.
Vincenzo Nibali might fancy another burst as he builds towards his goal of winning Liège-Bastogne-Liège although the UCI's Licence Commission could be his biggest threat with Astana's hearing set for Thursday. Nairo Quintana will be fun to see but he's not such a zippy rider, his big gear style is better suited to long efforts uphill.
Lotto-Soudal have a very good squad with several promising riders. Jelle Vanendert has placed here before but doesn't seem to be so strong right now, Tim Wellens is probably their best bet ahead of Tony Gallopin while Thomas de Gendt is the breakaway specialist and neo-pro Louis Vervaeke is worth watching.
Julian Arredondo rode this race for the first time in 2014 and finished 11th and now he can put his experience into a two pronged attack for Trek Factory Racing with Bauke Mollema, fourth last year. Rui Costa is great on longer climbs, another tip for Liège ahead of this one. Pierre Rolland is a dark horse pick, the Europcar rider has just won the Vuelta a Castille y Léon and is peaking for the Ardennes classics, I can't see him outsprintin anyone up the final climb but he could try a longer range raid. Finally one outside pick is Simon Yates of Orica-Greenedge, he had an excellent time in the Basque Country, especially on the ludicrous slopes to Aia. His team will need to have spent the previous few days showing him clips of how to win this race, to surge but not too soon.
| | |
| --- | --- |
| | Alejandro Valverde |
| | Michał Kwiatkowski |
| | Dan Martin, Sergio Henao, Philippe Gilbert |
| | Joaquim Rodriguez, Bauke Mollema |
| | Slagter, Arredondo, Yates, Wellens, Rui Costa, Nibali, Gasparotto |
Weather: a typical Ardennes spring day, 16°C and sunny with a light breeze from the north, one forecast says 15km/h and another promises 25km/h. Neither are enough to shred the field as it races through woodland but if the wind does get up there are a few exposed sections to exploit.
TV: live coverage starts at 2.15pm Euro time with the finish forecast for 4.35pm. It's an ASO race so notionally available on the same channel you watch the Tour de France. If not there's Eurosport… if not you'll find streams via cyclingfans.com and steephill.tv.
Criquielion: as the race crosses part of Belgium's French-speaking Walloon region it's worth remembering Claude Criquielion who died in February. "Crique" was one of Wallonia's best ever riders. Twice winner of this race he also took the 1987 Tour of Flanders and the 1984 World Championships. Triumphant yet tragic he was also famous for losing races, for example the 1987 Liège-Bastogne-Liège when he and Stephen Roche were riding to the finish and toyed around for so long that Moreno Argentin flew past to poach the race from them. A similar story for the 1988 World Championships where, again on home soil, he lost out, this time after tangling with Canada's Steve Bauer in the sprint.
Women's Race: Huy is not the most scenic place but it's worth visiting for the race because the Mur allows you to see the men's race several times but also the women's race. We saw Pauline Ferrand-Prévot break through last year and she's a strong pick having won a French mountain bike race by over four minutes. Second in 2014 Lizzie Armitstead has just had a stomach bug but is otherwise enjoying a strong start to the season. Elisa Longo-Borghini is another pick and it promises a tactical battle between Wiggle-Honda, Boels-Dolmans and Rabo-Liv. You can see a dedicated preview at Velofocus.com.
Flèche: it's French for arrow, a poetic way to imagine the race crossing the Walloon landscape.