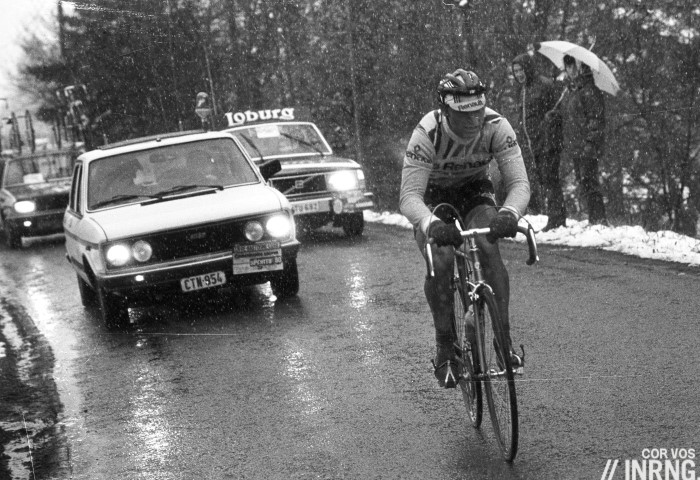 Mondory Update – UCI tribunal – Verbruggen on Mars – Disc brakes – Nibali to Giro? – Lost
The 1980 edition of Liège-Bastogne-Liège is infamous for the snow. Reports say half the field abandoned within the first hour, some so desperate they entered roadside houses for shelter. Bernard Hinault ploughed on to win, cementing his reputation as a hard man and ensuring the day entered the sport's mythology. But there's the untold tale of Rayban sunglasses…
Far from lording it while feebler minds and bodies were being frozen out of the race, Hinault was having a horrid time. He too close to quitting, says cycling historian Philippe Cluzel of the Radiovélo show. Team mate Maurice Le Guilloux was dispatched to fetch his leader from the back of the race. Le Guilloux too was suffering and it was so cold that his eyes were freezing. So directeur sportif Cyrille Guimard took off his Raybans and passed them up to Le Guilloux to keep the snow out, "be careful, they costs 1,000 francs" barked Guimard. The sunglasses proved to be priceless as Le Guilloux's eyesight was restored and he was able to pace Hinault back to the action. In time Hinault got to work, catching the breakaway, dropping them and finishing over nine minutes clear of second placed Hennie Kuiper and only 21 riders finished. The tale of Hinault's win is often celebrated but the role of Le Guilloux, Guimard and the one thousand franc sunglasses seems new, if it hadn't been for the glasses maybe Hinault too would have packed. It's also an early tale – perhaps the earliest? – of sunglasses being used for protection in a race.
Talking of frosty receptions, an update on Lloyd Mondory. Once famous in France as the king of seventh place, the kind of rider who got UCI points under the radar to save his team from World Tour ejector seat, the Ag2r La Mondiale got the front page treatment after he tested positive for EPO in February. The news broke in Paris-Nice, felling his team and this week L'Equipe published an interview with Ag2r team boss Vincent Lavenu saying he was so distraught he had be talked out of quitting Paris-Nice and ending his involvement with the team. As for Mondory he's told his team there's been a mistake and he'll fight the case but he's not said anything in public. His Twitter account has gone dormant. Weeks later there's no still news on the B-sample but we've seen other cases involving potential "micro-dosing" take time to happen, the testing procedures are delicate.
The UCI has promised to set up its own anti-doping tribunal. The idea is to hear cases faster and to remove the "home advantage" enjoyed in some instances although if this exists then surely there's the risk of an "away disadvantage"? This had gone quiet but reports by The Associated Press say the tribunal is taking shape and could hear its first cases very soon. "We're anticipating the first cases to go to it in the next few weeks" says UCI President Brian Cookson. It's almost as if he's got some riders in his sights for the bio passport.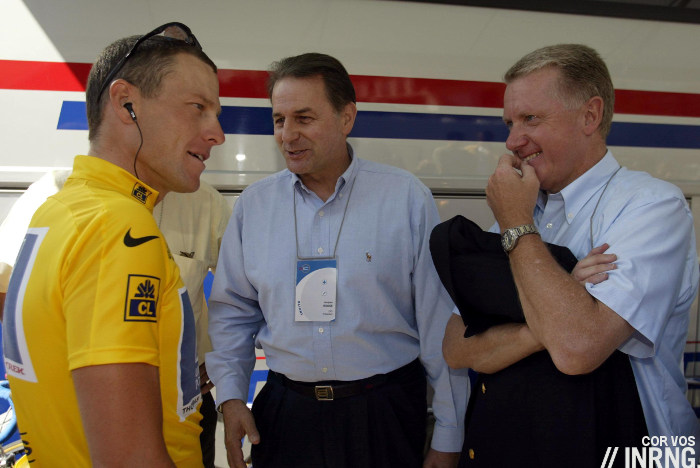 Staying with the UCI and Hein Verbruggen has been writing another infamous letter, a full copy in English you can read at demorgen.be if you want to take a moment to see what planet Verbruggen lives on. This time he's feeling the heat from Brian Cookson who is trying to force him out of his role as the UCI's Honorary President. But he's staying put and trying to rally support from the UCI's Management Committee. Angry, personal and contradictory letters seem to be his modus operandi, see his Olympic rant against WADA for a precedent. He might have a point about some aspects of the UCI's governance but the head-scratching moments don't help him put across his case. Verbruggen started his career working for Mars, now he appears to live there.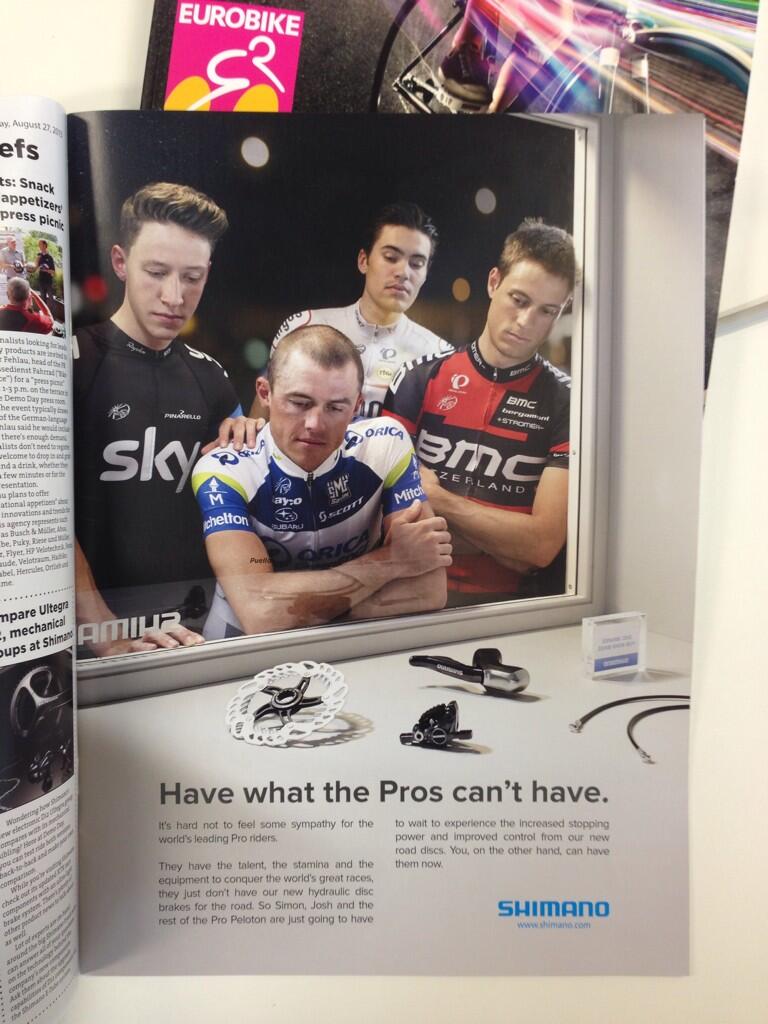 Disc brakes I: The UCI is allowing trials of disc brakes and this has got obvious attention. But it's part of a trend. One change at the UCI following the ejection of Hein Verbruggen and Pat McQuaid has been a rapprochement with the bike industry. Witness the Hour Record where the UCI relaxing the rules to allow track-going time trial bikes rather than the retro "Merckx" restraints. We can expect the 6.8kg rule to be reviewed too. Where will it end? Well in recent years some manufacturers have abandoned the UCI's rules, making triathlon frames that offer aerodynamics beyond the UCI's strictures and this could be reviewed too.
Disc brakes II: a recurrent talking point over the introduction of disc brakes has been the concern about neutral service. With FSA moving into the groupset market it means Shimano, SRAM, Campagnolo and FSA could introduce four different standards. There is talk of Shimano making an adjustable feature to cope with different rotors but the concern is a rider with a problem in a race won't be able to get easy service. However this is already a big problem today given the proliferation of different gearing systems and pedal mechanisms. Certainly discs would just add more complication but concerns about a rider with a mechanical needing neutral service are tiny compared to the giant (income) gains ahead of the manufacturers.
Lost: GPS devices are permitted and this week's story of French rider Dylan Durand getting lost during the U23 Liège-Bastogne-Liège and reaching the finish at 9pm has been amusing, the tragedy for Durand was that he was only a few kilometres away from the finish for several hours. It happens a lot, the TV cameras show what's happening up front, not behind. Pro rider Rafaâ Chtioui got lost in the recent Vuelta Castille y Léon. It only a takes a puncture and a rider to be stranded, maybe they're forced to stand on the left of the road and they're missed by the team car, the race convoy drives past and that's it. Meanwhile helpful locals or souvenir hunters take down a race directional sign, the stranded rider takes a wrong turn and that's it. Maybe they ask for directions in the next village but what if they don't remember the name of the finish town?
La Gazzetta Dello Sport says Vincenzo Nibali could ride the Giro. Fabio Aru has "gastro intestinal problems" and he's pulled out of the Giro del Trentino and is uncertain for the Tour de Romandie says the pink paper. By extrapolation he might not ride the Giro. Italian website Tuttobici adds that Aru has spent more time in the bathroom than possible, lost five kilos and still can't sustain a ride for an hour… but in contrast to La Gazzetta, Aru is quoted as saying he'll ride the Giro. Nibali could ride, he's been on the same training camp as Aru and Astana team manager Guiseppe Martinelli tells La Gazzetta "I am convinced this is the right year to attempt the Giro-Tour double". It's one thing for Aru's participation to be in doubt, another to totally change Nibali's schedule. As if the team hasn't got enough to panic about.
If Nibali doesn't know which race he'll be doing, at least you can know what's on and when so here's a reminder or perhaps a note to the many new readers that you can download a full calendar of all the major pro races for your smartphone or electronic diary: from inrng.com/calendar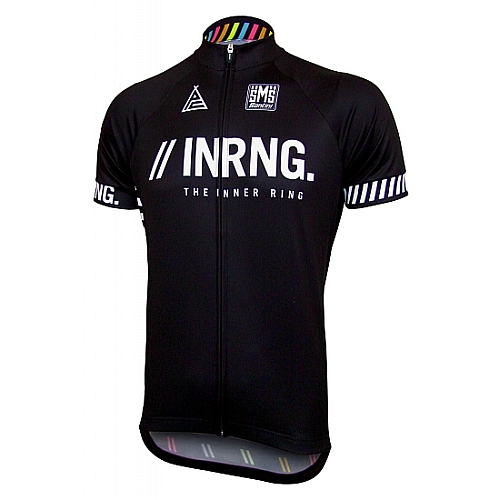 Finally thanks to everyone who has bought a Supporter's Jersey in the past few days. Impressively many sizes (XS, S, M and L) have gone faster than a beer on the Amstel Gold Race podium. Apologies for the frustration if you'd still like one and your size is no longer available. A fresh order has been placed to replenish the stocks.