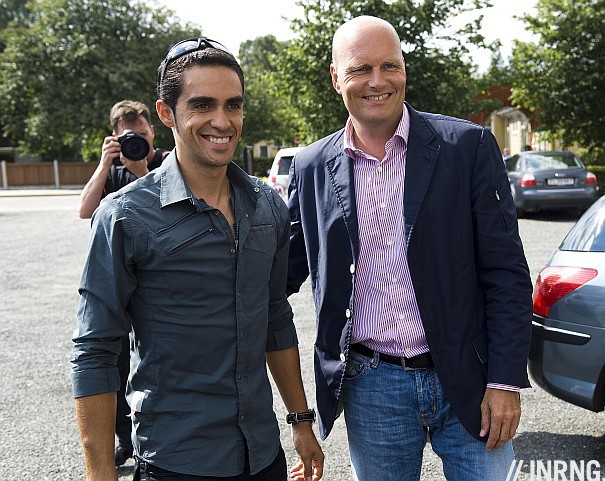 It's official, Alberto Contador has signed a three and half year contract to ride for Saxo Bank. He will rejoin the Danish team in August and ride for them until the end of 2015.
Contador is like a corner piece in a jigsaw puzzle. Once he is in place with Saxo Bank other riders in the market can now be placed with different teams.
With Vincenzo Nibali leaving Liquigas for Astana we will see who else is on the move. There are likely to be some changes to the rosters of other big teams, notably Omega Pharma – Quickstep, Team Sky and BMC Racing. The latter is going to find its Swiss roster pillaged by the creation of the new Swiss team IAM for 2013. It is peak time for rider agents who are out in force at races to negotiate with team managers and riders alike.
We'll see what Saxo Bank does. Hiring Contador is one thing but as we've seen the team is light without him. Contador himself was grumbling about a lack of support. So he'll likely want some extra help for the mountains and perhaps for the flat, even for the team time trials which can be advantageous in a grand tour. The team itself needs more points to stay in the UCI World Tour and this can only come by hiring new riders as for now a UCI rule prohibits Contador from winning points but….
As I've argued on here before Saxo Bank don't need a ProTeam licence because Contador will ensure invitations to many races. The problems of not being in the elite are secondary. The sponsor does not know which races they will get exposure in. It matters for the team's development of riders as riders will want or even need to ride a grand tour every year. Since only a few will make the selection for the Tour, the Giro and Vuelta offer experience and mileage for others.
The UCI rule to block riders returning from a doping ban from winning points smacks of extra punishment above and beyond the WADA Code. The full explanation was first set out on this blog and now it seems Riis is ready to take on the UCI with an appeal to the Court of Arbitration for Sport.
Note the two bullet points offer plenty to undermine the UCI. First you don't need a pricey UCI licence and second you can dismantle a UCI rule. Bjarne Riis isn't going to be popular in Aigle.
Are Saxo sponsoring until 2015?
The contract until 2015 appears to imply a sponsorship commitment but it is possible there are legal issues here. Simply put Contador could have a contract with Riis Cycling, the corporate entity behind the team which is contingent on continued support from sponsors. If the funding for the team dries up, Contador is free to move. But Contador is one of the few riders able to attract sponsors given his ability to win the Tour de France.
In addition Contador is linked to Anfi, a Spanish holiday resort firm which could well join up with the team.
What about the merger with Liquigas?
There have been reports that the Saxo Bank team could merge with the Liquigas team. We'll see, it is possible but it would be carnage with two large squads being merged into one. Teams are capped at 30 riders so the combination of two teams would mean losing many riders. Some would go if their contracts are up, some would have to be paid and released. It would be expensive and destablising. Plus each team is run by an identifable leader in Bjarne Riis and Roberto Amadio, both appear to want to stay in the sport. Stranger things have happened but the costs surely outweigh the benefits?
Specialized
The Californian bike company has a contract with Contador and so the Saxo Bank bank team are likely to ride Specialized bikes, indeed a share of the cash behind Contador will support the team too.
Sky Ride
Reports in L'Equipe say Specialized is going to sponsor Team Sky for 2012 too. We'll see. Pinarello had a firm deal with the British team but when this runs out at the end of the year the choice is open. It's possible Specialized does link up but I don't think anything has been signed.
It's worth stating these choices are usually financial, when you see an advert saying a team or rider has "chosen" a particular bike, shoe or saddle it is because money has changed hands, not after the rider has conducted an extensive search to find the ideal product.
Talking of equipment manufacturers, I gather Giant is looking to back another team, either to replace or complement the sponsorship of Rabobank.