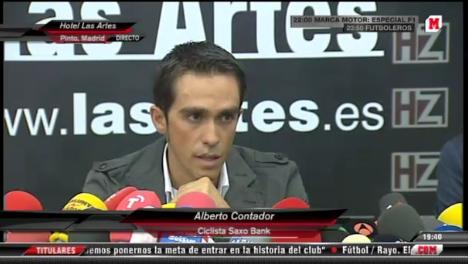 If Alberto Contador has problems today he's going to find it hard to look forward to the future. In a press conference on Tuesday, Saxo Bank team owner Bjarne Riis said he would "support" Contador… but added the Spaniard's contract was now void. Reading between the lines, Contador won't get paid during his ban but Riis hopes to employ him again the moment the ban ends.
His employment woes aren't just about getting a monthly salary or finding a team. Upon his return he will find a new UCI rule blocks him from earning crucial ranking points for his squad. This matters because his points haul made the difference between Saxo Bank being in the Pro Tour for 2012 and being in the lesser Pro Conti level.
But this new UCI ruling could well fall foul of WADA and the CAS.
We'll see what the "unemployed" Contador does. It could be that Contador follows the Valverde example of being dropped from the team… but remaining close to the squad, riding in neutral colours on a team issue Specialized and even visiting team training camps. Alternatively we'll see if other teams make an approach, he's certainly facing big legal bills and a pile of petrodollars could ease the worries.
But regardless of his next team, Saxo Bank or a new one, hiring Contador won't come cheap. His record in grand tours is the best amongst contemporaries and who would bet against him winning the Vuelta this year? He's still a prime asset, for now. But as you know riders don't just bring publicity for their team, they earning ranking points. Without Contador, Saxo Bank might not have qualified for the UCI Pro Tour as his haul of points was by far the biggest of Saxo's riders. In short, Saxo is amongst the top-18 teams thanks to Contador.
Zero comma zero zero zero
These ranking points are crucial but there is a new rule from the UCI for riders returning from a ban. Here is the proposal submitted last spring to the UCI:
a proposal aiming to prevent any rider returning to competition after a suspension of at least two years for violation of the Anti-Doping Regulation to contribute to the establishment of his team's sporting value during the registration procedure.  If the UCI Management Committee approves, this measure, which means that during a period of two years these riders' points would not be taken into account, will take effect from this year
This was ratified by the UCI Management Committee last September during its meeting on the margins of the world championships in Copenhagen, cyclingnews.com explains more.
Secret points
Note the points system at stake here is not the public rider and team rankings listed on the UCI website. In it's curious wisdom the UCI assesses teams on a "secret" internal ranking when analysing the sporting value of the team. Cyclingnews.com explained this last spring but since then the criteria have been changed significantly. I don't know why this is kept hidden but this is what we're talking about.
Call the CAS?
Only this could be against World Anti-Doping Agency (WADA) rules. You might be aware of the dispute between the WADA and the British Olympic Association (BOA). The BOA has a rule saying anyone banned for doping forfeits the right to represent Great Britain in the Olympic Games. But WADA say the ban for a doping offence is two years and that the BOA, in adding an effective life ban, goes beyond this and "extra punishment" doesn't comply with the internationally-agreed code. Consequently WADA has declared Britain a "non-compliant nation" and is expected to get the BOA rule overturned in the CAS soon. If WADA wins and "extra punishment" is outlawed by the CAS then the UCI's points penalty is likely to go the same way. And I'm not alone in thinking this is possible, here is Jonathan Vaughters on twitter. Note that like me he is just thinking aloud:

I'm sympathetic to the idea that there are long term consequences of a ban, whether it means forfeiting the Olympics or cycling ranking points. But at the same time it creates an punishment above and beyond the agreed ban and WADA is keen to establish consistent sanctions. The UCI rule implies once the ban ends that some riders have different rights than others.
Summary
Many could support the UCI's sanction, it's a way to put riders on probation during a comeback and helps place a premium on those who have kept clean. But this places a significant penalty on the athlete who returns from a ban, they are deemed acceptable to race but carry a further penalty for a full two years. The rule stands for now but being allowed to race yet unable to carry points for your team is a sanction that could be overturned.
The new ideas are well-intentioned… but if this rule can be overturned in court then it's not a firm rule. Riders or teams might fancy testing the principle in court, especially given the importance of points for the maintenance of their status in the Pro Tour.