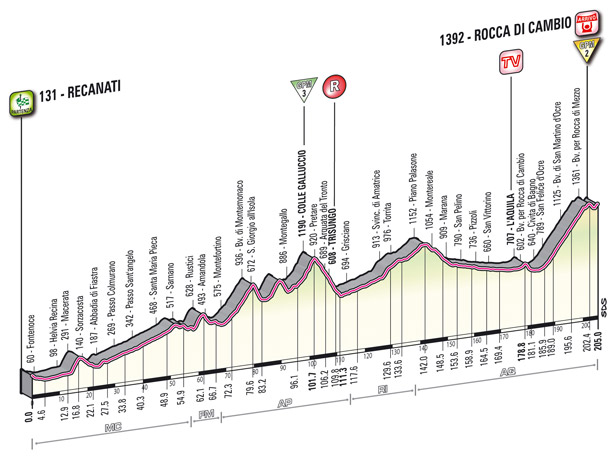 Today's stage finishes in Rocca di Cambio, literally the "Rock of Change" and it's appropriate since this is the first mountain stage of the 2012 Giro d'Italia.
The stage is still classified as "middle mountain" but it's a hard day and the final climb is long and should be selective enough… if the riders want to test themselves. The final climb is mainly 5-6% but has sections at 10% and the final features a short descent then an uphill sprint to the finish line.
Michele Scarponi is a local rider and an obvious pick for the finish. Local identity always matters but the town of L'Aquila is known nationally not for its riders but for a devastating earthquake in 2009. I think there's a good chance Adriano Malori loses his overall lead after yesterday's efforts and today's climbing.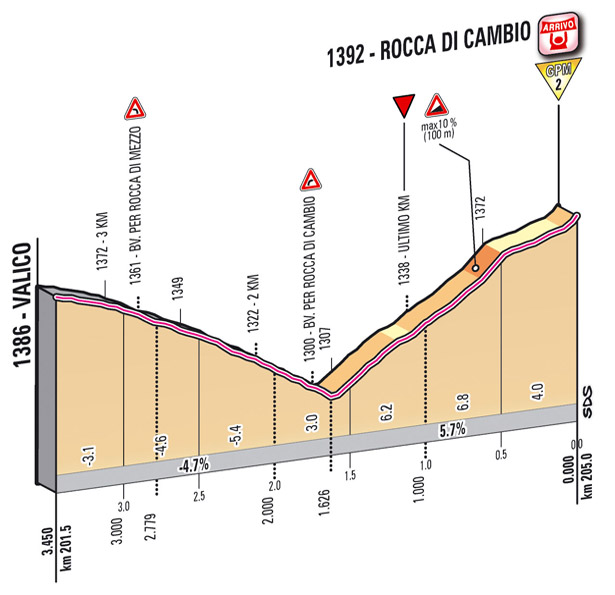 One thing to note is we're now one week into the race. Yesterday was hard and saw the first abandons of the race, now the fatigue will begin to set in. Note the number of climbs along the way, most are not marked as recognised climbs but they will take their toll. Efforts now can cost plenty in the final week so its possible we see the main contenders happy to mark each other, instead letting a break get up the road.
The weather will be warm and sunny, ideal conditions for racing at moderate altitude.