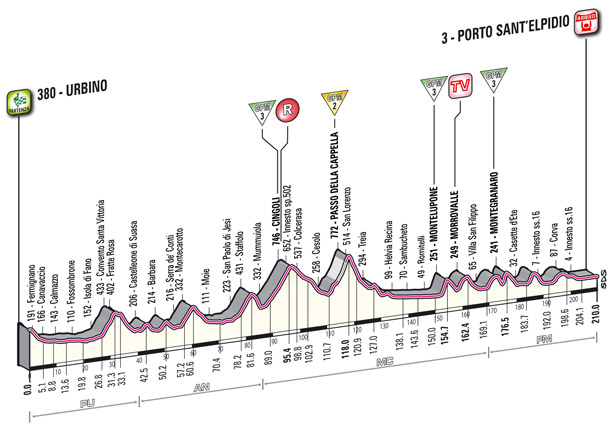 Yesterday's tiny climb near the finish was enough to eject several sprinters. Today's stage seems relentless up and down roads all day long meaning there's a good chance the first breakaway of the race will succeed. If no move stays away then it's likely those contesting the finish are in a select group because the final hour includes some steep climbs and a gravel section too.
As well as the four recognised climbs note the profile looks like the blade of an old saw, constantly up and down. The climbs can be steep – like Montelupone – and the descents are also tricky with many sharp corners and changing road surfaces.
Here are the last 40km, note the Passo della Cappella and its 9% gravel roads with sections at 15%. At 33km from the finish line this should provoke a selection but it's unlikely a rider stays away solo but any group starting the climb should be thinned out by the top. If you want some images of this climb, see the Salite delle Marche blog.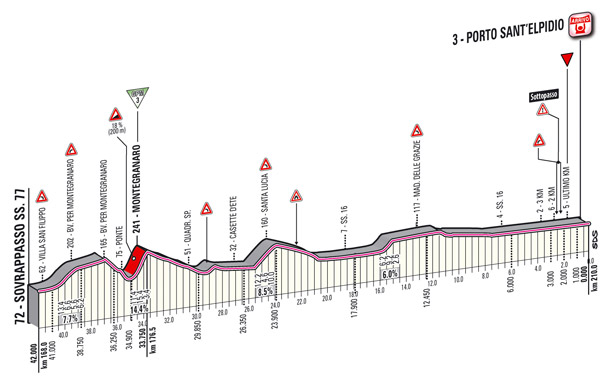 Note the smaller ramps on the way to the finish. It's hard to pick a winner but think of riders like Pippo Pozzatto, Enrico Gasparotto, Fabio Felline, Giovanni Visconti, Diego Ulissi or maybe a long range bid from Pavel Brutt… or a short sprint by Fran Ventoso. One thing that looks more certain is that the overall lead will change but Navardauskas is a tough rider who could hang on although he might find team mate Ryder Hesjedal is waiting to collect the pink jersey.
The stage finish is expected between 4.55-5.30pm.