The Giro d'Italia opened with a team time trial and for the whole week Astana and Tinkoff-Saxo have kept going in the formation. Day after day the bunch has been driven to exhaustion by a line of sky blue or fluo-yellow jerseys. But for all their efforts there's little to show with Alberto Contador and Fabio Aru just three seconds apart.
Alberto Contador's shoulder has been the preoccupation since his crash but what about his legs? His attack on the road to Abetone wasn't the usual heavyweight blow to his rivals and he was quickly reeled in by Fabio Aru. Meanwhile Richie Porte has covered everything and sits in the perfect position, assuming his off-day doesn't arrive.
What should have been an introductory week to ease riders into the race with some skirmishing for the maglia rosa nd stage wins has been open war between Astana and Tinkoff-Saxo as each team sought to take control of the race. It's been impressive but hasn't achieved that much, a lot of calories consumed for little measurable gains. Astana look the stronger outfit, they're more explosive. This has been raising a few eyebrows but it's been predictable on paper given Tinkoff-Saxo's ageing diesels can deliver steady riding but not the explosive uphill attacks. If you're suspicious and like to judge this kind of thing by television at least wait for the third week to see if they can keep it up before reaching a verdict.
The tug of war reached bizarre levels on the stage to La Spezia when Roman Kreuziger was up the road in a maxi-breakaway but Tinkoff-Saxo saw fit to race hard, presumably to soften up Alberto Contador's rivals but effectively chasing down Kreuziger. The Czech could have kept an advantage on the field, putting pressure on Astana and Sky through his advantage but Tinkoff-Saxo are all in for Contador. The battle kept up with Sunday's Stage 9 again seeing Aru on the rampage. The modest Passo Serra's steep section was used to jump away and only Contador, Porte and Landa could follow.
"Let us wait… …when the enemy is making a false movement we must take good care not to interrupt him"
– Napoleon
While the Russian-Kazakh combat raged Team Sky have been on the receiving end. Normally an imposing force in stage races the likes of Leopold König, Vasil Kiriyienka, Sebastian Henao and Mikel Nieve haven't been as visible. Sky say it's deliberate and they're backing away from the Astana-Tinkoff scrap to save themselves for the final week. Of course if they were being dropped they'd probably have to say the same thing out of bluff too. Elia Viviani took a good sprint win for them.
Looking at the four contenders Fabio Aru is the most aggressive and confident right now but for all his attacks and for all Astana's work he's not got more than a handful of seconds out of it, a poor return on investment when measured by the overall classification. But precious for his popularity, this kind of racing is winning him fans and delivering big audiences and large crowds to the race. Mikel Landa is proving very useful as he can assist Aru at the most intense points of the race and could be used as a foil on the steep climbs to come to force Contador and Porte to chase.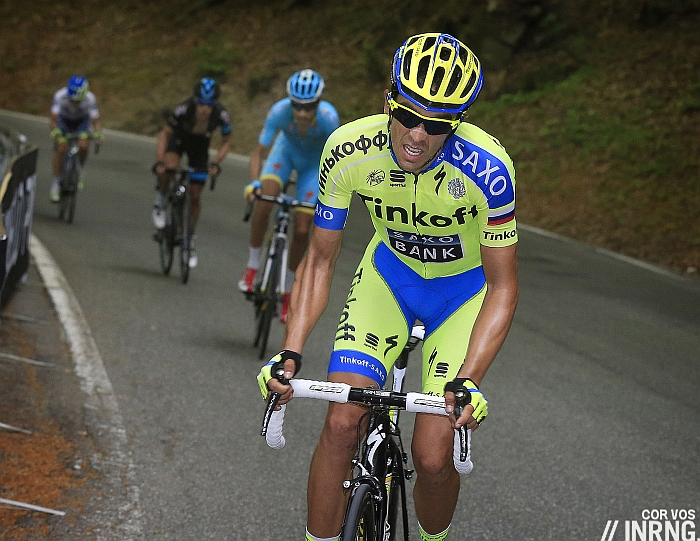 Alberto Contador's shoulder have grabbed the headlines but shouldn't we be talking about his legs? Before the crash he wasn't looking at his best. His acceleration to Abetone was easily reeled in by Aru and Porte and he didn't look happy in the team time trial either. As for that crash the Giro's official medical bulletin says it was only a partial dislocation, a subluxation with a small amount of instability which is removed from the headlines of dislocation. Is this hypochondriac Contador bigging up his injuries? He's not done too much to swell the headlines but he's not iced them either. Right  now Contador would probably like to loan out the jersey to someone else for a few days but he's unlikely to gift it to Aru who is likely to harry him for the mid-stage time bonuses.
Richie Porte is exactly where he wants to be although not where the Italians want him to be. He's been rushing away at the end of each stage rather than doing interviews and RAI's presenters are getting frustrated. If anything Porte's been so discreet the talking point has been the mobile home Team Sky are using to ensure he gets predictable comfort every night although it only takes one patriotic Sardinian with a powerful car stereo to drive up and down blasting "Nessun dorma" to give Porte nightmares. But so far the first week has been a dream, he's responded well to all the attacks and hasn't been passive either, he's tried a few accelerations too. He can look forward to the upcoming time trial. That fear of an off-day looms large but for now he's in the perfect position.
There has been talk of the "three tenors" with Contador, Aru and Porte riding away from everyone else. Rigoberto Uran is still singing if he can shake the head cold. He's two minutes down on Aru, Contador and Porte but could close this gap in the time trial. On paper it's possible he puts two minutes into Aru but on tarmac this is a big ask for someone who has been tailed off. If he gains ground the risk is he surrenders it again in the mountains especially as he's without climber Pieter Serry crashing out early. As things go salvaging third place is going to be a big ask.
Tiredness is going to be a big factor. Anecdotally riders are mentioning what a hard week it's been, others are have have high "suffer scores" from power meters and just going by television you can see this has been a very hard week, the bunch has often been lined out mid-stage. The varied terrain and the aggressive tactics have put many on their knees. Fatigue in a stage race is like compound interest, it grows with time and the more it's accumulated early, the higher the price paid later in the race. After such a hard opening week it's been perfect for Chris Froome, Nairo Quintana and Vincenzo Nibali. They have good reason to fear Alberto Contador in July but the Spaniard's been through the mill in the opening week. Even without that crash it's been a very tough week and now Contador's crash has only added to his fatigue. The injury is just at that point to make Contador suffer more and sleep less all while keeping him in the race with Oleg Tinkov cheering him on.
If the GC contenders risk being punch drunk from their efforts then Orica-Greenedge must be drunk from the Astoria prosecco on the podium. The Australian team won the first week with the opening team time trial and then success on Stage 3 for Michael Matthews all while rotating the maglia rosa through the squad. Best of all they seemed to enjoy it all, you can them working together and loving the moment rather than deploying bland terms about racing "day by day". Lampre-Merida have had a great time too, the only remaining Italian team in the World Tour (whisper it: they're registered in Switzerland for tax) have got two stage wins thanks to Jan Polanc and Diego Ulissi.
Tipped for big things Davide Formolo has already delivered with a stylish solo win in La Spezia. He's not climbing with the best yet but the win means plenty for his Cannondale-Garmin team, their first televized triumph this season. Of all the teams to merge, putting the Italian Cannondale team with the US Garmin squad made for an odd choice. It's a subject for another day but Italian cycling is often ultra-hierarchical, amateur squads toil in service of a designated leader and juniors are pressed into formation; a contrast to the relaxed encouragement of Argyll self-expression. Domenico Pozzovivo crashed out and with him went an attacking rider who had to enliven the mountain stages in order to compensate for his lack of time trial skills. He's OK and will ride the Tour de Suisse. It's interesting to imagine a fresh Pozzovivo and a lean and mean Carlos Betancur joining J-C Péraud and Romain Bardet for Ag2r's Tour squad but it would be too many chiefs. Pozzovivo is better suited to the Vuelta where his presence and ability to place on GC helps Ag2r La Mondiale's points haul too. Last but not least André Greipel's sprint win was a textbook example of team work but overshadowed by the Colli/Contador crash, the German now has an impressive record of winning a stage in every grand tour he's started since 2008.
What's next? A calmer week. Monday is a rest day and the rest of the week is for the sprinters. Tuesday is nailed on for the sprinters and breakaway artists, Wednesday has a lumpy finishing circuit, Thurday's finish has tough late climb and Friday's profile is shown above. We should see a ceasefire on the GC although Aru might well try to snipe some bonus seconds. On some ways Contador will want to give up the jersey… but not to Aru. Saturday's 59.4km time trial awaits.