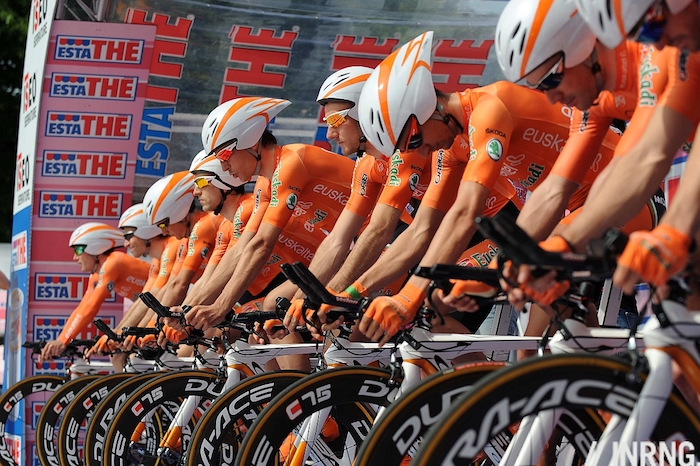 Three teams in one day? Yesterday brought the news that Euskaltel-Euskadi had stopped negotiations with Formula 1 driver Fernando Alonso for the sale of the team licence and there was confirmation in Cycling Weekly that Vacansoleil-DCM was stopping and via Twitter it seems Team Sojasun have no replacement sponsor for 2014.
Cycling teams come and go but there's something wrong with the way the sport works when decisions concerning the elite of the sport get taken only months away from the new season and so late into the end of the current one.
We've known for some time that Vacansoleil and DCM as sponsors were leaving but work has been done to keep the team and its infrastructure, from staff to the team bus. But Cycling Weekly reports DS Aart Vierhouten saying:
"It's over… …We applied for the second division licence some time ago, just as a fall-back option, but we will not continue."
A similar tale with Sojasun. Team management have been hunting for a replacement sponsor but it's three months until the end of the year and next week the UCI imposes an official deadline to inform existing riders on the squad whether they will be offered a job or not for the following year. In the absence of a sponsor the only answer can be no. But several riders have pre-empted any bad news by leaving for the likes of Cofidis and Europcar… which only makes the remaining rump of the roster less appealing for a sponsor.
Meanwhile in Spain the Alonso project to "save" the Euskaltel-Euskadi was announced at the end of August, just four months from the start of 2014. But 1 January 2014 is the day the team would become official for the fans and media but prior to this there's a lot of work to be done from registering the squad, to presenting budgets and proposed accounts to the UCI as well as contracting sponsors and important details like signing enough riders and even signing off the kit design in time so that the clothing sponsor has time to make it before the Christmas holidays. Not to knock Alonso and his entourage but this was always going to be an uphill challenge to make the Angliru look gentle. The only comfort is that some riders are still under contract for 2014 so they might be able to get jobs with other teams "for free" next year with Euskaltel paying their wages whilst they ride in another team, not ideal but at least they get to ride.
Sure, there are cases of a team being saved at the eleventh hour, see Bouygues Télécom's replacement by Europcar but in extremis cases are no way to run the sport. As we see in each of the three cases above riders, staff and even fans keeping hoping something will turn up.
But if you're a wealthy backer like Fernando Alonso or a corporate sponsor looking to slot a share of your marketing budget then chances are you don't have an "easy come, easy go" attitude to money, especially when counting in millions, the quantity needed to back a pro team. Normally marketing budgets are planned well in advance with precise costings and knowing what you'll get in return, in this case being able to secure a pro cycling team without riders rushing for the exit.
So what can be done?
Currently the UCI waits for the season to finish before beginning the licensing process, part of which involves verifying the financial committments of sponsors and the management's budgets. But this is proving very risky. Just ask Katusha who found out in December last year they had no licence for 2013; or FDJ who weren't sure if they'd be in the World Tour or at Pro Continental level until December last year; as Jérémy Roy wrote the team couldn't get new kit because they didn't know what UCI logo to put on the jersey.
Instead what if the licensing process was brought forward to July? Teams wanting a spot in pro cycling for 2014 should have got the finances and commitments in place by the summer of 2013. This avoids the late season scramble for a job, riders on squads that will not continue have months to find a job elsewhere. It also makes the sport look more professional, the idea of teams with millions of Euros on the line and fifty staff on the books not having a planning horizon beyond four months is another example of how pro cycling is really an amateur sport.
This is just one idea which keeps the current system but changes the timing. But there are more structural issues like investigating franchise and so on. Remember the Euskaltel-Euskadi team has a licence for 2014 but of course this won't be verified by the UCI given the lack of financial commitment; but it does show that having a licence is itself meaningless, it's having the cash that matters.
Conclusion
The deadline for teams to inform riders whether they'll have a job for 2014 is fast approaching but it's late in the day. More than a notice period for employees, the struggle for some teams to find replacement sponsors is astonishing. It might seem regular in cycling but that squads go hunting for millions of Euros right until the last moment is no way to run a professional sport. It might even scare sponsors away because they'll see structures that struggle with long term planning.
None of this is to knock the three teams and their management. They work within the system and searching high and low for a sponsor right up until the deadline is a duty, a mission to keep the team on the road. Nothing lasts forever but if sponsors come and go, professional cycling needs to think about new structures and methods to stop looking like an amateur sport.