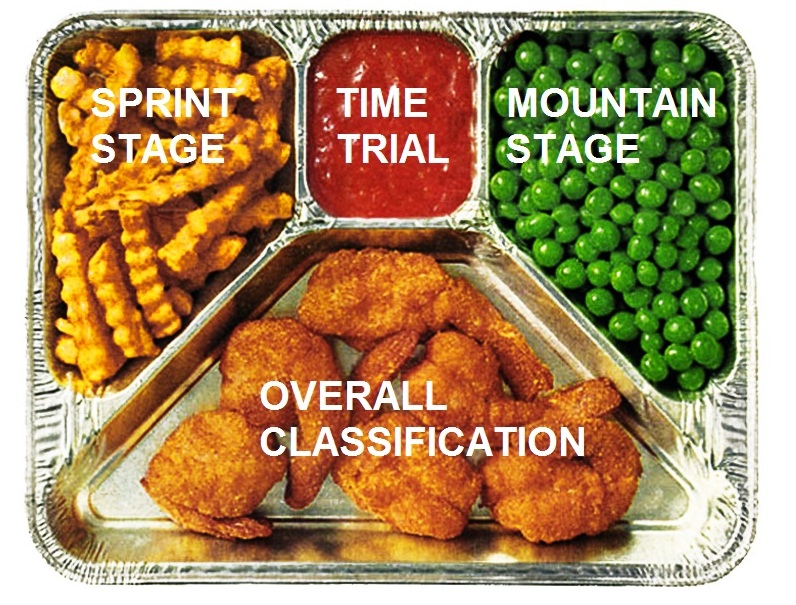 The Gifted Group's Jonathan Price has been briefing sections of the cycling media about the plans for the "World Series Cycling" formerly known as the Breakaway League but now a scheme that the UCI has granted with an exclusive agreement to negotiate. The grand tours and the big one day races will remain on the calendar but will be joined by a series of 10 new events, each a four day stage race.
Cycling is rooted in history, a conservative sport where change is slow. So there's bound to be some concern and resistance about these brave new plans for the sport. Even if they were a master-plan with the Midas touch, they're radically different to anything we know so they're bound to disturb us.
But based on the information we've been given it's hard not to be sceptical about these plans as they seem to offer a bland product that's packaged for sponsors and TV with formulaic format that worries me. Clearly it's all about design and implementation but fans have every right to be cautious here. Especially since these plans are no longer theory but actively under consideration by the UCI with the idea of launch in 2014.
First note "World Series Cycling" is only a label to work under and it's unlikely to be used should the scheme be launched. But for now let's use WSC as the label.
The Problem
Cycling has its problems with the UCI's governance and the spectre of doping but let's put these aside for now. When it comes to the races themselves I see three problems:
The calendar is a mess, a jumble of events that come and go and where viewers struggle to see a hierarchy of the events and where big events clash. We have 193 races on the men's pro calendar, of which 122 one day races and 71 stage races. Yes we know the Tour de France is big but what about the Dauphiné and Tour de Suisse, or Paris-Nice and Tirreno-Adriatico, in case each great stage races but they clash on the UCI's own World Tour calendar. Great races shouldn't have to compete against each other. Streamlining this and sharpening the calendar makes sense… if done sensibly.
The geography of racing could be improved. Brands want exposure, if not globally then regionally. Right now there's a concentration of races in some countries but not in others. Is cycling a Euro-centric sport? Yes but the spread is asymmetric, for example  Germany is Europe's largest consumer market but has very few races, the same for Britain which is another large economy with few events. Even if the sport is spreading around the world it is very uneven with 10 days in China but nothing in India or Brazil, yet alone a single day of World Tour racing in the US or Japan. This uneven geographical spread means many big sponsors stay away from the sport.
Racing can be boring. Now I'll probably watch every stage of the Tour de France but a grand tour is three weeks long and the race is not decided every day. Some of the race is a snooze with siesta stages in the Tour de France where even L'Equipe was moved to write about broken alarm clocks, hammocks, snoozing, snoring to describe one stage where nothing happened for hours. If there's a way to make the racing more lively and get greater TV audiences then let's take a look.
Still, are these big problems and are there any answers? If there are answers will they work out better or just bring the risk of a flop? Do we want more races around the world, more sponsors and a sport geared to an audience with a shorter attention span? I think the sport can be enhanced whether stopping good races clashing or sprinkling a few races around the world. Maybe not shifting the centre of gravity too far, but at least taking trying to the UCI World Tour to the US and perhaps South America.
The Solution
Let's work on the assumption of a trinity of problem: too many races in parts of Europe, a series of odd races generated by historical accident and some races that are too long for the casual viewer then what is the solution? In a classic Cartesian gambit you do the polar opposite: create a series of homogeneous races evenly spread around the globe that are short and snappy for a tight TV package.
It's a classic business technique. Take McDonalds because if people around the world have been eating bread, meat and vegetables for years the ingredients and recipes vary wildly. Only McD's offers a burger in a bun with onions and gherkins that's the same in Beijing, Boston, Brisbane or Bourges. Indeed this sounds like something cooked up by a consultancy and Gifted Group's Jonathan Price speaks the lingo as he works to "build a competitive product".
The prime races on the calendar will stay, whether the Tour de France or Milan-Sanremo. These legacy races will be joined by 10 new races, each expected to be a four day stage race. I gather the plans include one for Argentina, Australia, Canada, China, Qatar, South Africa, US with three for Europe too. The idea is to have at least one mountain stage, one time trial and one sprint stage in each of the 10 rounds of the WSC. Of course this will depend on the terrain and will hopefully offer variety, eg one round could be very mountainous whilst Qatar will be totally flat unless a Sheikh builds a scale replica of the Galibier for fun.
Scepticism
It's here that I've got more reservations than a restaurant on Friday night. Four days is an odd length, it doesn't give much time for a story to build in the race, for people to get hooked as it's over before you know it. Still it's not unusual: say "stage race" and you might think of a three week grand tour but actually the average length of a stage race is six days. Strip out the "grandies" and the typical stage race closer to four days than you might think. Much of the calender is populated with short stages races like the Tour de Picardie or the Szlakiem Grodòw Piastowskich that have a modest reputation at best. The longer the race the greater the prestige although not always.
No, it's not so much the length but the artifice of having The Sprint Stage, The Mountain Stage and The Time Trial each time, it means there's less subtlety and instead this becomes road cycling's version of the omnium race in the velodrome where riders compete in a range of disciplines to win rather than a week of racing where surprises can occur. Now I quite like the Critérium International once a year in Corsica or the Three Days of De Panne too but 10 versions of this presented as cycling's premier events? It's the sporting equivalent of a TV dinner rather than a seven course gourmet meal.
It's also disturbingly new. Cycling is rooted in history and change upsets people used to events slowly evolving over years, we're still debating time bonuses and the merit of prologue time trials. 10 new races is shocking. But calm our jerking knees as there are practical considerations. Creating new races is difficult, there are already several races on the calendar that have an artificial feel like the World Ports Classic, the ENECO Tour or the Tour of Beijing.
It's hard to think of a new race that's exciting, the only one I like is the Strade Bianche in Italy and this works so well because RCS make such an obvious play on exploiting cycling's past and run the race in the Tuscany region, a hotbed of Italian cycling. Don't get me wrong, it's lekker if South Africa gets a top race, after all Cape Town is home to the world's largest cycle ride the Cape Argus Pick n Pay Cycle Tour. But will it have an African feel? I worry it'll just be Round 7 of the World Cycling Series, the race flies in for a weekend and is gone for another 360 days. I'd much rather see a race start small and grow into something big as this feels more genuine and it's probably more sustainable.
Indeed the new WSC format has the worrying feel of a Formula 1 Grand Prix where only expert fans can tell one circuit from another, the rest of us see unremarkable strips of tarmac that, apart from obvious cases like the Monaco GP, could be in Malaysia or Portugal and where the races are timed for TV audiences rather than hours suitable for the local spectators. In short the venue can feel immaterial. But in cycling the race is special because it relies on the local geography, whether the basics like terrain, climate and road network or other local factors, whether giant Basque crowds or Belgian pavé. Hopefully this is taken on board but what if it's not?
Lost races
Worse, if these four day races don't grab you, there's the opportunity cost. 10 rounds means ten weekends taken up for these new races and this is going to come at the expense of races currently on the calendar. As Spanish writer Fran Reyes points out the current cycling season takes up 39 weekends of the year. The WSC want their calendar of the existing races like the grand tours and major classics plus the 10 new rounds to occupy 28 weekends (and weekdays of course) meaning there would only be 11 weekends for other races throughout the year. With this we might see races like the Paris-Nice, the Tour de Romandie and the Dauphiné fall outside the calendar, something that won't just sadden Bradley Wiggins. No, the sport could lose many top races as if our top teams and riders are busy doing the Tour de Cape 4-Day Classic then they won't be gracing another race. And to borrow from Joni Mitchell, you don't know what you've got 'til it's gone. If a race like Paris-Nice goes then it might never come back even if the Gifted Group and the WSC collapses in three years.
There's also a sporting aspect here that riders can't function on a diet of one day races and four day stage races if they want to be competitive in a three week grand tour. Yes the new regime might be the same for everyone but it would mark a change where riders have long used stage races for training.
And if we're doing objections then the new plans talk of spending a lot of money on anti-doping but they don't address the obvious conflict of interest of a business trying to promote the sport whilst also being tasked with the installation of an anti-doping policy. I'd welcome bigger spending and have long suggested race organisers have much to gain by matching the amount spent by the teams and governing body because it protects their assets too. But tasking an independent body with this would be much better from an ethical point of view.
The business model itself is clearer now, it will follow the Tour of Beijing model where the WSC will own the rights to a race but buy in help from the likes of ASO to run the race whilst the UCI officiates, supplying rules and commissaires. Perhaps even the UCI's controversial subsidiary GCP will get a slice of the action running things?
Some Good Ideas
Call it a leitmotif if your generous or cliché if you're tired of it but I keep typing "the Tour de France was created to sell newspapers and pro cycling has been nakedly commercial ever since" here. Because it's true.
We can't deride these changes just because someone stands to make a pile of money, after all that's the genesis of the sport. Other races were created to show how tough a bike was, Paris-Roubaix was created to sell tickets for the velodrome and so on. The Corinthian spirit was  distilled into francs, schillings and guilders from the very start.
Similarly the business jargon used by Price is unusual in pro cycling but I welcome aspects of it because as this blog can point out often pro cycling is often too amateur. A coherent calendar and a more sponsor-friendly approach can improve plenty.
Gifted Group, Zdeněk Bakala and others can smell money. For me the concern is not quite the commercialism, more how this money is made. I can live with ASO's business model because it rakes in money every July but uses a portion of the funds to subsidise races like Paris-Nice or Paris-Tours which are reputedly loss-making. The financial engineers behind the WSC might be willing to confront losses to get the project off the ground but it's hard to imagine them over time promoting great races if they can't make a profit. No, it's the way these new races get packaged into homogeneous little products which they can sell for TV but this means abandoning some good races. The weaker races on the calendar today don't have a right to exist in perpetuity.
Atomistic Model
Still, I rather like the current chaotic structure of the sport. With competing race organisers promoting races under UCI rules it means nobody really controls the sport. This does mean leadership and cohesion are a problem at times but it's not all bad. It prevents monopoly control and the kind of clumsy dictatorship problems where good intentions go wrong because of no checks and balances. After all if you think the UCI has a stranglehold over the sport, imagine a company that owns a lot of races and sets rules and funds anti-doping and sells TV rights and that is even less accountable to you.
Conclusion
The UCI said today "any media reports about the future of the calendar are pure speculation at this stage". True we've only got a glimpse after the media were recently briefed so let's not extrapolate too far. None of this might happen or the plans could change. But let's not kid ourselves, I gather Gifted Group are readying TV deals and discussing new races with host cities. The speculation is more when the deals get signed and what it takes to get the UCI onboard rather than whether the plans exist.
Cycling is in a mess and the need for change obvious. But what reforms? Alterations often get shot down by conservative fans and the cynical media. So when I see these proposals I'm reluctant to criticise in case it's a knee-jerk reaction, to reject an idea just because it's novel. I don't want to play the Cassandra, the naysayer or just say no because it's different. The calendar needs reform, World Tour races shouldn't clash and certainly a lot can be done to make the sport more sponsor-friendly, for example not blowing Katusha out the sport 40 days away from the start of the new season for as yet unknown reasons would help. But the idea of 10 four day stage races worries me. It just sounds bland, ditching the rich flavours of tradition, history and variety that make cycling such a subtle and sophisticated sport to follow.
If we welcome new events let's hope it's not at the cost of losing some good old ones. Maybe the sport needs a World Tour race in the US, no? Maybe I could live without the Tour du Poitou Charentes or the "Vuelta a Spanish Region". But some races are essential, who wants to lose the Tour of the Basque Country to gain a sterile event that suit sponsors but has all the emotion and history of this year's new creation, the World Ports Classic or the dreaded Tour of Beijing? No thanks.
For now we can only watch as the Gifted Group and Mr Bakala work to convince the UCI to approve them. The changes are so big that if they happen the sport can't go back.