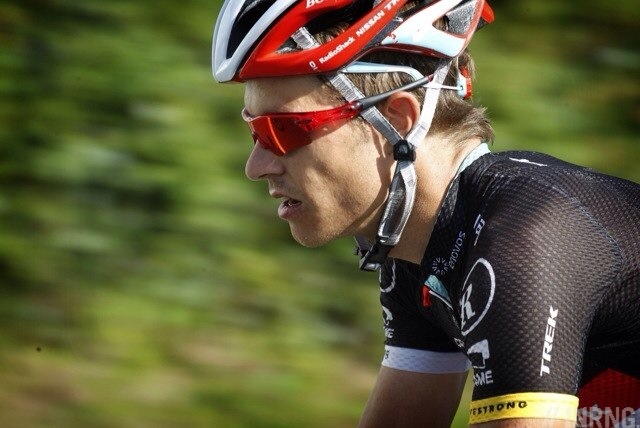 As the year end approaches many riders are "out of contract" for 2013, the pro cycling euphemism for facing unemployment. Several riders have expressed surprise after their current team decided not to offer them a new contract for 2013 and they're left scrambling for a new job. But with the new year fast approaching there's not much time to get a spot, yet alone bargain for a good deal.
Only under the rules there should be no surprises as riders are supposed to be told by teams what is going on well before the season ends. Either the letter went missing in the post or the team didn't follow the rules but mechanisms exist to prevent this. This post is just a short note to explain the workings behind this.
Take Linus Gerdemann (pictured) as the latest example. Speaking to cyclingnews.com's Jane Aubrey the other day, the German states:
"I was a bit surprised when I didn't get offered a spot on the roster for 2013. I found out very late, only a couple of weeks ago."
Only this situation would be in breach of an agreement between teams and riders. Drafted by the association of teams known as AIGCP and the rider union CPA (see past piece for background) the "Joint Agreement" is an addition to the UCI rule book and sets out working conditions from minimum wages to the amount of rest a rider must enjoy. And included amongst these terms is the following:
Art. 9: Before 30 September prior to the end of the contract, if the contract has not already been renewed, each party shall inform the other in writing of their intentions as regards any renewal of the contract. A copy of this document shall be sent to Cyclistes Professionels Associés (CPA).
In short if RadioShack-Nissan had no plans to renew the contract then the team had to let the rider know what the plans are and send a copy to the CPA too. So Gerdemann should have been told at least two months ago instead of a couple of weeks ago and for what it's worth I think he was told in time. Similarly the written notification first received by Matt Brammeier of Omega Pharma-Quickstep… was in a newspaper, again as told to cyclingnews:
"Yeah, I actually found out by reading it in the newspaper… Nobody contacted me directly so that was a bit of a disappointment. I just read a piece saying that they probably wouldn't be re-signing me next year."
The good news is that Brammeier has a job for 2013 with Champion System. There are other examples too, Euskaltel's Pierre Cazaux claims he tried calling team jefe Igor Gonzalez de Galdeano but  only learned he wouldn't get a contract when he read it in the newspaper. Or take Leif Hoste where news only arrived of no contract in November, although the Belgian had been considering retirement for some time before finally making this official at the start of this month.
Again the terms of the Joint Agreement are set by the AIGCP and the CPA instead of the UCI. But if the UCI does not write these rules, the rules set out in the Joint Agreement are added on to the UCI rules. Above all the Joint Agreement "shall be binding for each team in its capacity as employer" and any dispute has to go to the UCI.
Curiously Article 3 states "compulsory force" and explains "any derogation from the provisions of this agreement to the detriment of the rider shall be null and void." Taken to a conclusion the failure of a team not to inform a rider by 30 September that he will not get a contract renewal implies that the rider could assume that no notice by the due date means a renewal on similar terms is due. In theory it is hard to void a contract that has not been signed. In practice few riders out of contract will want to take a team to the UCI over this, suing your employer to stay on at work isn't going to suit anyone.
Still, perhaps the Joint Agreement seems stronger on paper than reality. The lower down you go into Pro Continental, the more the shenanigans start. There might be a minimum wage but it might not be paid in full or a rider could be asked to pay back a slice for "training expenses" etc.
There's also the issue of rider responsibility. Team rosters for the following year start to take shape at least six months in advance as the jobs market gets busy during the Tour de France and August. Leaving things to late September to agree a deal is risky as riders and their agents will know. So whilst the rules might say a piece of paper needs to be posted, any rider without a contract by October shouldn't be passively awaiting the mail.
Conclusion
Some riders might be out of contract but this doesn't mean they should be in for a surprise when it comes to learning they've not got a job for 2013. It's sad but inevitable that many riders can't retire on their own terms and instead get dropped from the sport like a Colombian in a crosswind but at least they should be warned.
The point here today isn't to find out which teams are following this rule although it'd be interesting to know how often it is skipped and the reasons behind Gerdemann expressing surprise . Rather this is just a note to say that in general there shouldn't be surprises here and if we feel sorry for those caught out like this maybe we should be asking how the situation arose too.