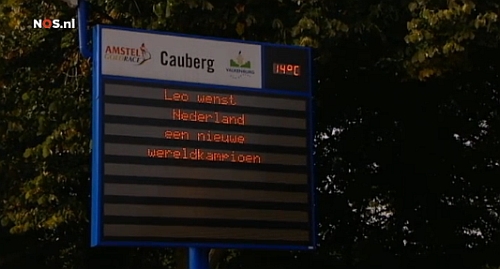 Ahead of a full race preview, a short note to explain the new communications system being used by the Dutch team for Sunday's road race.
With race radios banned for the worlds, the Dutch will use telecoms and roadside matrix display boards to give unique tactical advice to their riders.
Team boss Leo Van Vliet will watch the race on TV from a "control tower" office on the Cauberg. From this vantage point he will send SMS messages which get relayed to matrix display screens on the course to be read by the passing Dutch riders.
Obviously these screens can be seen by everyone, from riders to roadside fans, so they will be sent in code. This is not yet known but perhaps "het kangoeroe sprongen" (the kangaroo has jumped) could mean Simon Gerrans is up the road or "de bonen gaar zijn " ("the beans are cooked") could mean Tom Boonen is looking tired. Dutch fans have been busy with suggestions on Twitter.
And no, I'm not making this up. You can see the video online (from 1m30s) with Dutch broadcaster http://nos.nl.