A look at the budget and accounts for the Lotto-Soudal team. While other squads have seen budgets soar over the years, this one's not kept up. The team has been a World Tour stalwart but it faces headwinds if it wants to remain one.
The company behind Lotto-Soudsal is called Captains of Cycling CV. In 2020 this included the men's World Tour team, the U23 men's development team and the Lotto-Soudal Ladies squad.
Lotto-Soudal's total income for 2020 was €15,919,466 according to the audited set of accounts lodged with the NBB, Belgium's central bank. These are the latest accounts available.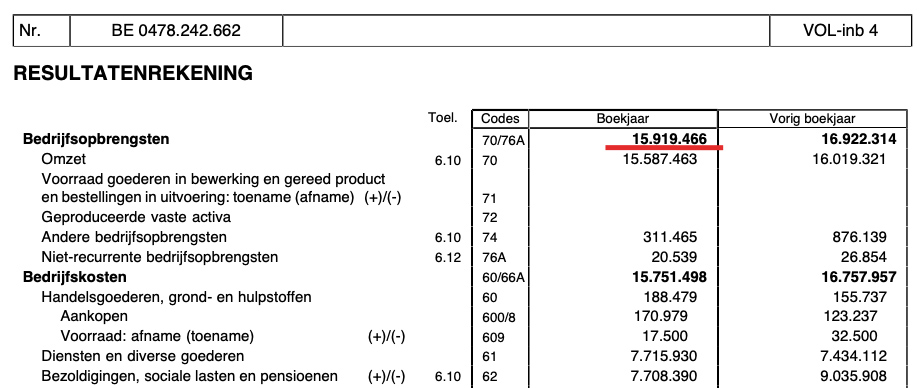 Here's the screenshot that shows total operating revenue (bedrijfsopbrengsten), sales (omzet) and total operating costs (bedrijfskosten). As you can also see the bulk of the money was spent on services and diverse goods (diensten en diverse goederen) and salaries, social charges and pensions (bezoldigingen, sociale lasten en pensioenen), these two lines make up almost all the budget.
2020 was the year the coronavirus pandemic arrived and much of the cycling season was disrupted, with big races shunted to the autumn. The team signed Philippe Gilbert, Caleb Ewan took two Tour stage wins, they finished mid-table in the victory rankings and a more modest 17th on the UCI tables. Financially the pandemic had a direct impact on the team as riders took a temporary pay cut so the €15.9 million sum would have been higher in a normal season.
€7 million on wages, and another €7 million on other things? That's what the accounts suggest… but not so fast. This is where things get more complicated because every pro team spends most of its budget on rider wages, at Ag2r it's been 70%, 73% chez Groupama-FDJ and back when Sky published detailed numbers 80% went on wages. Lotto-Soudal can't be so different. After all, keeping a team bus topped up with diesel or paying service course rent is small change compared to the wage bill. Plus if we scroll through the accounts, notes at the back report 43 employees. We know they had 28 riders and once you add on managers, mechanics, doctors, soigneurs, PR and so on you can easily get past 43, a lot more people are involved. So what's more likely is that they have a core of salaried staff and then hire in others on top as contractors and service providers and a chunk of the €7 million spent services is part of this, plus salaried riders in the first €7 million could get bonuses or image right payments from the second €7 million pot too. I can't prove this but it's the most likely explanation. The question is what share of this second €7 million is spent paying riders and staff, the best guess is that it's about half.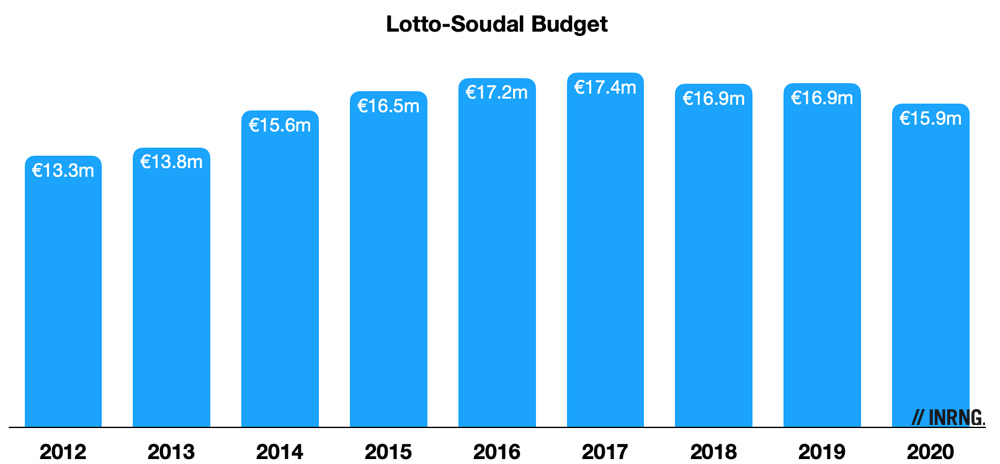 Here's the budget over the years. As you can see it's risen, but not at as much as other teams (the Sky/Ineos budget doubled over the same period), we don't have all the data from all the teams but squads have seen wages rise significantly and as a result budgets have increased. Less so at Lotto-Soudal. Note 2020 still could have been a record year, remember the pay cuts taken by riders because of the pandemic suspension, this means the reported number was reduced exceptionally, it's bound to have risen for the 2021 accounts which will be published later this summer.
The team has 42.5 full-time staff and 0.1 part-time staff, an average over the year and they worked 69,175 hours which works out at 31 hours a week and the wage bill for these salaries (remember, others might be hired as contractors) was €7,708,390, or €111 per hour which is… almost meaningless. Still, the number of staff and the hours worked tells us something?
Notes to the accounts mention that Lotto is the biggest sponsor, Soudal is next, then Ridley bikes after them comes clothing sponsor Vermarc. Together they supply 90% of the team's income with smaller sponsors and income from race organisers making up the usual small top-ups.
The accounts also include an audit report from accounting giant EY and they give Captains of Cycling a clean opinion, there's nothing contentious.
Belgian?
Ask people to name a Belgian pro team and chances are most reply with "Quickstep" rather than Lotto-Soudal, Intermarché or Alpecin. But Quickstep aren't legally Belgian, the company behind the team is called Decolef and run out of an address in Luxembourg. UCI rules allow a team to choose their flag, any flag. This matters because different countries have different laws, rules and tax rates. Some pro teams can shop around for the cheapest jurisdiction, others can't. Lotto-Soudal is sponsored by the Belgian state lottery, the government so it can hardly be run out of another country, there would be an outcry. In Belgium the headline contribution from employers is 33%, eg pay Thomas De Gendt €1,000 and you pay an extra third on top in taxes; in Luxembourg this employer payroll tax half that or less but these are headline figures and don't necessary apply to the teams.
Now it's fine that a team meets its local obligations, worthy even. Only this good practice is a problem when competing with other teams. Just as teams race against each other, they also compete to hire and retain the best riders. It's here that operating out of an expensive country has its costs, a proportion of the budget paid into the team by the Belgian government in lottery sponsorship… goes back to the Belgian government in social security payments. The point here isn't to review Belgium's tax arrangements – this is a cycling blog – more to show that of the money paid into the team, a lot has to go back out on taxes when other teams can keep a greater share if they're run out of lower tax countries. It's the fiscal equivalent of pedalling into a headwind for Lotto-Soudal in their rivalry with Luxembourg's Quickstep. If you played Velogames and your fantasy credits got taxed differently according to the country you picked you'd surely opt for a tax haven? Team managers might think the same although they have to respect their sponsors and make wider considerations about their image and so on.
The point is comparing headline budgets is superficial, a Euro spent in one country has a different value in another. So even if we had all the team budgets and could compare numbers it would be fun but only tell half the story. The ideal metric to compare team budgets would be the net salary paid to riders, to take the amount earned by riders on each team and compare.
As for other teams, there's no data for the whole World Tour. There are sometimes lists of team budgets floating around the media, usually during the Tour de France, but the numbers just don't tally with the audited accounts (this blog's done Ineos, Ag2r and Groupama-FDJ… and should do more teams in the coming year). One in 2016 said Lotto-Soudal was on €14 million when the correct number was €17.2, one fifth bigger. So if the numbers are wrong for those teams that make accounts public then they're probably wrong for those teams that don't.
The Future
Let's not work the crystal ball too hard but Lotto-Soudal are one of the teams at risk of relegation from the World Tour as explained in the recent "2022 Points Race" post here. This would be a disaster, part of the team's remit in the annual report is to have (my translation) "a Belgian team present in the international peloton at the highest possible level", to get relegated would be to fail in this stated goal. Even if they get enough UCI points to stay in the World Tour, we know co-sponsor Soudal is off to join arch rivals Quickstep next year, a major source of funding is about to end. Can they find a replacement? They have to, it's hard to imagine Lotto alone stepping up. Hopefully a new co-sponsor is being lined up and can be announced during the year; if not they're in trouble.