Team Sky's accounts for the year ending 2016 are out and they're bigger than ever, the team budget increased by 27% for the year and Sky's title sponsorship payment by 50%. Here's a look at their budget, spending, wage bill and more.
"Tour Racing Limited" is the British-registered corporate entity behind the team and it has just published its accounts for the year ending on 31 December 2016. As a reminder it was a successful year with their first Monument classic with Wout Poels winning an icy edition of Liège-Bastogne-Liège as well as habitual wins in the Tour de France and more, so habitual that the most memorable image of Sky in 2016 could be Chris Froome running up Mont Ventoux.
Notes in the accounts say the team is 85% owned by Sky UK Limited and 15% by 21st Century Fox (away from cycling 21st Century Fox is currently trying to buy the remaining 60% of Sky in the UK it doesn't own in a stockmarket takeover). In case you're wondering Sky Italia once had a shareholding but this has stopped but they still contribute sponsorship money.
Team Budget = £31.1 million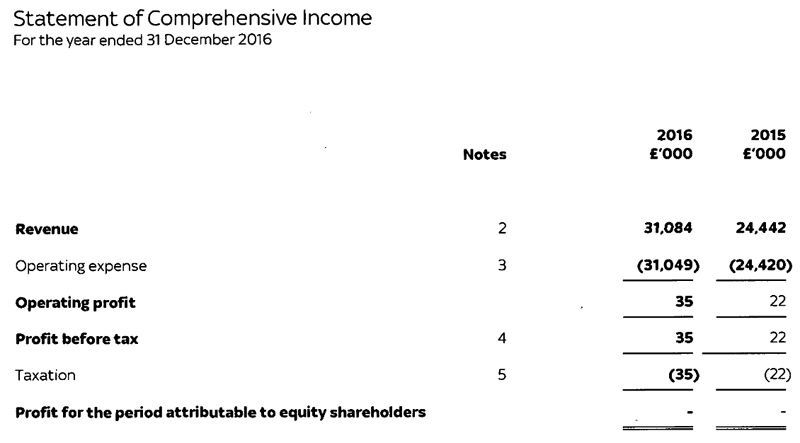 Team Sky's budget for 2016 was £31,084,000, up 27% on the previous year as the screengrab from their accounts shows. Since inception the budget has doubled. Loyal readers will remember that 2015 saw a small decrease in part because the British Pound was riding high and therefore it went further when offering contracts in Euros to riders. The accounts state the team is able to draw down Pounds or Euros from its sponsors implying it has some sort of protection or hedge against gyrating currencies. But the budget jumped by 27% for 2016, double any currency movement.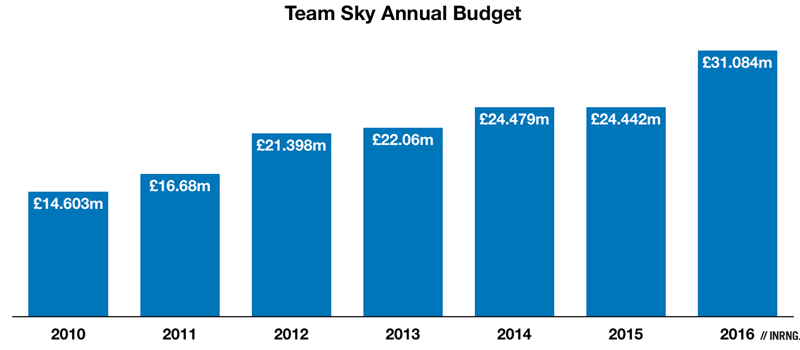 Revenue Sources

Title sponsorship is what it says, the money from Sky which actually comes from three sources: Britain's Sky pays in, as does Sky Italia, and 21st Century Fox of the USA. Note the number goes from £15.7 million to £23.5 million, a 50% increase
Performance sponsorship is related to the other sponsorship contracts, for example Pinarello, Rapha, Shimano and Ford
Value in Kind means goods or services given instead of cash but there's no breakdown, it could be Pinarello frames, Rapha kit, Ford cars and so on
Race fees are stipends paid by organisers to cover expenses when a team participates in a race. "Other income" isn't defined
How to spend it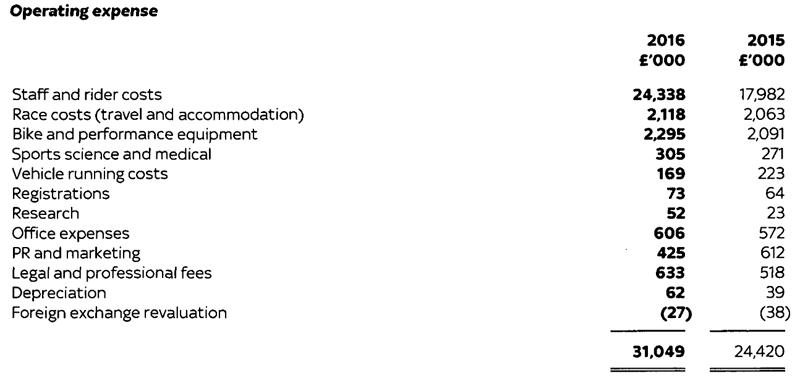 Like all pro teams Team Sky's wage bill is its biggest item although Team Sky's wage bill is unlike any in the sport, not just because of its size but because it seems to have a flexibility, a line of credit with the title sponsors that other teams don't enjoy. The wage bill soared by over a third for 2016, in part because Michał Kwiatkowski, Mikel Landa and Beñat Intxausti joined the team although the team had unloaded Richie Porte and Bradley Wiggins implying significant savings too. The accounts don't explain where the 35% increase went so you can speculate on hiring, wages and renewals but that's beyond these accounts.
The line on "bike and performance equipment" covers the team buying its own gear. For example they've been big buyers of Veloflex tires in the past but are now sponsored by Continental. Still there's only so much rubber, oval chainrings and worn cleats you can buy and the sum – a mere line among the accounts – is equivalent to some Pro Conti teams or the women's Boels-Dolmans team. It's not clear if this sum includes extended training camps in Majorca and to Teide or whether travel for training is still classed under "race costs (travel and accommodation)".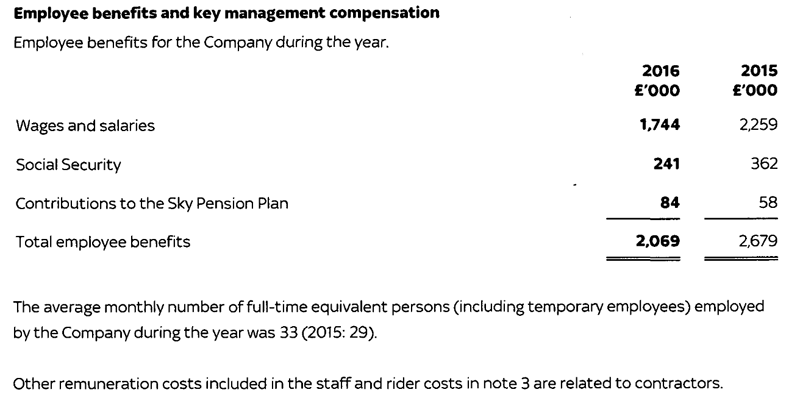 The note above shows the number of staff employed was 33. With a roster of 28 riders some may wonder but the note goes on to explain "other remuneration costs… … are related to contractors" and it's a reminder that typically Sky's staff are likely to be the mechanics and soigneurs. Meanwhile riders are typically not salaried employees of the team but operate in the gig economy as "contractors" who invoice their services to the team, usually a ruse to save tax for both employer and employee.
Welcome transparency
The team's officials have made various pledges on openness that have not always been followed through. But these accounts are detailed and freely available (from here), something down to British corporate law rather than a team policy but whatever the reason it's welcome and gives us a glance at the finances of this team. It would be great to see the accounts for other teams, this blog has covered Ag2r La Mondiale recently but many teams simply don't publish accounts and if the UCI has the data each year for its internal purposes these are never made public. There's debate about budgets and salary caps but the basic facts are missing.
Conclusion
Accounts can be dry but follow the money and there's plenty of interest. Here the rich got richer with an astonishing 27% leap in the team budget for 2016 in part financed by a 50% increase in title sponsorship from Sky and 21st Century Fox, in part a response to the Pound-Euro exchange rate but also increased spending. The team budget of £31.1 million is huge but so is the change on the previous year. Team Sky is in a luxurious position being able to tap its sponsors for funding increases like this when other squads have more contained budgets and they have to run just to keep up. But comparisons with other teams are hard and sometimes impossible given the lack of data, even the headline budget numbers let alone a set of accounts to flick through.
Previous accounts have stated the team is funded for years going forward, this is not the case any more. This does not mean Sky's sponsorship is ending, just that it is not stated. The team shows few signs of slowing down, picking up the likes of David de la Cruz, Jonathan Castroviejo and Dylan van Baarle, presumably all on premium salaries and in 2017 they unveiled a new vehicle, the leviathan "race hub". Looking ahead the team is moving into rider development by hiring the likes of Egan Bernal, Pavel Sivakov, Chris Lawless and Kristoffer Halvorsen when they've typically bought in senior riders.
Accounts available online at companieshouse.gov.uk
Exchange rates at 31 December 2016: £1 GBP = US$ 1.23 = €1.17