The accounts for the Ineos Grenadiers team have been published, the chance to look at the budget for a World Tour team. Having rounded up the accounts of several other World Tour teams there's also a quick but incomplete comparison.
€50.1 million was the budget for the year ending December 2020, as the cropped screengrab from the latest set of accounts from Tour Racing Limited shows. It's down by €678k on 2019, the first time the team budget has fallen.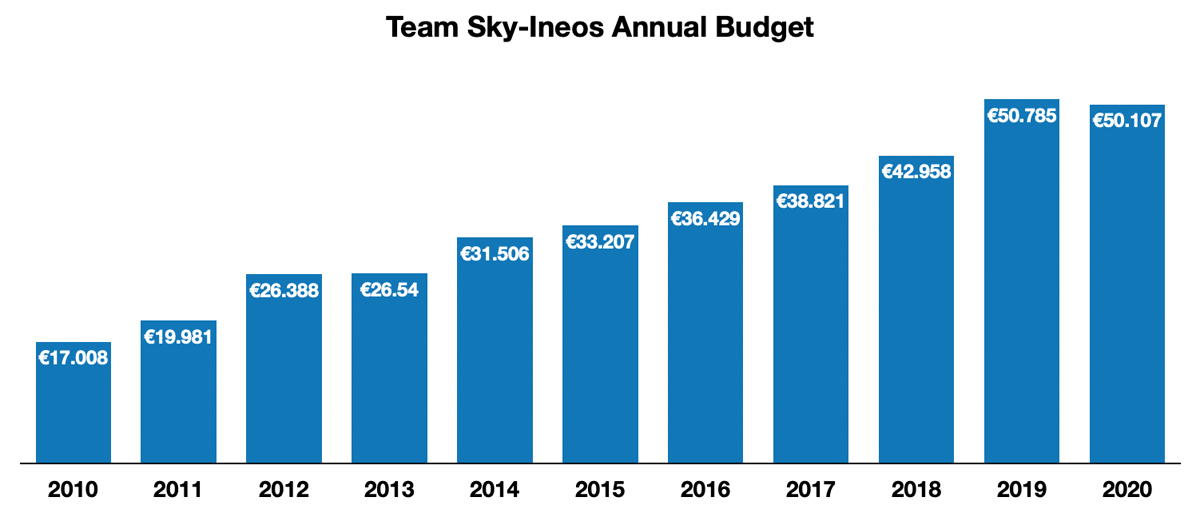 Given Covid-19, the shrunken calendar, reduced travel and cancelled training camps you'd expect expenditure to have fallen in this exceptional season; the surprise is it didn't fall more. Other teams had to slash budgets, some slashed rider wages. They made two big signings in Richard Carapaz and Rohan Dennis; out went Wout Poels.
2020 was still a mixed season for Ineos, the first year since 2014 when they didn't win the Tour de France, even if apparently Michał Kwiatkowski and Richard Carapaz's shared stage victory generated a lot of valuable publicity. But they got the Giro with Tao Geoghegan Hart and Filippo Ganna's world championship win was largely an Ineos project.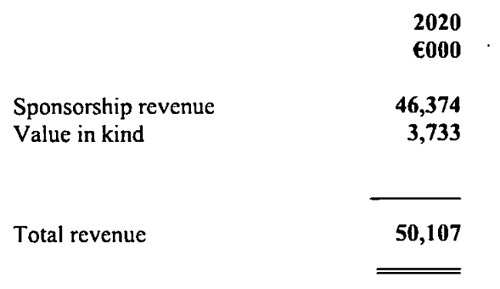 This note from the account shows where the budget comes from, sponsorship as in cash received from Ineos, but also from other sponsors like Pinarello, Castelli and others who pay to associate with the team and to supply them. There is also "value in kind" which is accounting jargon for goods give instead of cash. In the Team Sky days the accounts broke down this revenue into more sources. Teams do get income from other sources such as expenses from race organisers, prize money and appearance money payments for any star riders are often handled via the team and presumably this is shoved into the "sponsorship revenue line".
Otherwise there's not much else to note from the accounts. The notes show the team had 39 employees and a wage bill of €3.7 million but this is for staff rather than riders, who are instead hired as contractors selling their service, rather than employed in the traditional sense. Cycling teams have few assets, there's little point owning property or financial assets and so the balance sheet is usually not much interest; the accounts show they took on some new leases for property and vehicles and that's about as big as it gets. It's a rare look into the budget of a team but there's not much beyond the top line number.
For comparison here are the top line budgets from other audited World Tour team accounts from the year ending 2019, plus Cofidis. It's only a selection but the French and Belgian squads do file accounts, while others are not public; often numbers that do the rounds on other websites are wrong because the numbers for the teams that do publish accounts are wrong which suggests the figures for teams that don't must be mistaken too. Still the likes of UAE, Jumbo-Visma and Bahrain should be more than €20 million. Also headline comparisons are just that, there's nuance when comparing international businesses with tax a big one: put simply a Euro spent in France doesn't go as far.
Ineos has had the biggest budget in the World Tour for many years and by a long way but right now we're seeing the proof that money can't buy success. Budget correlates strongly with performance but it doesn't guarantee it and Ineos may be the strongest team in stage races across the season but they don't have the best rider for the Tour. UAE have Tadej Pogačar under a long term contract and have signed Spanish teenager Juan Ayuso on a similar deal too. Sky/Ineos tried to sign Remco Evenepoel but he is linked to Quickstep for years to come. 18 year old Marco Brenner has a four deal at DSM. Bora-Hansgrohe are planning something similar with the Belgian junior Cian Uijtdebroeks. Mining the Under-19 ranks can deliver but not all diamond juniors turn out to become flawless pros, some riders can be physically mature for their age and don't progress; for others the mental side is difficult, the job doesn't turn out to be what they hoped for. So it can be an expensive option on future talent, spending millions to gradually bring a rider on who may not make it and if they do reach their peak… a team like Ineos can wait for the five year deal to expire and sign them they're at the ripe old age of 23. Besides Ineos already have Tom Pidcock and also Carlos Rodriguez and both are being given plenty of leeway and time, Pidcock is racing offroad while Rodriguez is combining racing with studying at university.
Pogačar and Egan Bernal are likely to race the Vuelta together but it's next year's Tour that looks like the big contest and UAE will want to strengthen their squad for next year, they've managed this year but just and had to pull Brandon McNulty from the Giro. It did seem João Almeida was going to Bora-Hansgrohe but maybe it's UAE now. For all Ineos's struggles in this Tour, they've won the Catalunya, Romandie, Dauphiné, Suisse and of course the Giro but they'll be looking at their squad, they used to unload older riders, now a third of the team is over 30 and there's a rebuilding project for the medium term here too.
Lastly budget isn't just for recruiting talent, retention matters. On other teams a rider might be tempted to play their own cards mid-race in the hope they can raise their market value and get a bigger contract elsewhere. A well-funded squad like Ineos can offer bigger contracts than they'd get elsewhere to start with and this buys loyalty and reliability and helps explains why some riders are happy to be workers here rather than lead another squad.