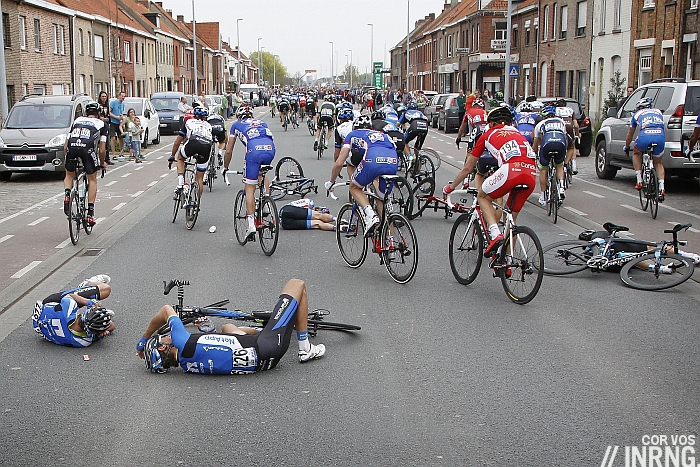 Guest piece by Frank Kwanten
The sport is changing. Teams want a new model and some have united under the "Avignon Accord". The UCI and the races are changing with calendar reform, a points overhaul and more. ASO buys the Vuelta, even leaving Hein Verbruggen in awe.
But what of the riders? Too often they're not represented and when they are, it often doesn't satisfy with concerns about everything from safety to late payment of prize money. "Ride to 2016" is an initiative by Dutch rider Reinier Honig who is a strong advocate of better protection for the riders. He found himself without a team after the Crelan team pulled the plug late in 2013. While still training and racing (he won a race a few days ago) Honig wants to contribute to a bright future for young cyclists. Reinier took the initiative together with Frank Kwanten who, after a career at Vacansoleil-DCM, now works as a Rider Agent and does some consultancy in the world of pro cycling. Frank is the owner of First Echelon and strongly believes that for a clean and bright future the riders need to take a stand and organize themselves.
Perhaps we should have a rider liason/representative at races to monitor safety. UCI Commisaires dont seem to understand our sport.

— Dan Martin (@DanMartin86) March 29, 2014
The Ride
Over the weekend Dan Martin and Andrew Talansky asked for a stronger position of the riders. The safety at the Tour of Catalunya made them again realise that the riders hold little power. At the same time many riders crashed during the Belgium spring classics showing that a big bunch in good weather conditions has trouble to stay up right on narrow roads with dangerous obstacles.
In the meanwhile is Michael Rogers fighting a suspension on a nearly unmeasurable amount of clenbuterol, did pro riders wait over 12 months to get prize money and did riders who violate the rules don't feel the consequences. This all happens while we enjoy a new season of 'professional' cycling. A season in which new initiatives came to surface which should prepare our sport for a bright future with a sustainable business model.
In the last month we have for example heard about the initiative of the UCI on how they think the future of professional cycling should look like. Earlier the UCI also made an effort by doing a consultation with various stakeholders. Furthermore the teams have found each other in a joint effort to obtain more certainty by underwriting the Avignon agreement. This Avignon agreement might also be the solution for the race organizers who are struggling to survive in the current system. These initiatives contribute to a healthy future of the sport by giving it more stability and a better business model.
But amid all these voices the one group which doesn't speak out loud but is very vulnerable is the that of the riders. These past couple of years we have seen many examples of rider vulnerability on the road, but also ethically and legally. The riders are organised in the CPA but what do they want and how are they organised? It is time the CPA reinvents itself to do a better job informing and protection their riders. And we believe it is time that the riders tell what they want and get some power.
To start this debate on a CPA 2.0 we'll sum up the areas of improvement that we have identified and what we want to change by 2016.
16 changes by 2016
The CPA is setting the agenda and we have several suggestions which the CPA should address in talks with the other stakeholders in order to help decrease rider vulnerability and start talking with the riders instead of talk about the riders.
Together with the UCI, WADA, teams and race organisers we want the CPA to find solutions on 16 issues by 2016. This concerns issues around race rules, rules on ethics and the position of the riders in general:
Race rules: Change UCI-rules which aren't easy to check. The UCI regulations currently show rules which aren't easy to check and they need to be changed and standardized. This concerns for example the rules on the transfer period, on the bike path or on motopacing after a crash / puncture.
Prevent advantage and disadvantage due to vehicles in a race: there should be fewer motorcycles allowed in races because they often interfere in the race through motor-pacing, voluntary or not.
Encourage more objective behaviour in the caravan: sport directors defend the interest of their own team, but this often interferes with the rules, safety and interest of others. Therefore we propose that the team managers get drivers, hired by the organizer. The independent driver will only change his position if he is called out to the front. This makes the race at the back of the bunch less subjective and more honest.
Crowd management and race safety: stricter rules for crowd management at high risk areas of a race (for example at an uphill finish). This will make the race more honest. Also look at the crowds in the feeding zone. For example give every team a dedicated area so this part of the race gets less dangerous (like a Formula 1 pit zone). When courses are revealed and weather conditions make it dangerous the riders need to be represented in finding a solution with the organiser.
Prevent delays in doping test results: all A-samples should be tested by one institution and within six weeks after a UCI-race. In case of a positive A-sample, the B-sample should be tested within six weeks after the request of running said B-sample has been made. This makes it easier to pay prize money, makes it more difficult to leak the news and prevents riders from racing for a long time after a violation.
Arrange uniform sanctions after doping violations: have all sanctions for doping violations determined by one international organisation instead of a rider's national federation. This makes the sport more honest and less political.
Uniform testing bodies with uniform standards: Have one independent institution do all the testing, preferably WADA instead of different bodies finding different substances.
Act and decide faster to prevent bad publicity for cycling: Procedures to sanction riders are too long. It generally takes longer for a final sanction to be pronounced, from the moment a positive test is published, in cycling than in any other sport. Faster procedures in close cooperation with WADA will help avoid long term bad publicity, like what happened with Contador and his clenbuterol-case. But the discussion on race communication should also take place in good consultation with a beneficial solution for all parties.
Prevent doping cases attributed to normal nutrition or supplements which contain traces of prohibited substances. We make a case for a threshold amount for certain substances so we can avoid clenbuterol-stories like Michael Rogers last October.
Have independent doctors look after the health of riders. Cycling teams hire doctors to guard rider health. Independent doctors will help prevent that doctors try to illegally enhance performance of the riders and they will focus on riders being clean. Therefore doctors who accompany the teams to races should be hired by the UCI and rotate between teams, or at least doctors should take a course and an integrity test at WADA. The teams will keep one doctor to coordinate out of competition activities and these doctors will follow an annual refresher course from the UCI, focused on attitude.
Shared responsibility: set up rules to ensure that not only the rider bears responsibility for a doping violation, but that his team does as well.
Make extra income and more attractive coverage possible: cameras and radios should be allowed on bikes so teams, riders and organisers can sell their images to the rest of the world for extra income and a more attractive sport.
Earlier announcement of sponsorship contracts: something needs to be done to prevent another Pegasus, Crelan or team H2O, where riders found themselves without contracts in October, from happening. Have the UCI & its auditors Ernst & Young show and publish on September 1st which teams have a bank guarantee and signed sponsorship agreements for the following year so riders will not be unpleasantly surprised in October or even later.
Prevent delay and difference in payments of prize money: we suggest all organizers should pay their race's prize money to one international organisation before the race takes place, otherwise the race can't take place. This international organisation should pay the teams and riders within six weeks after the race. This would make everything more transparent, easier to apply regarding tax-rules and faster.
Use privileged position of pros: develop programs together with national federations on how pros can help change the culture in cycling and educate young riders.
Easier access to post career programs: riders should get easier access to plan post-career opportunities together with their national federation. When a rider retires or is about to retire the CPA should inform and consult the rider on the possibilities. Review the solidarity fund to turn it into a more sustainable model and make it available for every year that someone was pro, instead of only for riders who were pro for five years or more.
We would like the CPA to discuss 16 solutions to improve the position of the riders and form a 16 point action plan towards 2016 together with a plan on how the CPA should be organized in the near future.
The above suggestions are a start of a debate towards a CPA 2.0.  Let's continue the debate on the Wednesday evening before the Giro start in Belfast and set a definitive list with 16 goals for 2016. If you also support this ride to 2016 please share it and tweet your ideas: #rideto2016
INRNG: this is another guest piece. Riders and their agents could and do lobby the CPA, UCI and others in private but it seems the sport is changing all around but with very little input from the riders themselves who are often resorting to Twitter rather any other means so I'm happy to offer an extra platform to get some debate going
There is the CPA union but it's rarely praised; the recent rises in the UCI minimum wage were largely the result of efforts by some teams. Similarly the UCI does have an "athletes commission" but with only three road cyclists: Marianne Vos, Bernhard Eisel plus, bizarrely, Team Sky PR and DS Dario Cioni, as if they can't find a third active road cycling rep. As talented as these three might be, they don't meet often and can't represent hundreds of riders