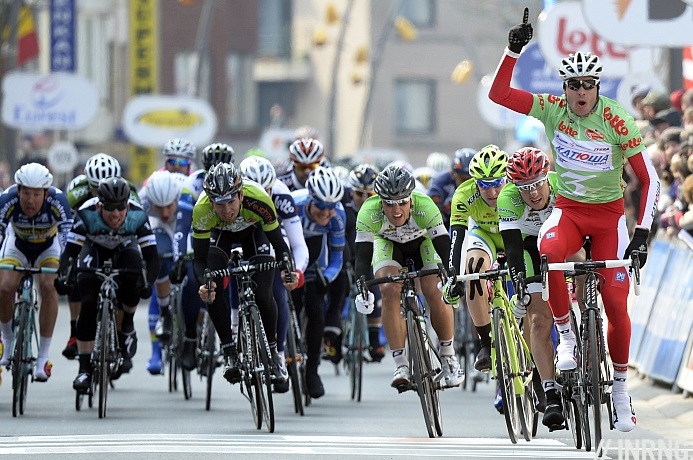 De Panne – Criterium International > F1 – How to Pronounce Mezgec – Stannard – Ag2r – Buy your own SRM – New Blood Doping Test
The Three Days of De Panne start today. A final tune-up ahead of Sunday's Ronde van Vlaanderen and Paris-Roubaix, this time last year Alexander Kristoff made a name for himself. It's also a race infamous for crashes. It's worth watching for the hectic sprints and to make notes on rider form but if ever a DS wanted to "punish" a rider then making them ride this race would be up there; alternatively it's a crash course in learning to cope with Belgian racing with shoulder-rubbing, ditch-dodging and more.
This isn't to knock the work done by Bernard Van De Kerckhove and his team, it's a good event. The Three Days of De Panne-Koksijde to give it the full name are meant to showcase the seaside resort but often it's not the best promotion. The race shows an empty town, a brown choppy sea and leaden skies but the weather looks fine all week… until Sunday when rain is forecast for De Ronde.
Criterium International > F1 Malaysian GP
Talking of nice places to watch on TV do you remember those Corsican stages of the Tour de France? Last Sunday saw at least three bike races on TV, with Gent-Wevelgem, the Tour of Catalonia and the Critérium International. There would be more if the Settimana Coppi e Bartali and the Trofeo Binda were shown live. L'Equipe reports the Critérium International got a bigger audience in France than the Formula Malaysian Grand Prix, 950,000 vs 725,000. But the Critérium International was on public TV and free for all to see while the F1 was on a subscription channel so it's not an even comparison. But it does show that cycling can reach a big audience thanks to mainstream television rather than going down rabbit holes like subscription-TV or Youtube channels. Both can be great for you and me and other followers but they don't reach beyond specialist audiences.
Critérium International to stay in Corsica?
The race has finished its deal with Ajaccio but ASO is holding out for a continuation of the race on the French island. Recent municipal elections in France have meant any decision has been delayed. But it means the new three day race in Britain is unlikely to replace the Critérium. It makes sense, a Critérium International sounds fine in French but it's meaningless in English.
How to say "Luza Mezgec"
On the subject of language, Giant-Shimano's Luka Mezgec won three stages of the Volta a Catalunya but I've heard four different ways to pronounce mangle his name. Luka is ok but his surname seems to confuse. Note the soft-C, it's Mezz-gets, or click this from Forvo:

Slovenia vs Slovakia
Mezgec isn't slow but he is Slovenian. During the Volta Eurosport were flashing up the top-10 graphic on screen with a Slovak flag. If you don't know the difference Slovenia and Slovakia here's a handy guide… slovensko.com/slovakia/slo.htm
Stannard Out
Team Sky announced Ian Stannard won't be racing any time soon after fracturing a vertebra in a crash in Gent-Wevelgem. It's said the winner of the Omloop Het Nieuwsblad never goes on to flourish in the big spring classics but that's part-supersitition, part-peaking too early. I thought Sky wouldn't care for this superstition but a ditch got the better of him.
Ag2r La Mondiale – World Number One Team
There's a headline you didn't expect to read. It might be temporary but the French team have got off to a flying start this year with Carlos Betancur's Paris-Nice win and other solid performances, notably Jean-Christophe Péraud's win in the Critérium International and Romain Bardet's fourth place in the Volta a Catalunya. What's changed? Nothing much, various reports and interviews put it down to confidence. Once they had to late May to win their first race and developed a siege mentality, now they're winning they don't have to try so hard. Whether it lasts until July and beyond remains to be seen but it's a good start for a team on a budget of around €10 million.
Buy Your Own Powermeter
Ag2r are thriving but have yet to embrace "marginal gains" in a bear hug. Like all teams they do work on performance gains but in a recent interview with Vélo Magazine, Romain Bardet tells how he's bought three SRM powermeters for himself. Apparently the team helps source them and presumably does the installation but it's up to the riders to make "the investment". It's astonishing that such a useful tool for the elite rider is left to the riders. Surely it should be essential? Then again it's not as expensive as you might expect, it could be the riders pay a "trade" price and besides as these are tools of the trade, hopefully it's all tax-deductible meaning it doesn't actually cost anything to the rider. Plus being able to buy an accurate power meter might be superior to be sponsored by an error-prone product.
Savoldelli ban?
The Italian Olympic Committee has started an anti-doping prosecution against Paolo Savoldelli. Details are slim but the UCI is involved. Given he retired in 2008 it all seems a bit late but better late than never and if new facts come to life, they can be used to question riders. But retirement is the wrong word, Savoldelli simply moved from a bike to a motorbike as a TV commentator, he remains in the cycling world. It's not abnormal either we saw a similar case with, say, Jan Ullrich and Lance Armstrong who both got anti-doping sanctions after quitting the pro peloton.
New anti-doping test
Some good news to end on. Blood doping has been the scourge of pro cycling but even if the bio passport has helped police things there's been no test to catch cheats using autologous blood doping. Until now. There's a new test that ready to be submitted for WADA verification. The test, called Tauchkörperdichtetest – literally "body density immersion test" – is based on body density and triggered when riders infuse red blood cells. Pioneered by a team of researchers led by Doctor Scherz of Vienna University the principle is simple: when a rider infuses red blood cells they are loading up with iron-rich blood cells which, given iron is heavy, increases the density of the human body.
A portable tank is filled with 100 litres of water and then a sachet of special salt is added to the mix to make a solution with an identical density to the human body, 1.062g/cm3. Then the athlete climbs into the tank and it's simple: if they float they are clean and if they sink then the water is drained and refilled again along with the same blend of salt and if they sink again then an anti-doping prosecution can begin.