Nibali's Aero Gains – Spanish Mussels – Oval Chainrings: Froome vs Wiggins – World Team Time Trial Championships FAQ – Uran's Monaco move – Wiggins Descending
Vincenzo Nibali's time trial surprised many but he's been working hard on his time trial skills. The photo above shows him in the Montechiari velodrome and look and you can see the telemetry box under his saddle to beam data to trackside technicians. In fact La Gazzetta reports he's surrounded himself with team of professionals.
First is Jarno Trulli, the one-time Italian Formula 1 driver. He's been joined by Gianni Sala, a telemetry specialist who has worked for the Ferrari Formula 1 team and Matteo Flamigli (pictured on the right above) who has worked with Valentino Rossi in Yamaha team in Moto GP. In addition there's been input from riders Paxti Villa and Giampaolo Mondini, the 2003 Italian National Time Trial Championship plus there's been input from bike sponsor Specialized for the fit and more. On top of this comes hours spent training on his time trial bike. Time trialling is a skill, both in pacing but also finding the right position and Nibali's efforts over the winter have paid off. But for all the surprise with his ride, he's had some good performances in the past, for example eighth in Stage 8 of the 2012 Tour de France, the 41km Arc-en-Senans-Besançon time trial.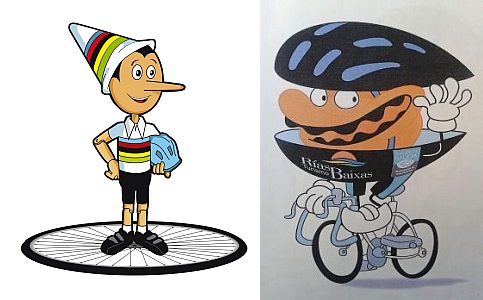 The Giro rode into Florence today. The Italian city will be back on the cycling calendar in September as the host city of the 2013 World Championships and much has been made of their choice of a rainbow-striped Pinocchio. The Italian character is a local but for many he's the symbol of a liar and in sport where deceit has made too many headlines the choice left many non-Italians scratching their heads. Not to be outdone, the 2013 Vuelta looks set to unveil a new mascot, a mussel.
Round Rings for Wiggins
Not the Olympics, but chainrings. I keep being asked why Wiggins isn't using oval chainrings. He used the Osymmetric rings in the Tour de France last year but is back to round ones for the Giro. Did Shimano pay him a lot of money to ride on their equipment or were the gains not there? I don't know.
What's more certain is that the use of oval rings lends itself to longer distance linear efforts where steady pacing works. In other words they can be effective on a long and regular climb like you get to a ski station in the Tour de France, But on the winding tarmac that was once a goat path style of climb in the Giro they're less use, more so when you're changing pace to win sprints for time bonuses. So my hypothesis would be that these chainrings are more suitable for the Tour than the Giro and this is why Chris Froome continues to use them whilst Bradley Wiggins has stopped. Add to this the fact that Wiggins has dropped his chain a few times and the gains, if they exist, are small once you net off the risk of stalling because you've dropped your chain. Note it's not just Sky, Europcar's Pierre Rolland is using them and his slow grinding style is suited to this.
I still laugh at the tale of Astana's Andrey Kasheckin who bought a pair and gave them to a mechanic to fit. Hours later the Kazakh went for a ride but didn't like them at all. Only the mechanic had installed them the wrong way, rotating them 90° so rather than having more power on the downstroke Kasheckin was reduced to pedalling hard across the top and bottom of the revolution.
World Time Trial Championships
The other frequently asked question this week was why Omega Pharma-Quickstep didn't wear rainbow jerseys in the team time trial stage. The simple answer is because they didn't win them last year.
Yes they won the world championship team time trial race but this doesn't come with rainbow jerseys. Instead there's a medal on the day and then the following year the team gets a "distinctive logo" on the jersey. This is worn by all the team the following year. The photo above is of Mark Cavendish but he was with Sky last year and he didn't ride the time trial either.
Monaco Extensions
Monaco is reclaiming part of the sea to build new housing. The tiny principality is popular with many cyclists because of its location, handy for Nice airport, a variety of roads and good weather so now there's more room. Of course there is no income tax either. The latest resident will be Rigoberto Uran. There's speculation that he's going to be changing teams. It's normal because Richie Porte has just renewed his contract and maybe there's not enough room for the likes of Uran, or at least the Colombian can cash in by riding elsewhere.
Rest Day
Finally the Giro gets a rest day and after the first week, it needs it. But there's a long transfer across Italy and tomorrow many riders will hold press conferences. Nibali will spend plenty of time with the home media whilst Wiggins should be a big draw too.
It's hard to know what's going wrong on the descents. His line is off at times and he's obviously braking when others don't. But what's changed? He was fine in the Tour de France last summer when the Pyrenees offered thick fog as well cold rain. More recently he coped fine in the Tour of Catalonia. Is it the Italian roads which twist and turn far more than those in France or Tenerife? Maybe it was just the crash the other day but he seemed hesitant before that. Hopefully we'll get some explanation tomorrow but once you've lost your Mojo, getting it back is never easy.
Multiple Italian world champion Gianni Bugno once suffered a "crisis" like this and spent the winter practising his descents whilst listening to Mozart on his Walkman (remember them?) because he found out he was too nervous. It's hard to imagine Wiggins copying this but perhaps instead a phone call to former team manager Sean Yates could help. In his time Yates was one of those riders with the "best descender in the peloton" labels.
But if Wiggins is having problems, the race as a whole isn't. We're only one week in and there's been plenty of action.