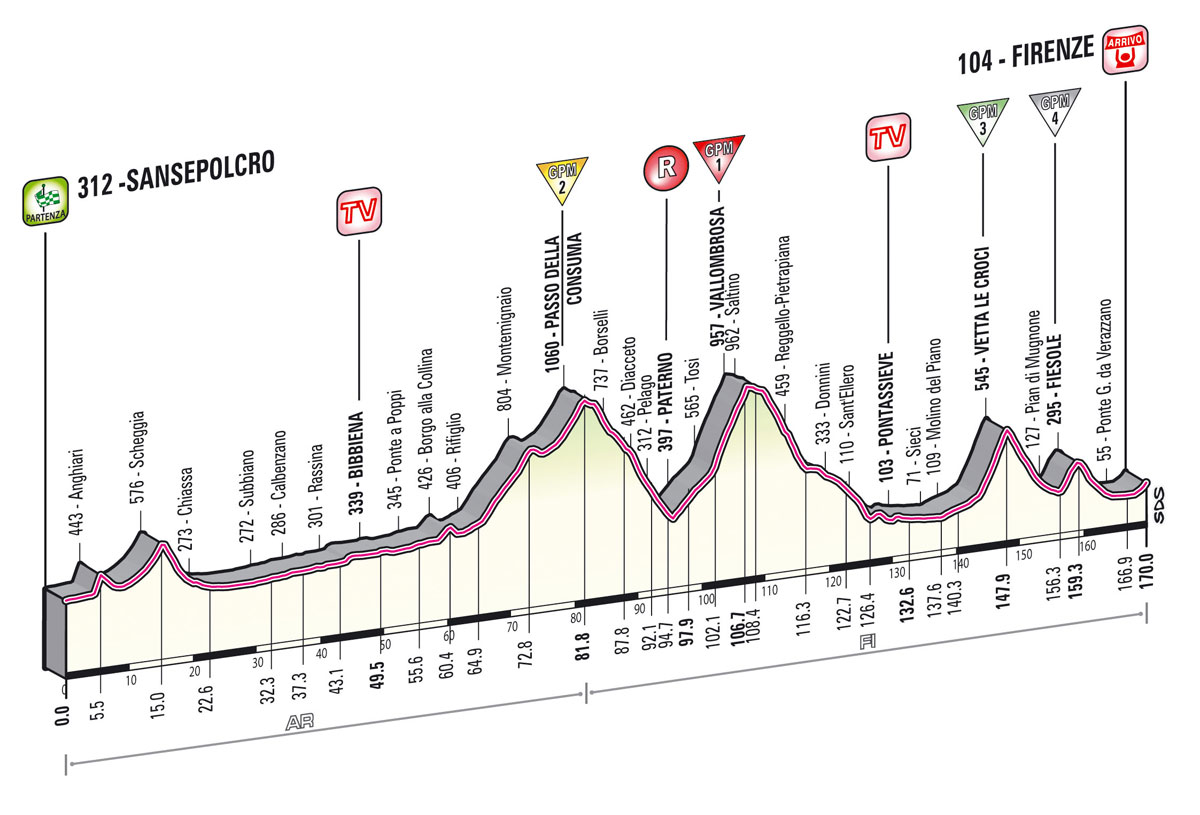 Another day, another jagged profile? Stage 9 sees the race tackle more climbs as the race rides along the spine of Italy's Apennine mountains but the climbs are more linear and predictable thanks to regular grades and reasonable descents.
A day for a breakaway as the race reaches the stunning city of Florence with its history, art and cycling heritage.
Yesterday's Stage: question marks still hang over Bradley Wiggins but now they're smaller. The stage didn't go to plan for him yet he still set a fast time. A bike change along the way didn't help – arguably this cost him the stage win. But he was expected to put minutes into his rivals, instead he gained seconds. The script has changed and rather than defending his lead for the next two weeks, Wiggins now has to attack. It's not as far-fetched as it sounds, he went up yesterday's final climb like a rat up a drainpipe.
The time gaps were not as big as feared, good news if you want suspense. Nibali rode better than some expected. He described the first half of the course as "almost as if it was designed for me" and that's true, it had more twists than a Chubby Checker concert. But his riding in the second half impressed too and he's been working hard over the winter to improve his aerodynamics, teaming up with Formula 1 and Moto GP technicians. Cadel Evans did gret – the fastest on the final climb – and the somewhat stealthy Robert Gesink. A surprise was Michele Scarponi, in tenth place.
Some say Hesjedal was the big loser but he's just not a time trial specialist and his top-20 spot is about what you'd expect on a good day going by past results. If he's lighter than last year, bring on the mountains and we'll see him attack. But enough looking ahead, we should salute Alex Dowsett's win, the 24 year old beat everyone on the day and on course that wasn't ideal for him. His move to Movistar is working out for him but also for the team and it's worth noting his hemophilia, a tough condition for the accident-prone job of a pro cyclist.
Also a word on the TV production. If riders are racing against the clock then we need more than on-screen stopwatch. Simply filming a rider in their aero tuck for 60 minutes is not exciting, the drama comes in their performance relative to others. More time checks, virtual positions and more are worth considering as time trials need production tools for TV although with care as too much information can detract.
The Route: a steady day in the mountains. The stage starts at 12.40 meaning the race will find itself riding through the waft of Sunday lunch in Tuscany, a cruel prospect for the bunch who can only tuck into gels and bars. If the profile looks lively the roads are not too fierce. The Passo Della Consuma looks big but it's wide and a 4% average although some more Alpine sections along the way. The Vallombrosa climb is harder but again nothing to fear, typically 6% but with a section above 10% for a while. The climb of Vetta le Croci is 22km from the finish and a good place for a final selection with its steep ramps.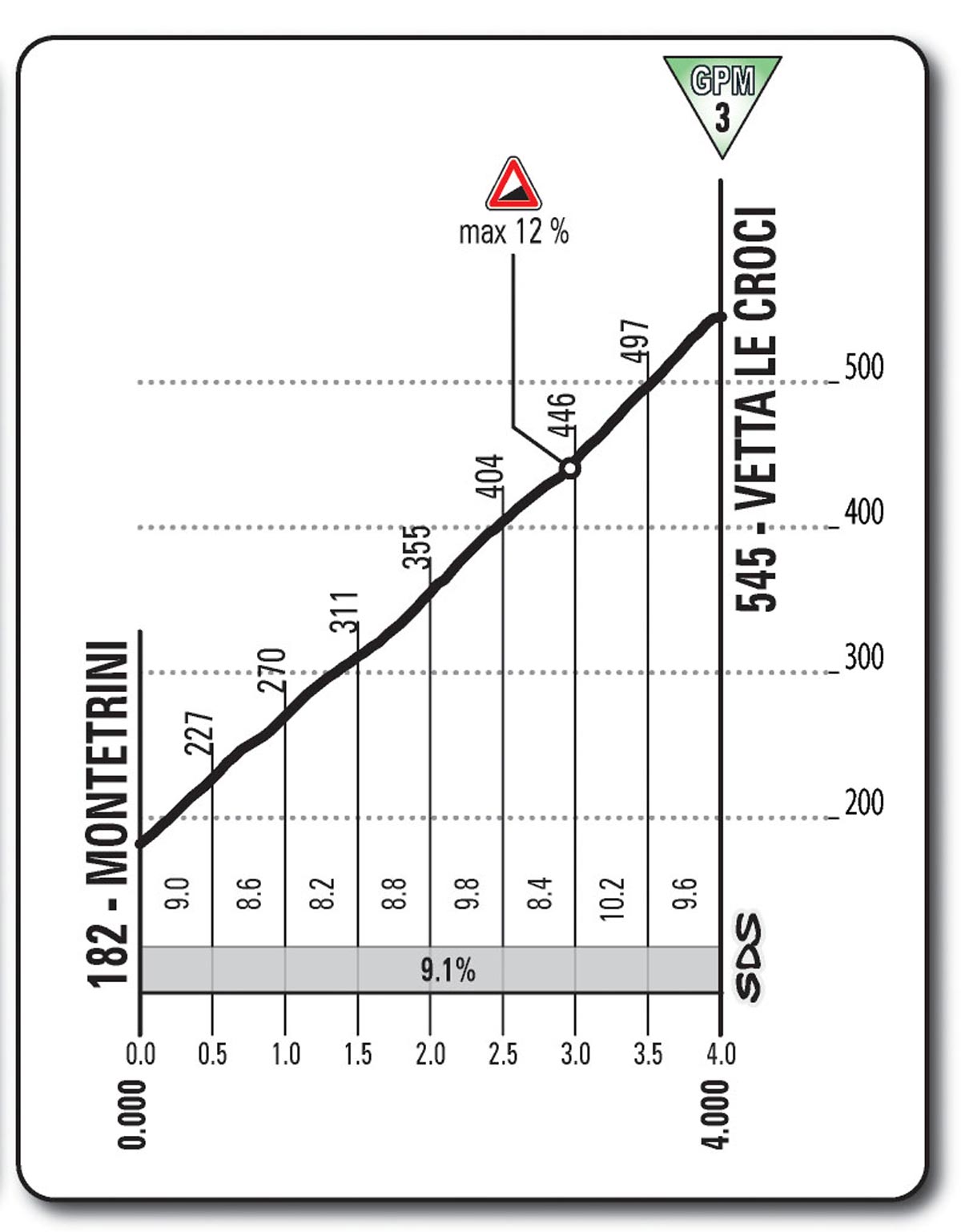 As for the final climb into Fiesole, the roads borrow from the worlds course but not wholly, as only a part of the climb is shared with September's race. It has a brief steep section but is mostly 4-5% and so nothing too selective.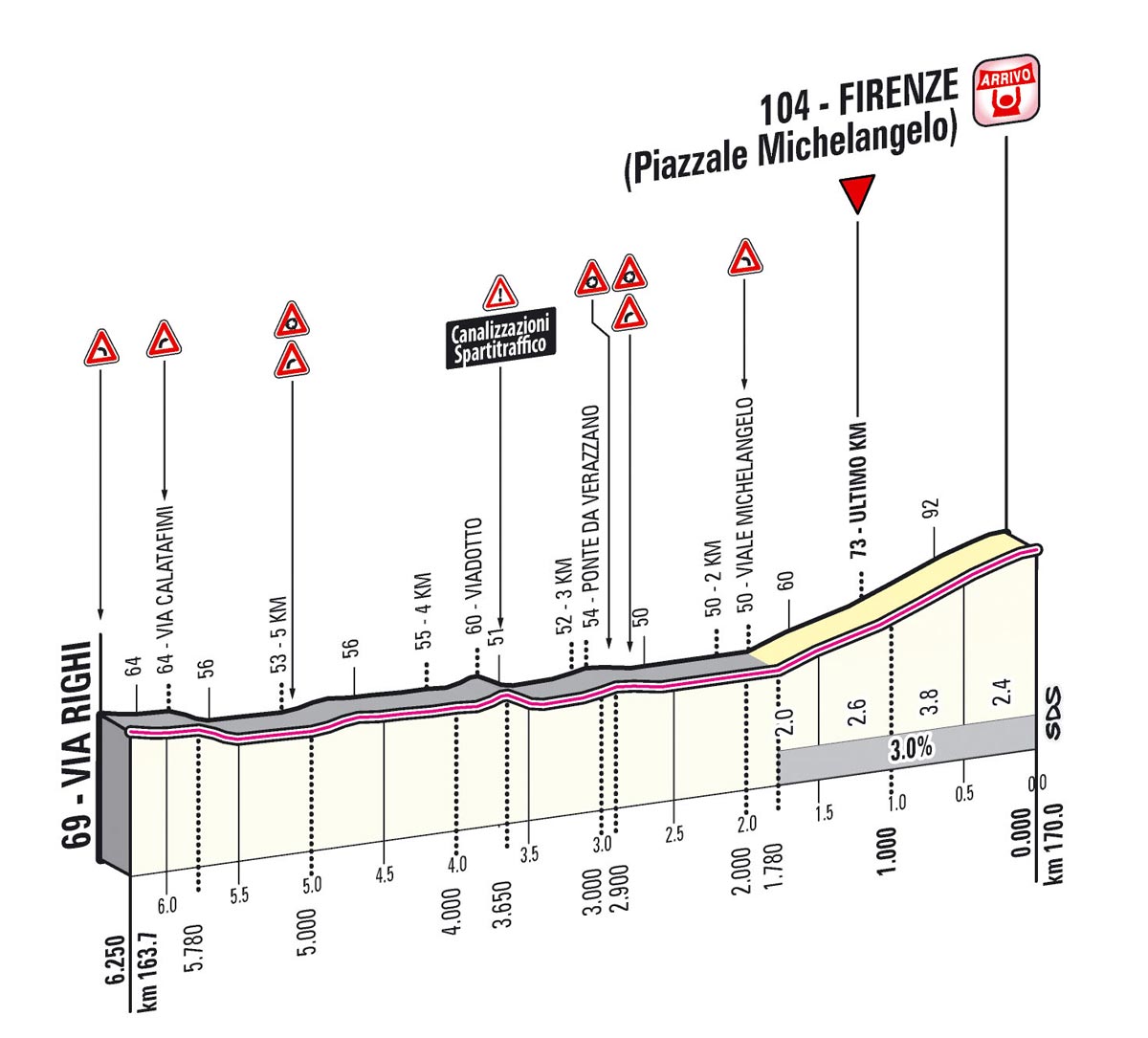 The Finish: the gradient is the big deal, look at all the hazard signs that warn of bends, junctions and more. It's not crazy but the hills today will help thin the field rather than sending a bunch thundering at 60km/h into the obstacle course.
The Scenario: a short stage, a fast day. The stage finishes in Florence, capital of Italy's renaissance but one lesson from that time is that prodigious wealth allowed the accumulation of wealth. So who wins, the wealthy super-teams or the smaller artisan squads?
Many riders are now on double-digit time deficits meaning an exit visa for the day is assured so a lively first hour of racing seems likely with many wanting to get in the day's breakaway. Vincenzo Nibali can even afford to lose the overall lead with the hope of taking it back later, ideally surrendering the lead to another team means his Astana squad save their energy for another day.
Keep an eye on the Vini Fantini team. Charismatic manager Luca Scinto drives into his home region. He called Stage 7 – Adam Hansen's day – "my world championship" but despite setting his team to work he achieved little. As journalist Daniel Friebe wrote, Vini Fantini rode if they had Peter Sagan on their team. Perhaps they'll come up empty again but expect them to try. If not, watch for Marco Marcato (Vacansoleil-DCM), Angel Vicioso (Katusha) or Fabio Felline (Androni) but don't bet the ranch on them, it's an open stage for anyone and that alone makes it worth watching.
Weather: the Giro's official song of Mezza Estate or midsummer is still sounding the wrong notes but today is forecast to bring dry weather and sunshine. However the heat is absent with temperatures between 18-22°C (64-72°F).
TV: as usual the finish is planned for around 5.15pm. Tune in at least an hour earlier to watch the scenic roads and the hilly finish.
Local info: the race is in the region of Toscana or Tuscany and will pay tribute to Gino Bartali. The Italian champion was born on the outside of Florence. Often defined by his rivalry with Fausto Coppi, he won the Tour de France twice and the Giro.
If you can speak Spanish or Italian, here's a gem of a documentary from Spanish TV's Informe Robinson show this week presented by Englishman Michael Robinson. It's well produced, informative yet unpretentious. And even if the languages are not for you, the imagery and characters for 25 minutes are still recommended, whether as a document of cycling or Florence, today's stage finish. If only there were more documentaries like this in English to share.