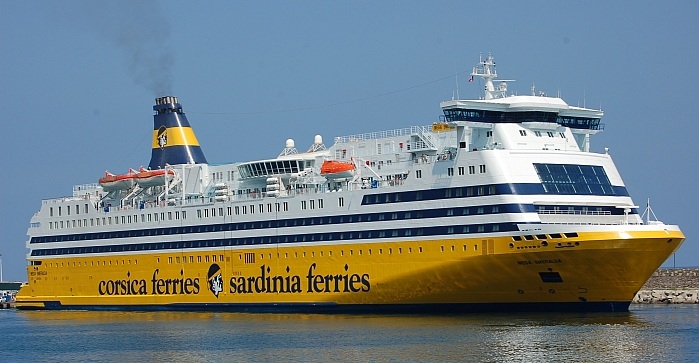 What's a ferry got to do with the Tour de France? Well the Mega Esmerelda will be the headquarters of the Tour de France during the grand départ in Corsica. It will host the Tour's technical offices and play host to press conferences. Hundreds of journalists will stay in cabins; expect grouchy articles about not being able to sample the "Isle of Beauty" as they file reports from their iron hotel.
It's one small detail but shows the size of the race, plus the budget. Because this floating base will belong to the race for several days, quite an asset to use. But that's not all, Nice Matin reports five "Mega Express" ferries will also be used to take the race, from publicity caravan to team vehicles, back to the mainland once the Corsican stages have finished.
Those familiar with the ferry crossings might be pleased with the choice of Corsica Ferries, it is an Italian company and rival operator SNCM is infamous for going on strike at peak times for maximum effect.
More below: Cannondale's leaked team jersey, Bongo in Gabon, Giro wildcards facts, the Flèche d'Emeraude vanishes, Laurent Roux's son and how FDJ put their heads in the clouds.
Cannondale Jersey


That's the new Cannondale team jersey. The team had been planning to unveil the jersey at a special launch conference but the UCI website has just updated its list of World Tour teams and the new Cannondale jersey is there. Or at least it was until the UCI took it down again this afternoon.
Giro wildcard facts
Talking of new jerseys, the Giro wildcards got announced and it's Bardiani Valvole-CSF Inox, Colombia and Vini Fantini.
Uniquely for the sport Bardiani and CSF are effectively the same company and offer steel valves, pumps and other related manufactured goods for the catering industry. It's a clever way to have two brands from one firm on the same ticket
Colombia are almost the national team but the South American nation's best riders are with other teams, notably Uran with Sky and Quintana with Movistar. But still, Colombia is in the top-10 nations for registered pros in the World Tour and Pro Continental level with some 27 riders, significantly more than Britain, Switzerland or Denmark
Vini Fantini are the fluo-yellow team. You have to see the kit for real to appreciate it, the yellow is so artificially bright that no camera or TV does it justice. It contrasts with the team's manager Luca Scinto, a charismatic man so rustic you expect him to always have dirt under his fingernails
Flèche d'Emeraude
Yellow jerseys might be very visible but other things are not. The Flèche d'Emeraude race has been cancelled for 2013. I keep adjusting the calendar page and here's one more vanishing race. But the race never had much presence in the first place, for example no website. I know a race is a race and a website won't save an event but surely if you want to promote an international sports competition then you should have one? It doesn't have to be expensive or too complicated: just the route, profile and expected finish time would be good, plus some presence for the race sponsors.
FDJ's heads in the clouds
French team FDJ are training in Corsica right now but they can get that pine-scented aroma all year now thanks to a new device called the Bol d'Air Jacquier or "Jacquier Air Bowl"
You might be familiar with the old trick of sitting in front of a bowl of hot water with some pine or eucalyptus oil with a towel over your head to help with a cold. But FDJ are using a machine that helps recreate this and it's could have some performance benefits as French TV explains:
it uses the benefits of essential pine oil to help carry oxygen. It delivers, via haemoglobin, oxygen. There's no risk of abnormal anti-doping control: there's no creation of haemoglobin, just a better oxygenation of the body.
Interesting as breathing in some scented steam is ok as there's no manipulation of the blood. Does it work? "It's hard to judge the results… How do you isolate the effects?" asks team doctor Gérard Guillaume but the squad is testing it to see if it works. Fans of the team can rest assured that modern sports science is also being used by this team and we can expect them to have a good season. Watch out for Yoann Offredo who apparently climbed the Col de la Madone in 31.30, not far off the best times set by Tom Danielson and Lance Armstrong. Impressive for someone who's not a client of Dr Ferrari.
Anyone remember Laurent Roux?
The Frenchman was a climber in the 1990s who rode for several foreign teams and won stages of the Giro, Paris-Nice and more. Sadly he also made a name for himself after being caught in doping scandals several times, including one where he admitted to dealing in pot belge. After retiring he went into farming.
But that's not the end of the story. His son Corentin is now racking up cyclo-cross wins and apparently useful climber in the junior ranks. Could we see the name again?