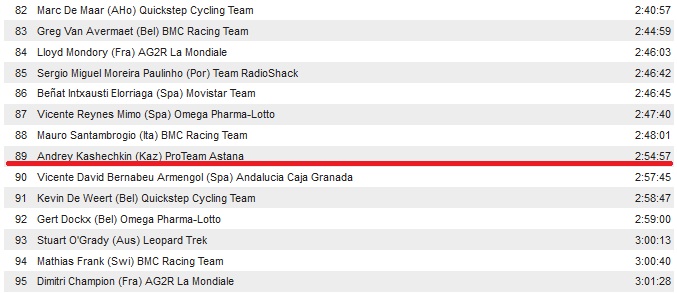 A follow-up to the story of Astana, the UCI's and Andrey Kireyev. The Vuelta a España is over and Andrey Kasheckin finished the Vuelta in 89th place.
As background the Kazakh rider transferred from Lampre to Astana in August, a mix of push and pull. He wanted to ride the Vuelta and wasn't entirely happy with the Lombard team; Astana wanted more Kazakh riders.
Regular readers will know this prompted a small farce whereby Astana was allowed to recruit Kasheckin in breach of UCI rules on team size… yet oddly the UCI approved the move. Once the breech of rules was pointed out, first by L'Equipe, you could hear the sound of back-pedalling and faced with a surplus rider, suddenly Roman Kireyev developed a back injury, rendering him permanently unable to race again. Soon after finishing the gruelling Tour de l'Ain in a 40th place.
You can read more on this here and here but from afar, things looked sloppy. The UCI approved a transfer in breach of its own rules and once outsiders pointed this out, an apparently healthy rider develops back injuries so severe he doesn't just stop for the season and runs out his contract but leaves the team with immediate effect.
Red faces for many and the result? Poor Kasheckin was quasi-invisible in the race, finishing 89th overall, behind team mates Robert Kiserlovski, Fredrik Kessiakoff, Josep Jufre Pou, Andrey Mizourov, Tanel Kangert, Evgeny Petrov and Enrico Gasparotto. Amongst the team, only team workhorse Alexsandr Dyachenko finished lower.
The costs and benefits of this rule busting mid-season transfer make you wonder if it was worth it.