A for ammiraglia. You say team car, in Italian the word is ammiraglia, a naval word that means "flag ship", which sounds both superior and poetic.
B for Bartali… and Coppi. The pair of riders encapsulate plenty, a golden age and a sporting rivalry that went well beyond antics on the road, they were also opposing characters from different regions with different styles: Bartali the pious Tuscan, Coppi as urbane and modern. Some of the differences were exaggerated and caricatured but that's the very essence of a rivalry.
C for Campagnolo. The component maker began when Tulio Campagnolo found undoing wing nuts with his frozen hands and invented the quick release lever and in time his firm became a leading component manufacturer. Today though only one World Tour team in Ag2r Citroën rides Campagnolo.
D for Dino Buzzati, the Italian journalist was sent to cover the 1949 Giro d'Italia and his account of the race stands the test of time, reporting on the race but crucially telling the story of Italy and its post-war reconstruction.
E for equipo or equipaggio, Italian for team or a crew. Or rather the lack of teams but the supply of riders. Italy has a rich calendar of races, its own grand tour, cycling is a relatively popular sport and yet it doesn't have a World Tour team yet only France and Belgium have more pros. Eolo-Kometa, Green Project-Bardiani CSF-Faizanè and Team Corratec-Selle Italia are in the Pro Conti ranks and all riding the Giro. Italy has 13 teams in the third tier pro-am Continental ranks, only China has more.
F for Fauniera, a subjective pick as the greatest mountain pass in Italy. Vast, scenic, challenging but also relatively unbothered by the Giro d'Italia. The Nivolet is special too, the Stelvio higher but take your pick among the 7,636 mountain passes in Italy of which 1,060 are paved.
G for Giro d'Italia, of course. It's not quite the socio-cultural phenomenon that is the Tour de France but it is a genuine national event in a land where local identities count for a lot, a pink thread that stitches together all the regions. It's not for nothing that the race roadbook is called the Garibaldi in tribute to the general who contributed to Italy's unification.
H for jasminum humile, Latin but contemporary as it's one of several varieties of jasmine that make Italy a sensory experience in May as the air is heady with the scent of the plant, at least in the warmer regions of the country but this can stretch from Ventimiglia to Syracuse.
I as in il Lombardia. Organisers RCS don't want to call the race the Giro di Lombardia any more, they want to preserve the word giro for the Giro d'Italia. The late season one day race is one of the five Monuments of the sport, a 250km test and with Milan-Sanremo helps show the breadth of the season in Italy.
L for Legnano, a frame builder that sponsored an eponymous team that ran from 1907 to 1966, an L for longevità too.
M for manto stradale or road surface. It varies a bit by region but generally Italy's roads are packed with potholes and cracks. It's less of a problem for cyclists today with wider tires and stronger rims but zigzagging around and jumping over the obstacles feels part of a ride in Italy in a way that it isn't in other European countries. It's partly a function of the size of the road network, there are many secondary and tertiary roads which offer peaceful cycling with little traffic so less need for repairs, but also climate, geology and of course priorities. A visit of the Giro often means many roads are spruced up in time.
N for Nibali. He's retired and leaves a vacuum behind him as a household name in Italy that today's peloton lacks. Vincenzo Nibali wasn't charismatic from the start but grew into the media role to become self-deprecating and straight talking and this seemed to reach people as much as the range of his palmarès and certainly in Italy, this side of his personality never came across as much in English. Giulio Ciccone could be swashbuckling but he's out of the Giro and needs more results to make a name for himself; Filippo Ganna can be a beast on the bike but as seen last Saturday is being upstaged.
O for Ortona as in the Giro's first stage this year. Will the Ortona cycle path be remembered for Evenepoel's storming start to his win in the Giro or fade into vague memories like "they started by the sea somewhere in Abruzzo but of course the race would be decided some 20 days later in the Alps"?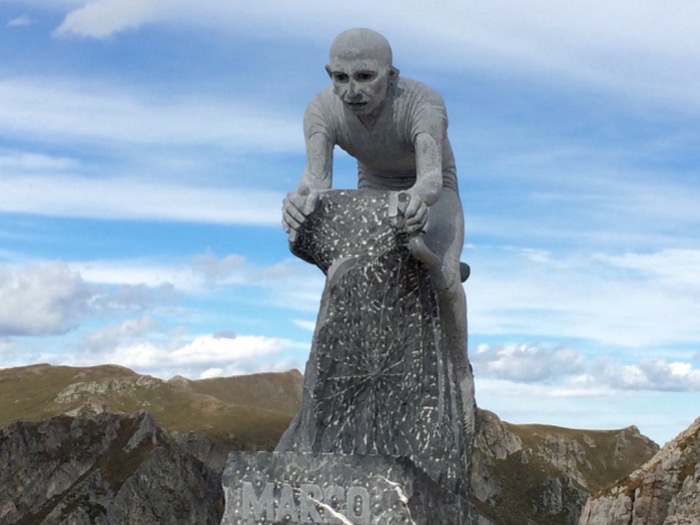 P for Pantani whose shadow still looms over the sport. Wildly popular in his peak, Marco Pantani transcended cycling and was an entertainer, people would tune into TV to watch his attacks in the mountains. It probably doesn't come through via English-language media but he remains a constant reference in Italian cycling. There are several memorials to him and listening to the 2023 Giro on host broadcaster RAI there have been references to him. Matt Rendell's biography is a good read for more.
Q for Manuel Quinziato. There are not many names or places with this letter but Quinziato stands out as an interesting rider who was a valuable gregario for 15 years between 2002 and 2017. Now a rider agent.
R for rosa as in pink. Newspaper La Gazzetta started out with green paper but switched to pink in 1899 and launched the Giro d'Italia in 1908 with the maglia rosa appearing in 1931. Italy doesn't quite turn pink in May but the Giro route is full of decoration, either in the tricolore green-white-red or pink. Many races have a yellow jersey for the overall leader, an imitation of the Tour de France but few use pink… one exception being the Four Days of Dunkerque in France, and also held in May.
S for Stelvio, at 2,758m above sea level it's Italy's highest paved mountain pass. A giant, it's been used surprisingly sparingly by the Giro, the first time was in 1953 and there have only been 13 visits in total. It's a hard climb, often ascetic and austere rather than charming.
T for Toscana. Famous worldwide for tourism – Florence, Siena, Pisa – this region of Italy is also one of the hotbeds of Italian cycling, home of the Strade Bianche race and more. Lombardia and Veneto also see the roads heave with cyclists on a Sunday morning and both have more cycling industry but for a cycling tourist Tuscany might be the best pick with its coast, hills and mountains.
U for Urbano Cairo, he owns RCS, the media company that publishes the Gazzetta Dello Sport and organises – but doesn't own – the Giro d'Italia. One of the sport's big organisers alongside ASO and Flanders Classics, his company is also taking over more of Italian cycling with the acquisition of the U25 Giro d'Italia and the women's Giro too although his sport is football and his club, Torino FC. Increasingly spotted in the company of politicians is he interested in going into government, or does this just come with the job?
V for vecchio, as in old. The average age of a Giro d'Italia TV spectator is 67. Some of this is to be expected, many are at work, children are at school so the retired just make up a large chunk of the available afternoon audience midweek and therefore for the bulk of stages… but that only gets us so far. The race, and the sport in general, needs a younger audience.
Z for Zalf. Notionally a furniture maker but in cycling la Zalf is an U23 team that has dominated the Italian amateur scene since the 1980s… and seemingly retained a jersey design from this era, it's easy to spot. The squad has sent many riders to the pro ranks over the years.