Time for an update on the wealthiest people in pro cycling. If you thought this meant Tadej Pogačar, Remco Evenepoel or Egan Bernal, think again because this is about the people rich enough to hire these stars. As usual the point isn't to fawn at the wealth but a "follow the money" piece so you know where some of the money coming into the sport originates from.
In part one here we'll look at the team owners and sponsors and next week, others in and around the sport…
If you don't know who Sheikh Tahnoun bin Zayed Al Nahyan is, you probably should. He's first on our list as he's surely the wealthiest person here, and probably by a long way. The sixth son of the founder of the United Arab Emirates, and brother of the UAE's current President, he "TBZ" is the UAE's national security advisor, think spy chief with a diplomatic role as well, often working back channels in the region and beyond. Look at the UAE team website and he's not on the board. So is he involved in pro cycling? Let's follow the money as not only does he have the security role, he's got a big business portfolio too and many of his corporate jobs are linked to the UAE team. Look at the jersey and you can spot companies like FAB, a fast-growing bank that recently looked at taking over Britain's venerable Standard Chartered bank; the big state-holding company ADQ; and G42, a technology company with a Covid vaccine sideline, and Sheikh Tahnoun chairs them all; he also chairs IHC which is a co-sponsor of the UAE-ADQ women's team. We're not done yet as he's also chair of Chimera investments, a venture capital company… that owns Colnago which supplies the bikes to both teams. To use a US comparison to exaggerate things, it'd be like the head of the CIA also chairing JP Morgan, Exxon, Microsoft, Blackrock and Trek and putting these names on the front of a USA cycling jersey… but of course the UAE is a smaller place and run by its royals. Still you get the picture and his business interests make him a prime patron of the team.
He's a sportsman, a keen cyclist, triathlete and above all, has a long interest in Brazilian jujitsu. If you want to read more, the Financial Times has a free long read on him. You're unlikely to spot him at the races but just the fact that he's at the helm of so many sponsors qualifies him for the list and he's a figure anyone on the planet should probably take note of. Other royals are behind the team too, the crown prince of Dubai Sheikh Hamdan bin Mohammed bin Rashid Al Maktou, aka "Fazza", is also a cyclist but it's "TBZ" who has so much of his business on the team jersey.
Next comes James "Jim" Ratcliffe, the owner of Ineos, a private petrochemicals company and you're more likely to see him at a bike race, although he's more often spotted at Formula 1 and football. Ratcliffe left a career at oil major BP to buy up unloved chemical factories and Ineos has grown so big that it's moved into oil and gas exploitation to source the raw materials and energy for itself. It made Ratcliffe into Britain's wealthiest man at one point although he's in Monaco now. When Sky pulled out of cycling Ratcliffe bought the team having also owned a sailing team and backing an ice hockey team. His interest in sport is still growing, he's behind French football club OGC Nice and is a sponsor and part owner of the Mercedes Formula 1 team – making him Lewis Hamilton's boss if you like – and Ineos has branched out into other sports like the sponsored marathon record attempt. He's in the running to buy Manchester United right now too. Why? Because he can and it must be fun to own all these teams but they help with dealmaking too, especially the Formula 1 connection which offers VIP opportunities galore. There are cross-connections with Dave Brailsford of the cycling team now working with the Nice football team. You do wonder for the cycling team though, it's said Ratcliffe knows his cycling but all the same he wants the big wins and the relative dry spell in the Tour de France despite the biggest budget in the sport must frustrate. Which might explain the second round of attempts to sign Remco Evenepoel (they tried when Quickstep signed him the first time as well). Either way the team has an almost unlimited credit for now.
Australians love their sport and if there's a bigger sports fan Down Under than Gerry Ryan, I'd like to hear it. He's the man behind the Jayco-Al Ula team and has bankrolled the team ever since it launched as Greenedge. Ryan started out building camper vans and caravans and forty years on Jayco has been a big success that, with the auto industry having pulled out of manufacturing, is said to be Australia's biggest vehicle manufacturer. But there are only so many caravans to sell and he's become super-rich with the Walking With Dinosaurs show to which he owns the rights, and his media and entertainment business also stages other shows although he's a multi-millionaire among some of the billionaires here. He's involved in more business and he's been a generous donor to other sports too like basketball as well as owning race horses. How long can he keep funding a pro team? On and on, we keep asking this question and he's still there and while his businesses like Jayco, the Mitchelton winery or BikeExchange (his son's venture) have appeared, it's Ryan who's really paid the bills. He stepped into help the team after it almost fell into curious hands in the Manuela incident but will be breathing a sigh of relief as the team signed a deal with the Saudi Arabian tourist project Al Ula.
Sheikh Nasser bin Hamad Al Khalifa of Bahrain, or "Prince Nasser" in short, is the man behind the Bahrain team. He's 35 and attende Sandhurst, the British military school and the US Marine school in Quantico too. It's said he loves nothing better than to spend hours in the saddle… with his feet in the stirrups as he's a keen equestrian and has a stable of endurance horses. He's also into other sports, especially triathlon where he's done the Kona Ironman, indeed his Instagram account has pictures of him in army fatigues and triathlon suits alike and he' behind the Bahrain 13 team which is trying to create a stable of the world's best triathles. Bahrain is an island in between Qatar and Saudia Arabia and sits atop substantial oil reserves and like other nearby nations has is spending income from these resources on ways to diversify its economy. The country is a monarchy where the king appoints the government and chairs the judiciary and Prince Nasser, as one of the king's seven sons, holds a certain authority, some of which he's used to condemn dissent within the kingdom. Like "TBZ" above, he's got a national security role. The state has seen uprisings and crackdowns and has the kind of human rights record that makes it hard to cheer for the team.
Now for Philip Hult, co-chairman of EF Education First in the US and son of Bertil Hult who founded the language school on the idea that it's easier to learn a language through experiences than textbooks and via this became a billionaire. EF is not merely a sponsor of the team, it now own it. Bertil Hult started out with next to nothing while Philip and his brother Edward seem to have been groomed for the business. They've got plans for the team and having bought it, are now investing. They've signed Richard Carapaz and from the sounds of things others on the team are purring about their new contracts.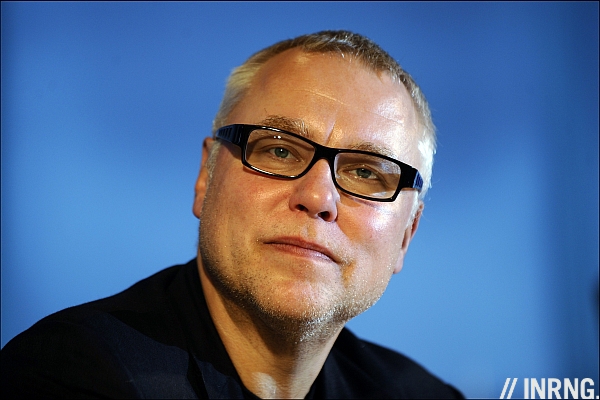 Who is the boss of the Soudal-Quickstep team? Patrick Lefevere might be most people's answer but he's the general manager, and of course the mouthpiece with his regular media interventions. But Zdeněk Bakala might be the right reply. Revisit the "wealthiest" feature here in 2012 there's only name left a decade later and its him… the photo dates from back then too. As the Soudal-Quickstep website says, "At the end of 2010, Czech Businessman Mr. Zdenek Bakala took over the team, which is managed by a Board comprising eight members". Bakala left Czechoslovakia before the Iron Curtain fell, the story goes he went to the US with only a handful of dollars and a sandwich in his pocket. He went into finance and then into minerals and has become a billionaire thanks to coal mines, steel plants and iron ore in the Czech republic and Ukraine. The Quickstep team's changed sponsors over the years and he's said to have helped top up the budget over the years and he's had wider ambitions with the surprisingly clumsy attempts at breakaway leagues (a story told by Alex Duff in Le Fric) but despite this, he cuts a discreet figure in cycling. By contrast he's a known person in Prague whose interests now extend into the media and philanthropy but he's not fallen for the siren sounds of politics unlike other billionaires, and arguably done better for it. He's a keen cyclist and said to ride his bike incognito along the shores of Lake Geneva where he's resident.
The bosses of corporate sponsors like, say, Movistar, Cofidis or Deceuninck may have a passing interest in the team but they're not so involved, sponsorship is a corporate decision rather than an individual pet project. However there are some entrepreneurs keen on cycling, first is Willi Bruckbauer who founded Bora, the cooker extractor company and co-sponsor of Bora-hansgrohe. A carpenter and kitchen-fitter who enjoyed bike racing in his spare time, he didn't like the typical extractor hoods above the hob and had one of those eureka moments to came up with the extractor system on the side of the hob. Bora's grown and grown and for a while was an exemplar of a Bavarian Mittelstand company, a mid-size manufacturer but seems to be growing beyond this. It's still in Bavaria and Bruckbauer is cycling-crazy, in a good way. The company's swank new headquarters have a cobbled driveway up to the main entrance… laid by the Amis des Paris-Roubaix from the same "blue" stones as used in Northern France (pictured), a detail only Bruckbauer could have insisted on. Cycling and business are interwoven and the team is growing, the squad and the company's profile was catapulted by signing Peter Sagan for 2017 and they now have a deep roster.
We could also add Frits van Eerd to the list, the boss of Jumbo supermarkets has been an influential sponsor at Jumbo-Visma, supplying credit to hire the likes of Tom Dumoulin and Wout van Aert, the latter just when the supermarket chain was expanding out of the Netherlands and into Belgium. But Van Eerd stepped down from the chief executive role following a tax investigation. There's also been motor racing sponsorship and if the Van Eerd family aren't big cyclists, they've been more than just transactional sponsors. Anyway Van Eerd says he's stepped away pending the investigation and hopes to return.
The Israel Start Up Nation team is backed by Israeli-Canadian real estate billionaire Sylvain Adams, a keen cyclist who has migrated to Israel and has been spending his fortune to promote the country. You might play Velogames and spend an imaginary 100 credits, Adams does it with his cash. He part-funded the Giro's start in Tel Aviv and has hired Madonna to perform in the country. It's sometimes odd that he gets to call his team "Israel", is the team representing the country, the government, the people when other teams that sport a national identity are backed by the state itself? A mogul in Canadian real estate, when it comes to cycling Adams' record is perhaps not so shrewd, he bought the Katusha licence to get into the World Tour but his well-funded team was relegated at the end of last year. But it depends on the point of view, he's in for the long haul, wants the team back in the top flight and backs a women's team in the World Tour too so he should be a fixture in the sport for time to come and just making it back into the World Tour is surely the start of his ambitions.
Staying in cycling's second tier teams brings us to the Q36.5 team. A new outfit, it's sponsored by a cycling clothing brand whose mission is to try and keep the body as close to the ideal temperature of 36.5°C. Now clothing sponsorship is valuable with brands like Rapha and Castelli bidding to back the top teams… but not valuable enough to pay for a whole team, especially Q36.5 which is a new brand first out for recognition, bumper sales can follow. Which is where Ivan Glasenberg comes in, a South African businessman and Swiss resident. He joined the commodity trader Glencore and rose to become its chief executive and grew the business, even expanding directly into mining. He bought more shares in Glencore, which paid out more dividends, which allowed him to buy more shares and so on. The company has not been without controversy although as Mr Glasenberg's lawyers would surely point out, the allegations have been against others in the company and not him. This had prompted the stock price of Glencore to fall but it reached a record high late last year. Glasenberg's stepped down from the role and among other things, got into road cycling after being a race walker in the past. He's made an investment in Q36.5 which is an Italian company from Bolzano but with a retail presence in Switzerland, a flagship store in Zürich. In short the sales of Q36.5 can't be enough to fund a pro team alone so Glasenberg's helping to get the team and brand going.
At a reader suggestion, we ought to include Murray Bolton too, the man behind the Bolton Equities-Black Spoke team, where the black spoke is cycling theme on New Zealand's history of playing sport in black kit. A New Zealand "rich lister", Bolton started as an accountant, went into banking in the US before returning home to New Zealand and venturing into private equity where he now owns and runs Bolton Equities, among other things including a wildlife park. It's with Bolton that he's made his fortune and he's been able to use a part of this for sport. He's dabbled with the Auckland Blues rugby team, and now reportedly owns 40% of Major League Rugby, the sport's franchise in the USA. Now comes cycling and there's similarity to Gerry Ryan across the Tasman Sea as Bolton seems more a benefactor, he hasn't promise to disrupt pro cycling, nor win the Tour de France in the next three years. Instead the team is much more about allowing the country's cyclists to get a pathway from New Zealand to the pro peloton or Olympic success for the endurance track events.
Conclusion
Oil, gas and mining fund a lot teams, Gulf states back three teams now (UAE, Bahrain, Jayco-Al Ula) while billionaires who made their fortune in this area back three more (Ratcliffe, Bakala and Glasenberg) but this also reflects the money in these sectors.
Having done this feature several times in years past, what's striking is just how many past names have vanished. Some have got out of the sport, some have seen their wealth vanish, a few have seen both happen, only Bakala is here a decade later.