The Mitchelton-Scott team gets a new sponsor, from today the team is renamed as Manuela Fundación. It'd been whispered for a while the team was in trouble, there had been wage cuts earlier in response to the Covid-19 calendar cancellation, but also doubts over the viability of the team for the long term. Now the team has a new sponsor in the Manuela Fundación, a Spanish charity funded by businessman Francisco Huertas (pictured above wearing the red shirt), and its future is secure. Or is it?
Right away the Manuela Fundación is surprise name, even hardcore Spanish cycling aficionados could be forgiven for asking ¿ que ? The Manuela Fundación is a Spanish charity funded by Francisco Huertas and named after his daughter who died while an infant. It's not a big charity, it has a website under construction and its Facebook page lists support for a local cycling club and an U23 team, as well as parasport athletes and figure skaters. Think "local benefactor" rather than ONCE.
As such the Manuela Fundación is a means for its backer Francisco Huertas to spend money on preferred projects. As the team press release says "with all its activities supported by his own funds" so we should think of it more as a vehicle through which Huertas can channel his funding rather than a charity which seeks to raise funds from others to spend on good causes. Still there's a social angle, the press release issued by the team says "The aim of the Manuela Fundación is 'to help create a more supportive world'" and it will be an "overly ambitious project in aid of social work".
Fundaciónes in Spain are common, you might know the Fundacion Contador or the Fundacion Euskadi already. They are legal entities and under a 2002 law have to be registered. A search this morning on the central register held by Spain's ministry of justice didn't find the Manuela Fundación but this could be user error here, it could be elsewhere on a local register, or maybe the paperwork will be in time for the launch on the 4th October mentioned in the team press release?
It all looks odd. Francisco Huertas is a local businessman from Granada and various reports say he's in construction, real estate, stock market trading and car dealerships. If he wants to spend his money on cycling then good for him but we're talking committing to spending millions here, a typical World Tour team budget is €15 million and Huertas is presumably on the hook for most of this now. Only Huertas doesn't seem to be a big figure, for starters the foundation has been sponsoring a local MTB team then a U23 road team: it vibes local, not World Tour. The regional press in Andalusia hasn't written much about him, there's sponsorship of Granada football club by his construction company which ended badly with missed payments, and a story in 2009 when he ordered some floats for a Christmas parade only for the suppliers to go public about unpaid debts and it made the local newspapers but that was at the height of the crisis económica española and to be fair who wasn't having trouble then? In 2017 he tried to buy a stake in Real Jaen, a football club in Spain's third division, but it didn't go through. Put simply if Huertas couldn't make ends meet to buy a stake – not total ownership – of a club in Spain's fourth tier of football he's probably a lot poorer than Mitchelton-Scott owner Gerry Ryan or other multi-millionaires in pro cycling like Sylvan Adams of the Israel team or Jim Ratcliffe at Ineos.
Checking the press release more closely the terms of the deal are unclear. It mentions "the long-term agreement" which implies a sponsorship arrangement and not a takeover, as if the agreement has a duration. But Ideal, the local newspaper in Granada, reports today that Huertas has acquired the team and will move the team's service course HQ from Varese in Italy to Granada and the article repeats several times throughout the piece that Huertas now owns the team and has acquired the UCI WorldTeam licence.
Sources saying Gerry Ryan retains control of GreenEdge (at least for now) and that service course remains in Italy, and that only changes will be the jersey going into return for racing in July. It will be first time an outside sponsor will be involved with team since founding.

— Andrew Hood (@EuroHoody) June 12, 2020
Andrew Hood of Velonews tweets there's no takeover and this seems to be the message coming out of the team to other sources too. The new kit features the old Greenedge logo which suggests some continuity while an interview with cyclingnews.com sees talk of a move to Granada in the future but not for now.
Nevertheless it's a big change. Presumably the first job will be to secure key riders like Simon Yates and Annemiek van Vleuten, but with the Spanish connection surely the team will want to look more Spanish? How much remains to be seen but if it's a Spanish charity they're bound to need to reflect this. The squad has Mikel Nieve for now and he's close to retirement so Movistar, Caja Rural will find another team fishing in their pond. Ordinarily you'd think a Spanish charity wouldn't have so much interest in a roster stacked with Australians but one aspect of this deal is continuity, the team has an outside sponsor now so it could encourage existing riders to stick around rather than jump elsewhere because of worries about the team's continuity. We'll see if there are management changes, La Gazzetta says ex-pro Stefano Garzelli – now a commentator with RAI, Italy's state broadcaster and pictured in the first photo above – was behind the negotiations and could become a manager. It's bound to mean priorities too, the early season goal could be the Vuelta a Andalucia rather than the Tour Down Under.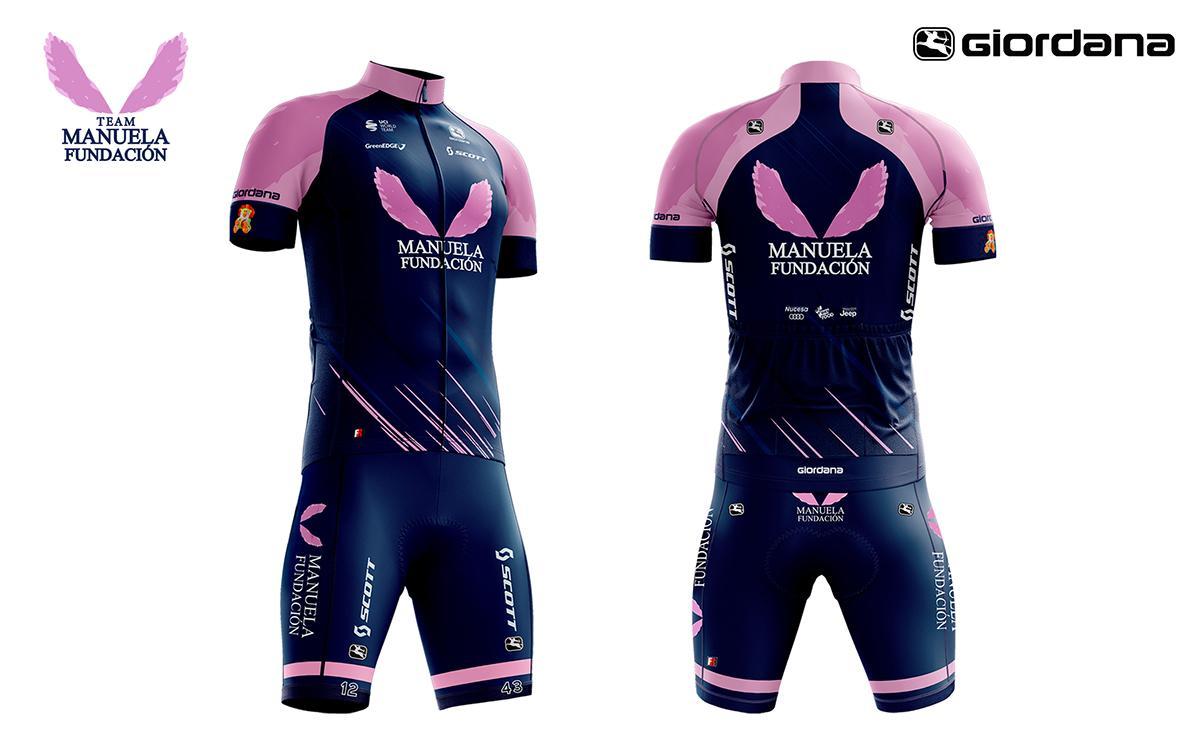 The deal appears big enough deal to give the Manuela Fundación exclusive naming rights, bike brand Scott drops away from the naming rights. But there's no mention of the sponsorship amount but that's normal in most cases, loyal readers will know it's very hard to come by accurate financial data for the teams. Look closely at the new kit and you can see the Audi and Jeep logos, presumably from Huertas' car dealerships and a potential source of the funding but you'd have to own muchos garages to fund a World Tour team.
Conclusion
Everyone's surprised. Normally when a team announces a new sponsor there's a fanfare but the reaction on social media has been more "who?" than "woo hoo". Companies like Deceuninck, Sunweb or EF are obvious and visible, while the likes of Israel Cycling and Ineos are funded by well-known billionaires and there had been talk of Huawei sponsoring this team, presumably to polish their image in Australia and Europe alike. Only nobody would have picked the Manuela Fundación to keep the Mitchelton-Scott team on the road, frankly next to nobody outside of Granada had heard of them until now and it's curious they want worldwide publicity. Perhaps in a storm any port will do and Gerry Ryan and Shane Bannan will have done their homework and must be convinced Huertas has the millions needed so presumably it's us who need to get used to the name change which is effective immediately. Still Huertas is no Oleg Tinkov, nor is the Manuela Fundación anything like ONCE, it's a surprise deal. The announcement seems to have come early, in time to show the name change and new jerseys but with few other details. It'll be interesting to see what plans the foundation has, what it brings next for the team which has long had a distinct Australian identity and the first question will be whether they can retain the Yates brothers.
Update – 18 June: the deal with the Manuela Fundacion is off. There's no sponsorship, no name change, no new kit and the squad will continue as Mitchelton-Scott with a commitment for 2021 as it searches for new sponsors. So back to how things were but there's now a promise the team will exist in 2021 which was a worry before this started but the question of how all this happened and went public is going to be an interesting tale.