Le Fric Family, Power, Money: The Business of the Tour de France by Alex Duff
This is a history of the Tour de France as a business. It could be dry but it's a rip-roaring read about war, money, politics and sport.
Much is made of cycling's business model being broken. Only team budgets are higher than ever, rider wages have soared, contracts are longer, there's more racing on TV, the women's peloton and calendar are expanding fast, safety and employment rules protect more. It's all been resilient enough to survive chronic doping scandals and pro cycling coped well with the pandemic, racing when other sports were stopped. Still, the complaints come from team managers who face the stress of having to keep sponsorship revenues flowing because they have no assets. Instead the assets are elsewhere and the Tour de France is perhaps the biggest. Who owns it? The Amaury family. How did this system arise? Le Fric is here to explain plenty.
Le fric is French slang for money and this is a "follow the money" tale of the Tour de France by Alex Duff, for many years a reporter with Bloomberg, the business news company. To tell the story of the Tour is also a history of those behind it, particularly the Amaury family and it covers publisher Emilien Amaury's rags to richesse story, and later the inheritance battles in the family. Things are calmer today with matriarch Marie-Odile in charge, and her son Jean-Etienne at the helm of Amaury Sport Organisation (ASO), the subsidiary which has become the family's golden goose. For years the Tour de France was kept afloat because it boosted newspaper sales, now the race is far more lucrative than any of the newspapers.
If you want a more definitive history of the Tour de France that explores the race, route, riders and more, Christopher Thomson's Tour de France is a thorough primer. Le Fric is more about the business angles, with the changing ownership, the publicity caravan, the influence of different race directors and the wider role of the Amaury family over the years in the French media landscape. It covers the ownership changes of the Tour de France and the journey to becoming a jewel of the Amaury media empire. Crucially the book explains outs that while there's one legal owner, there's moral owner in the roadside public plus a political angle with French politicians keen to cherish the race, both for their advantage but also as an asset that's as much a part of the country's heritage as the Eiffel tower or Bordeaux vineyards.
Le Fric's is an easy read, a page turner with the feel of a polished magazine feature rather than a history book. In order to do this, the book can jump forward through time, skipping over quieter parts of the Tour de France's history which means it's not a definitive history of the Tour de France, nor the whole Amaury media empire, but it does tell plenty.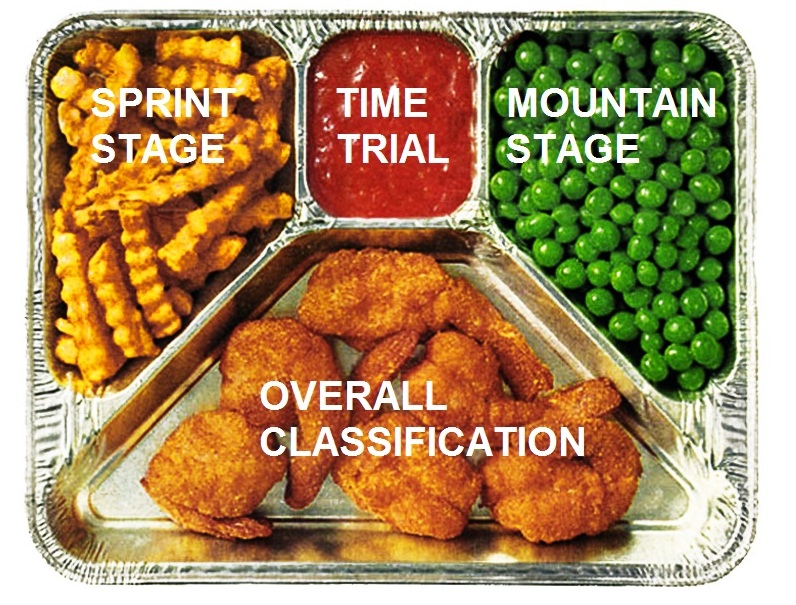 The latter part of the book explores the various efforts to challenge the Tour de France and its owners ASO this century. There have been mooted breakaway leagues that tried to displace ASO's calendar of races; then the "if you can't beat 'em, join 'em" takeover bids. Revisiting this subject a decade one does make you wonder what on earth they were thinking, earnest proposals from serious people that wanted to cut the Giro and Vuelta down to ten days to make room for new events in Argentina, Australia, Canada, China, Qatar, South Africa, US: each with a sprint stage, mountain stage, TT and a final GC, geography permitting. Here Duff's time at Bloomberg comes to the fore, he spent time covering the Tour but also the business behind and there are accounts from those working on the deals. It's not a point laboured by the book, but they all failed because while they were long on finance, they were short other forms of capital, be it cultural, social and political.
Paradoxically while the sport has grown in recent years, the financial bidders have retreated. The Velon group of teams was created to unite teams in their quest to challenge ASO and grab more revenues but it has stalled, its accounts show negative equity, although it's got a slowburn law suit with the European Commission that could prove consequential but that's versus the UCI, so ASO is an onlooker. The book ends on this note with the Amaury family now firmly in charge and there's a now a truce, even gradual cooperation, such as the current Netflix documentary where both ASO and Velon teams are cooperating.
The 300 pages flew by but there were a few prosaic potholes, for example Duff writes in passing that Marc Madiot had an aluminium frame for one of his Paris-Roubaix wins but surely it was steel? Now there are some cycling books with enough mistakes that make you question the author and their work, an assemblage of third hand anecdotes harvested from Wikipedia in order to print something in time for the Tour de France. This certainly isn't one of them, instead there are copious footmarks, an index, sources are cited and the author's sat down for interviews with a range of sources, it's well-researched and sheds light on the recent breakaway league plans and takeover with fresh information. What metal Madiot rode probably doesn't matter.
The Verdict
A very enjoyable read. Now this blog covers pro cycling in terms of both wheeling and dealing with a stage preview her and  a set of team accounts there, so the book's subject material is bound to be of keen interest, but if you're here you might like the subject too. It would be easy to produce something that's as arid as Mont Ventoux in August but this book deftly covers the big stories and personalities without getting sensational, it's a page-turner but informative and well-sourced too. Sports fans should enjoy it and anyone with an interest media history in France would do well to read it too.
A digital copy of the book was sent free for review
More book reviews at inrng.com/books