Want to run a pro team? You need millions of Euros a year. Here's a closer look at the team budget of Ag2r La Mondiale, the French team in the World Tour sponsored by one of France's largest mutual insurance companies.
There's the team budget in black and white for 2016, grabbed from a filed copy of the team's annual accounts: €15,583,516 which is up 8.7% on the previous year's budget of €14.3 million. Again it's 2016 and not this year, these are from the team's accounts for the year ending December 2016 which are then compiled, audited and filed and in time published in France… and a kind reader duly emails a copy over.
As this team publishes the accounts annually we can trace the budget over recent years and the chart above shows a compound growth rate of 10.8%. This tells us something about the team's ambitions over the years and the sport in general. The World Tour background is one of wage inflation for riders, pay has gone up substantially. But the market is lumpy and variable. A year where points suddenly matter for teams hoping to stay in the World Tour can see salaries soar, ditto if a new team wants a World Tour licence. But the accounts for most teams and the World Tour as a whole are not public – the UCI does audit them but won't share the data – so we can't get the overall picture.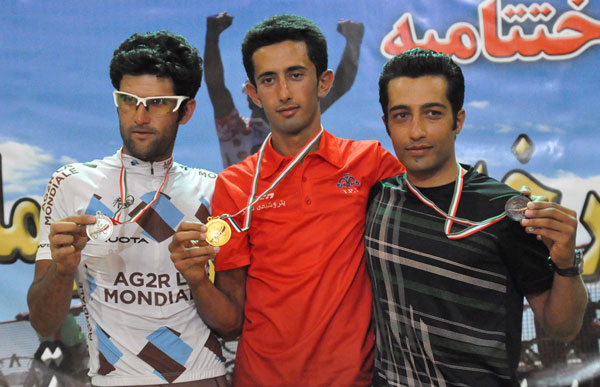 Ag2r La Mondiale are not just passive observers responding to the market trends. It was not long ago they were recruiting Iranians for their UCI points but these days they've got a solid feeder team and have some of the world's best riders like Romain Bardet and Oliver Naesen and sit tenth in the UCI rankings. They've spending to make something rather than just buying in riders. They've expanded the coaching staff and now have head coach Jean-Baptiste Quiclet managing three others including an altitude training specialist. It was only a few of years ago that Romain Bardet was driving down to the Sierra Nevada's Centro de Alto Rendimiento with his father and a stack of scientific literature about altitude. They've also restructured the management so it's more than team founder Vincent Lavenu driving the team car and juggling the budget.
Where does the team's revenue come from? Actually the accounts don't spell this out, they're published but only in summary form. Presumably insurance firm Ag2r La Mondiale provides most of the funding but other sponsors typically contribute cash too on top of material and teams also get millions from race organisers for participating in their events.
How are these millions spent? Here's the screengrab from the accounts: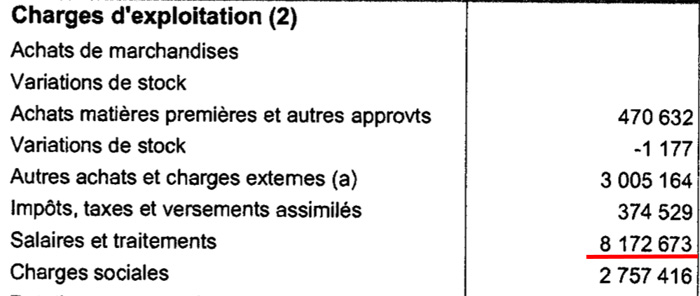 There's €470,632 on materials and supplies. Teams have sponsors for many things so this could be fuel and accommodation but it's not clear. The main item is wages: the underlined €8.2 million spend. Team Sky's accounts are due out shortly but last year their wage bill was €24.1 million in comparison which explains plenty. Sky's dominance leads to talk of salary caps and budget controls but teams operate in many different jurisdictions and in France, as the accounts show, there are a further €2.8 million on top in charges sociales, better known as payroll taxes which equate to 33% of the wage bill to be met on top. This means Ag2r need to spend 33% more just to pay the same salary to a rider on a team that doesn't face these taxes, a significant fiscal headwind. It shows that simply imposing a budget cap in isolation could close the gap but it won't level team finances.
Teams have few assets, there's no stadium and they don't carry much cash either. Riders and accumulated knowledge and experience may be assets in the figurative sense but they don't show in the accounts. Instead the biggest assets in the accounts are the team vehicles only of course these just depreciate with age and use.

As ever there's the UCI bank guarantee of €2 million on the books to. All pro teams have to have one of these as a condition of their UCI licence and it's effectively a pot of money held in escrow in case the team vanishes, leaving riders and staff with unpaid wages. It's a good idea but it ties up a lot of capital. If you wanted to start your own version of Ag2r La Mondiale today you'd need the €15 million annual budget and then have to stick €2 million on top for the UCI guarantee as well as spending more on the team bus and more.
"Just €5 million more"
Cofidis's accounts are online too. The budget for 2016 was €9,918,775. Their publicity and success seems far removed from their French rivals. The Cofidis logo is often easier to spot at a race on the roadside publicity hoardings or finish line – pictured – than on the team kit because they're struggling to win and haven't won a stage in the Tour de France since 2008. Just €5 million more would get them to where Ag2r are and perhaps, but no guarantees, stage win and podiums in the Tour de France. Now just a few million is also an increase in the team budget of 50%, a huge increase but parent company Cofidis turns over €167 million a year. We'll see what 2018 brings for the team, signing the Herrada brothers is a surprisingly good move and Nacer Bouhanni can and has beaten the best in World Tour sprints, he just needs an injury and hassle free path to the Tour de France.
Conclusion
Three podiums in the last four editions of the Tour de France is plenty and every year Ag2r La Mondiale put out a press release to show how they've got many times their spend in publicity. They're so happy they've committed to funding the team until at least 2020 and this has allowed the team to sign the likes of Romain Bardet, Pierre Latour and Oliver Naesen on uncommonly long term contracts that run until the end of 2019. This is welcome stability but the finances show ever increasing demands on the budget which has risen by 10% a year on average this decade.
Exchange rates at 31 December 2016: €1 = US$ 1.05 = AU$1.46 = £0.85 GBP