Team Sky's annual accounts for the year ending 2015 have just been published and they report a budget cut for the first time since the team's creation. Here's a look at their budget, spending, wage bill and a comparison with other squads.
"Tour Racing Limited" is the British registered corporate entity behind the team. Notes in the annual report say it is 85% owned by Sky UK Limited and 15% by 21st Century Fox. Sky Italia used to have a shareholding but this has stopped.
The report indicates that Sky, Sky Italia and 21st Century Fox have all entered into agreements to sponsor the team until the end of 2016. The team is said continue beyond but remember this is the dry annual report which covers agreements and audited numbers up to the end of last year and no more.
2015 Budget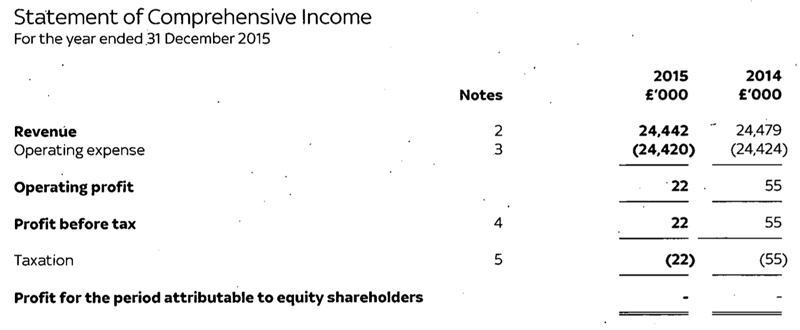 There's Team Sky's budget in black and white for the year ended December 2015. It saw the first ever budget cut with the revenue falling from £24.479 million to £24.442 million (€29.1m / $32.3m). Here's the evolution of their budget since inception: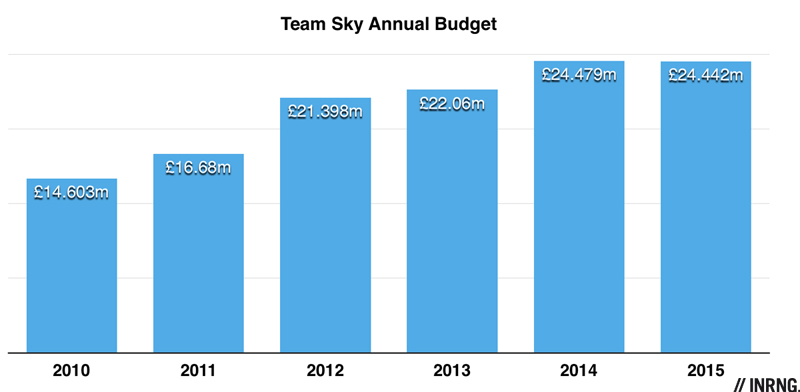 Looking back for a moment it's almost quaint to see a pro team running on £15 million a year (€17.5 million at the 2010 exchange rate). Today that sum looks low but it's still superior to a lot of pro teams today, for example Ag2r La Mondiale's budget in 2015 was €14 million.
2015 did see a small cut but this was hardly a hit to the finances. Back then the British Pound was relatively strong and the Euro, cycling's default currency, relatively weak so that a small reduction in Pounds still bought a lot more Euros than before. Therefore adding the likes of Leopold König, Wout Poels and Nicolas Roche to the payroll didn't cost them much more.
On the subject of currency fluctuations given that the Pound has fallen significantly following political events in the UK a footnote to the Team Sky accounts says "Tour Racing can elect to receive funding from the title sponsors in Euro or Sterling" meaning the team is somewhat shielded from events.
Revenue sources

Title sponsorship is what it says, the money from Sky which actually comes from three sources: Britain's Sky pays in, as does Sky Italia, and 21st Century Fox of the USA
Performance sponsorship is related to the other sponsorship contracts, for example Pinarello, Shimano and Tata Motors' Jaguar brand (remember these are the 2015 accounts so it's before the switch to Ford). They all pay cash fees to the team to be associated with them
Value in Kind means goods or services given instead of cash but there's no breakdown, it could be Pinarello frames, Jaguar cars, Kask helmets and so on
Race fees are stipends paid by organisers to cover expenses when a team participates in a race. It's a substantial component of team income, 16% of Team Sky's budget but for smaller teams it can represent much more. It also shows races do already share some of their money with the teams
Now we've seen where the money come from, where did it go?
The wage bill fell from £18.2 million to £17.9m ($26.5m, a slight fall in dollar terms / €24.1m, a rise when expressed Euros). This line item is every team's biggest expense and by some margin but here Sky's spend on wages alone is huge, it dwarfs most if not all other teams. Remember this is the 2015 accounts so it includes Bradley Wiggins until he "retired" at the end of April and it's likely his move lightened the wage bill substantially.
The wage bill is bigger than the entire team budget for many other World Tour teams and this that explains a lot of Team Sky's success, they can hire riders to be lieutenants who would be team leaders elsewhere, for example Mikel Landa as the millionaire worker.
Note the line on "bike and performance equipment", this is where the team buys its own material, preferring to buy some gear rather than take on a sponsor. For example they've been big buyers of Veloflex tires in the past but seem to prefer Continental now. There's only so much rubber you can buy, it's not clear if this sum includes pricey training camps in Majorca and to Tenerife or whether travel for training is still classed under "race costs (travel and accommodation)".
Hidden among the accounts is the UCI World Tour registration fee of £64k, another reminder the UCI doesn't make big money from the teams in the World Tour (for more on the UCI's finances see last month's blog post The UCI's Annual Report Reviewed).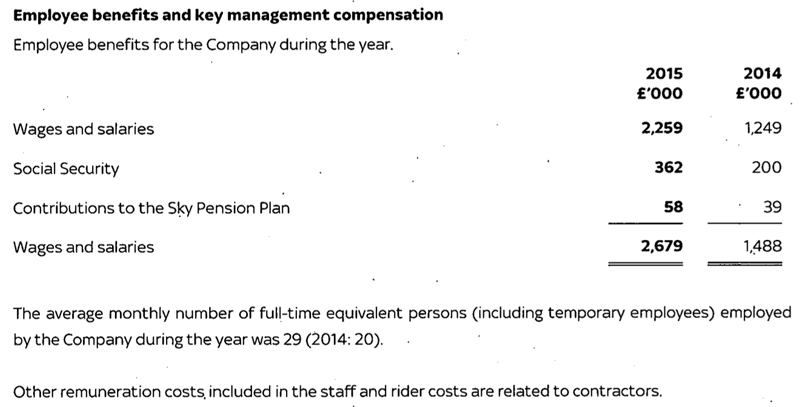 As the screengrab above shows the team has 29 staff on its books. How can it have so few employees when as well as 30 riders during the year it had all the mechanics, soigneurs and more? This is because the riders are usually taken on as "contractors" rather than employees. They invoice their services to the team, a technique often driven by tax purposes.
Other teams? Some teams don't publish accounts at all. Others can be difficult to track down or just contain a the statutory minimum of disclosure such as the revenue, profit and the value of their assets and no more. Even if we got all the information comparisons are hard, for example French teams have big payroll taxes to meet so comparing wage bills across teams is awkward but it could still be instructive to try if the data were available.
Sky's annual report offers a much bigger picture with line-by-line spending details, it's among the easiest to get – a free PDF – and the most informative. If you want more on team finances then last September Ag2r La Mondiale's budget was given a closer look in Ag2r La Mondiale's Team Budget. I've got a copy of Tinkoff's budget too, maybe a feature for another day.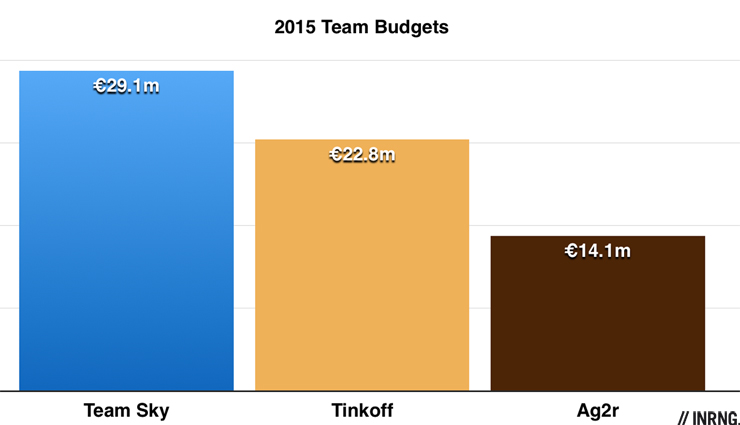 Conclusion
For 2015 the rapid growth in expenditure stopped and it's likely to be the same for 2016 given Richie Porte left even if Mikel Landa and Michał Kwiatkowski are pricey additions to the team. The accounts report the team is funded until 2016 but earlier this year there's been an agreement, at least verbal, to fund the team into "2017 and beyond".
There's a lot of mythology and fascination around Team Sky regarding the secrets of their success. The starting point is money and lots of it with wealthy corporate sponsorship on tap which the team management can draw down. Money doesn't just make the wheels go round, it makes them turn faster.
Accounts available online at companieshouse.gov.uk
Exchange rates at 31 December 2015: £1 GBP = US$ 1.47 = €1.36