Ag2r La Mondiale's latest set of accounts are out and the budget for the team in 2014 was €13.6 million, up 15% on the previous year.
Having looked at Team Sky's accounts recently here's a look at the numbers for the French team.
€13,619,005 is the precise number for 2014. Team Sky's budget has a lot more items listed compared to Ag2r La Mondiale so it's hard to go over the numbers for the French team in as much detail. Instead here is what we've got:
€13.5m in sponsorship income and other earnings, presumably race participation fees and more but there's no breakdown
€0.6 million is spent on "purchases of stock and other supplies", presumably raw materials like fuel for the team bus
The team spent another €2.7m on "other purchases and external charges" which can might from rent to travel expenses
€7.1m on wages
€2.5m of payroll taxes on top of the wages
The wage bill is rising but still modest. The whole team, riders and staff, costs what Astana, BMC Racing, Team Sky or Tinkoff-Saxo can spend on two riders. Of course wages always have a skewed distribution in sport with a few top athletes earning more than the next one hundred on the scale and so on: nothing new there. But it does help us reflect on the differences within the sport. Knowing team budgets and wage spending, data shared with the UCI but not made public, could help fans appraise each team differently.
One specificity for French teams is the high costs when hiring riders. As explained here before jobs are heavily taxed in France and for every €1,000 in wages the team paysa rider it must pay a tax of €350 too. This doesn't happen in other countries, either at all or on the same scale. It makes comparing team budgets harder as a sponsorship Euro collected in France doesn't go as far as the same sum raised elsewhere. This puts French teams on a perpetual competitive disadvantage when it comes to bidding for foreign riders. But if doing business in France can be costly it works the other way as French teams race at home in the Tour de France and enjoy the publicity bonanza and should a team fall out of the World Tour they're still likely to get the hottest invite in town, it's why Bretagne-Séché get a wildcard for Tour and, say, Wanty-Gobert don't. Of course you can see the rider perspective of healthcare, pensions and more but this article is about team budgets rather than rider welfare.
The team earned a modest profit of €83,155 but no pro team is run for a profit and if owners want to take money out they pay themselves wages and bonuses rather than dividends.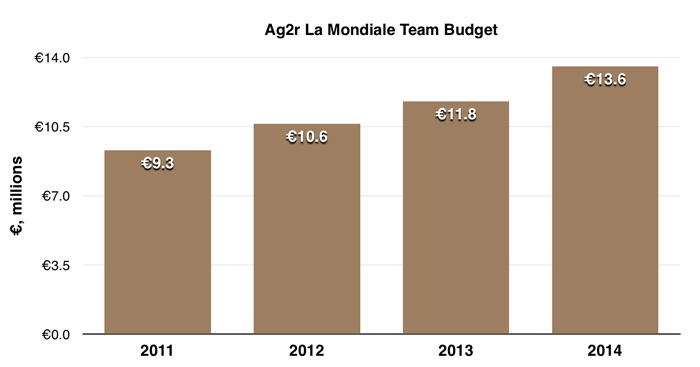 Rising budget: the budget has grown at an average rate of 13% since 2011. Wage inflation or growing ambitions? Probably both as the sport has got more costly for all participants but the team has improved a lot too. It wasn't long ago that the team was fishing for Iran's Amir Zagari to buy in riders with UCI points and prevent relegation from the World Tour while existing riders were tasked with winning points rather than races. Now with the likes of Domenico Pozzovivo, Romain Bardet, Alexis Vuillermoz and Jan Bakelants they sit mid-table in the UCI rankings.
Foundation: The team is part of a wider structure with the Chambéry CF U23 team as a feeder. This isn't some loose deal with an amateur club but a linked team that rides in identical kit and shares staff and based out of the pro team service course. It brings talent on a conveyor belt and has produced the likes of Romain Bardet, Pierre Latour and Nans Peters is tipped to turn pro next. The team recruits outside of this too.
Ag2r vs Team Sky
| | | |
| --- | --- | --- |
| y/e Dec 2014 | Ag2r La Mondiale | Team Sky |
| Budget | €13.6m | €31.1m |
| Payroll Taxes | €2.2m | – |
| Wages | €7.1m | €23.1m |
| | | |
The table shows the differences but there are similarities too. Ag2r is the latest French team to boost spending on "performance", the term used for coaching, marginal gains and more. FDJ were the first to adopt this route in a bid to escape the empiricism of Marc Madiot and it's beginning to pay dividends. It's not visible in the accounts of Ag2r but anecdotally it's not long ago Romain Bardet was buying his own powermeters; now Ag2r has three coaching staff, riders have been visiting windtunnels, doing altitude training camps and mountain recons too although obviously it's all on an appropriate scale.
Astana rider salary in @lavuelta was more than the @GiantAlpecin team budget. Did @iwanspekenbrink watch the Oakland Athletics movie?

— laurenstendam (@laurenstendam) September 13, 2015
Other teams? BMC Racing are said to have the biggest budget in the sport but nobody can get the accounts to verify this. Only a few other teams have publicly available accounts. But what if we could compare the team budgets? Is this a niche subject for blogs or would it become a universal way to appraise the teams, to see the results obtained for money spent? Certainly money makes a big difference and there is a correlation between budget and results but fortunately sport reserves some surprises and this is why we watch. Returning to Ten Dam's tweet above if Giant-Alpecin had started the Vuelta with more money would they have brought more help for Tom Dumoulin or spent it on the sprint train? Having lots of money is one thing, spending wisely another.
Summary
A rising budget but far from the most wealthy team in the sport. Ag2r La Mondiale enjoys longevity, the sponsor has backed the team since 1999 and has already said it's staying on for several more years.
Thanks to reader Nicolas for sending a scanned copy of the accounts.
Exchange rates at 31 December 2014: €1 =$1.13 = £0.78