Peer through the clouds and rain this week during the Tour of Switzerland and you'll spot some of the finest roads to ride in Europe. What they lack in celebrity status granted by the Tour de France and Giro d'Italia they make up for with the views and the smooth surfaces. Is Switzerland cycling's best kept secret?
Today's Queen Stage of the Tour de Suisse arrives in Sölden… in Austria which might send the message that the hardest climbs are to be found outside this mountainous country but in fact there's plenty of climbing and a rich history of cycling. It's home to the UCI of course, the governing body was founded in France in 1900 and moved to Switzerland in 1969. It's got several pro teams with IAM Cycling team as well as women's team Cervélo-Bigla and Pro Conti team Roth. The BMC Racing team rides under and American flag but trades under the Swiss label of their sponsor and owner Andy Rihs and the Katusha and Lampre-Merida are quietly registered in Switzerland too.
Among the manufacturers and sponsors Scott Sports, supplier of bikes to Orica-Greenedge and IAM Cycling is based there and so is Garmin too, at least for tax reasons, and there are more obvious Swiss firms like DT while Assos is going the other way after a buy-out by US investors. The country has churned out pros from Ferdi Kübler and Hugo Koblet to Fabian Cancellara and Pascal Richard, the first professional Olympic road race winner, as well as curiosities like cyclo-cross specialist and Alpe d'Huez stage winner Beat Breu and the reclusive but highly successful team manager and coach Paul Köchli. Many of the best mountain bikers are Swiss right now and back on the road Vincenzo Nibali and Alberto Contador live in Switzerland too. If you want pro racing there's the Tour de Romandie and the Tour de Suisse which is on at the moment.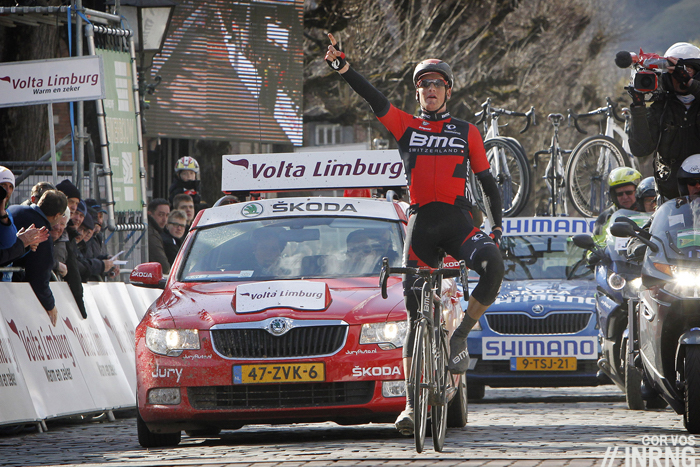 So far so good but there's been an air of decline about Swiss cycling, races vanishing from the calendar. IAM Cycling look set to stop and BMC owner Andy Rihs can't continue for ever, he's already talked of stopping sponsorship. Fabian Cancellara is going to retire and there's nobody ready to fill his big shoes yet; normal given the French wait for a successor to Bernard Hinault and the "new Tom Boonen" label has been slapped on several Belgians only to wash away in an April shower. Still Stefan Küng (pictured) and Tom Bohli look promising and it's only a matter of time until they're battling Filippo Ganna, Hamish Schreurs and Rémi Cavagna in a future Paris-Roubaix.
So far, so much pro cycling. What really works best is going for a ride to see the country for yourself. The country has a big network of cycle paths and signposted routes for cyclists that use roads that's well done even the most errant rider doesn't need a GPS. The rail network is handy for cyclists as trains take bikes. The country is clean too, the streets have as little litter as Japan and villages have fountains gurgling with water to fill your bottles. Best of all is something superficial but crucial for the cyclist: the billiard-table smooth road surfaces. Of course there are potholes in places but there's none of the melting tar found in France nor the cracked roads of Italy, just kilometre after kilometre of fantastic tarmac.
Which roads to ride?
There are officially 16 paved passes over 2,000 meters in Switzerland which means plenty of climbing and thanks to the smooth roads some good descending.
"If you have to ride only one, go for the south side of the Gotthard. The fourth longest tunnel in the world takes away most of the traffic from its slopes, and what is left of it stays on the main road. So where do you ride? On an old road that dates back to Roman times, also called the Tremola. And to keep it authentic, the Tremola is still cobbled, a reminder of Roman times and the incredible feat of engineering that was required to create this road. But not to worry, the Tremola cobbles are not the Paris-Roubaix cobbles… we are in Switzerland after all. The road is well maintained and the cobbles are nice, square and mostly smooth. It's never too steep, so riding on the cobbles is not hard either…it's just a little bit slower, and nothing but pure fun. The Tremola also features some incredible sets of switchbacks" says Alain Rumpf, a Swiss local who you might know from the UCI and is now one of the Grand Tours Project, a cycle tour company offering trips to the grand tours and also around Switzerland at grandtoursproject.com
If you do the Gotthard then the Swiss trinity awaits, a loop with the Furka, Nufenen and Gotthard passes in 105km and just under 4,000m of vertical gain. Alpine cycling probably doesn't get much better
If you're in Italy for the Passo Stelvio then near the top of the western side is the Passo Umbrail which drops into Switzerland and you can ride round back to Italy in a clockwise loop but it's only a brief visit and the irony is that if you want Switzerland for its smooth roads the Umbrail features a short gravel section
"The Albula Pass is a beautiful mountain. In scale, it's maybe like the big Tour de France climbs, but the difference is that in Switzerland you do these climbs and you descend into beautiful quiet valleys, with other amazing climbs starting a few kilometres away. In France, often the valleys are quite industrial and you have these long roads to get to the next climb" says Fabian Cancellara in Daniel Friebe's Mountain Higher
Pick a base near the UCI HQ in Aigle as there are many roads to ride within range. You might have seen on TV whether in the Tour de Romandie or the upcoming Tour de France with the Emosson Dam finish
What about the Lago di Naret? This might not be famous but it's the pick of Will of the cycling-challenge website and what he doesn't know about cycling uphill surely isn't worth knowing and for him it tops everything else he's climbed in the Alps
If you want more options then see cycling-challenge.com/the-ten-highest-paved-cycling-climbs-in-switzerland
It's not all mountains, if you want a recovery ride or just the chance to churn a big gear at speed then there are the plains, valleys and many scenic glacial lakes to lap as well.
So far so good but the downside can be the price and this must be a factor which explains why it's not such a draw. A coffee can be 3-4 Francs (€/$ 3-4), ie three to four times as much in Italy and the same goes for other food and snacks. It's said the tourist sector knows it has to compete in spite of the strong currency so the cost of accommodation isn't so bad, especially as a lot of winter ski resorts can't be so picky about summer guests.
Conclusion
When asked why he had to climb Mount Everest George Mallory famously replied "because it's there". Are many cyclists drawn to the likes of Alpe d'Huez and Mont Ventoux because they are there, or is it more because they know they are there. Has fame from the Tour de France made these roads a draw ahead of other climbs? Many Swiss roads are a match for anything in France or Italy in terms of their challenge and scenery but don't draw the crowds in the same way. Switzerland's pricey currency is one factor but can't alone explain why the country's roads are rarely explored.
Thanks to Alain Rumpf for his advice on road selection above
Photo credits: The Gotthard Pass by Switzerland Tourism and the Albula valley by Flickr's Livenature