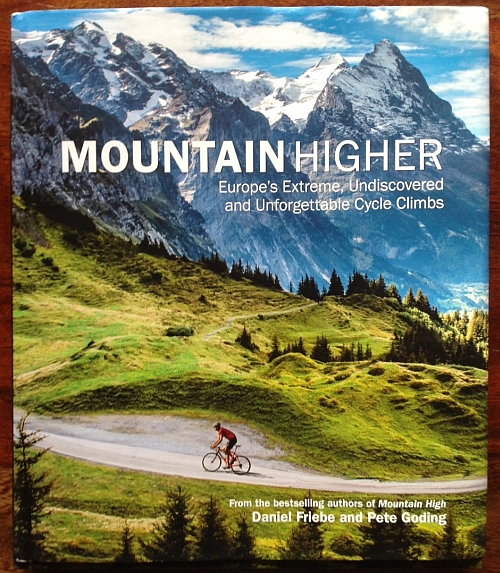 What makes a great climb? The gradient, the view, the challenge or its use in the great races? For many it is the last category that trumps the others, it's what makes people flock to Alpe d'Huez yet ignore the nearby roads.
2011's Mountain High book covered many of the notorious climbs and now Mountain Higher is here to show you "Europe's extreme, undiscovered and unforgettable cycle climbs."
There as always been something about the most glamourized of Tour de France climbs, Alpe d'Huez, that has jarred with the cycling purist. Only premiered in 1952, the Tour's 'Hollywood climb', as the race historian Jacques Augendre christened it, the Alpe palpably lacked the history and gravitas of long-established behemoths such as the Tourmalet, the Galibier and the Izoard.
It's not a criticism but with these words we are reminded that Alpe d'Huez is a social climber that bought its way into high society. Ride it once, ride it many times and it's a good climb but it remains a busy access road to an ugly ski resort whose status is derived a willingness to pay for the Tour de France. This book sets out to list 50 lesser-known climbs which explore the psychogeographical frontier between great roads and their place in the sport.
The label of "undiscovered" climbs is a bit strong, after all someone had to pour some gravel and tar to build a road. Indeed many of the climbs included are famous and feature recent editions of the Tour or other big races. Chances are if you're coming to a cycling blog you've heard of the Oude Kwaremont or the Bola del Mundo and these feature in the book; but maybe you don't know about the village of artists at the foot of one and the origins of the other's name? But what about the Prelaz Vršič or the Grüntenhütte? These will be new for almost everyone and the book extends well beyond the Alps and Pyrenees to reach from Scotland, Norway, Portugal and Croatia.
Imagine going to Giza and finding another, even greater pyramid. Imagine that Shakespeare's best work was a play they never produced. Imagine dining at the world's most expensive, triple Michelin-starred restaurant – and then finding a humble auberge whose béarnaise was even more exquisite just next door.

Imagine all of this, and you get a sense of how it feels to access the…
Well I'm not going to give the location away, you'll have to buy the book. But cycling's Shangri La is just one turn off this summer's Tour de France route. It's this notion of a special climb just over the horizon that arguably makes the sequel to Mountain High better. The first book had to cover some climbs because of their status and altitude – think the Col de l'Iseran or the Grand Saint Bernard – but the cyclist might prefer to ride those listed in Mountain Higher.
Friebe's talent help bring things to life, Monte Carpegna is not a lump of rock with a road but "the drawbridge to what was once Pantani's magic kingdom." The same holds for photographer Pete Goding whose stunning images stretch across the pages of this large book, sometimes with the text superimposed. The pictures never feature a cyclist or a car, yet alone a race in progress. Stripped of the fluorescent commercialism of a race you see the mountain as it is for the rest of the year, complete with a titillating band of tarmac.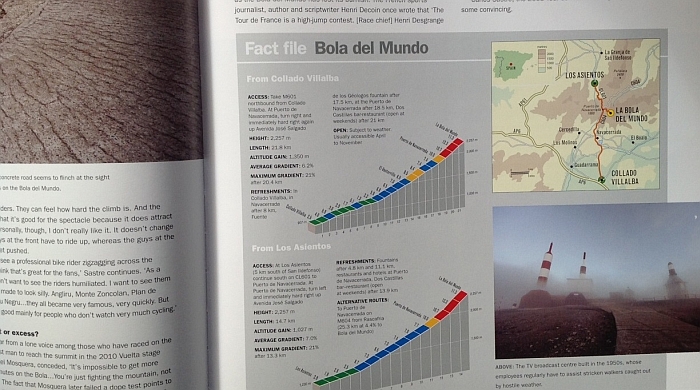 Each climb is featured over several pages with a big photo splash and chased by technical information such as maps, profiles and other useful titbits. But the accompanying narrative is never formulaic, the default anecdote isn't Merckx or Coppi. Sure their exploits appear but there are other characters like Francis Auriac, the pioneering organiser of the Route du Sud or read about Monte Serra, not made famous by the Giro yet an essential part of so many Tuscan training rides that it's significant for Italian cycling. Or there might be a reference to the geology, Napoleon, mountaineering, the tale of a bear, a quote from a poet or, fascinatingly, the real life hermit who lives on a mountain in France today. It's this diversity that makes the book readable, it serves as a reference book but it's also a page turner, you can settle down with a coffee.
But you can't get comfortable for long, like Mountain High this book is dangerous because it incites wanderlust. I found myself looking at maps and asking how long the weather will hold into October. As well as listing individual climbs there are some combos like the Furka, Grimsel and Susten passes in Switzerland and France's Trilogie de Chartreuse in the French Alps which set out a whole ride rather than a climb. But don't expect a technical guide with tips on gearing, lists of things to pack or local tourist attractions, this is all about the mountain.
Summary
50 European mountain roads to ride but also an exploration of what makes a great climb. There's a good mix here with some unknown quantities amongst more familiar names. You might know the more famous climbs by reputation or even a visit but you're likely to learn more about them. Most interestingly, others are just a turn away from the famous climbs of the big races, a chance to climb something that's arguably better than the Tour de France.
Read this if you enjoyed Mountain High as each book is complementary, there is no overlap. It should appeal to a large audience, if you like travel and tourism then there is plenty, the same for those interested in pro cycling and its history. And if you like cycling in the mountains then this is essential.
The book also has a feature where you can use an app and a smartphone or tablet to scan some photos and the app then brings up bonus content and video for free.
The book is launched on 26 September. You can see extracts of the book for yourself here:
Disclaimer: this copy was sent free for review
A list of previous book reviews is available here.