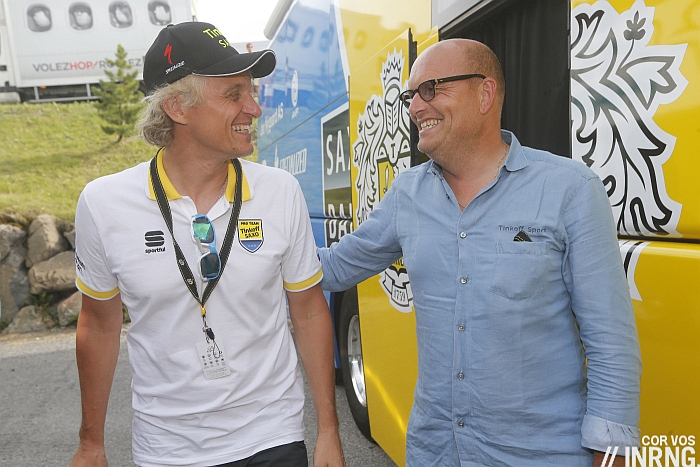 Tinkoff-Saxo team manager Bjarne Riis has been suspended by Oleg Tinkov. It's hard to see the Dane coming back from this, in fact he'll probably be delighted to pedal off into the sunset, his panniers loaded with Euros. Yet it's far more than a clash between two men, this is the story of the whole team, Alberto Contador included, and there are lessons for the sport as a whole.
The Jean Genius
Oleg Tinkov is neither an oligarch nor a pal of President Putin. Instead he's a successful businessman who has made billions by copying western business practices and importing them into Russia. It all begin with cycling and a race in Uzbekistan in the 1980s when Tinkov spotted some blue denim jeans for sale in a market, rare goods in Soviet times. He spent all his cash to buy four pairs and returned to St Petersburg where he sold them for four times the price, the good old "buy low, sell high". In time came printer cartridges, caviar, cars and then a chain of electrical shops which he sold for US$7 million in 1997. He went into making dumplings on an industrial scale, industrialising home made pelmeni and sold this to up and coming oligarch Roman Abramovich for millions. He then opened a chain of brasseries which he eventually sold for €200 million to Belgian brewing giant Inbev. Now it's Tinkoff Bank, a credit card operation that apes the American firm Capital One.
Transaction after transaction, he's shown the Midas touch and his career path has resembled the profile of a Tour de France mountain stage progressing over foothills to the high peaks. Until now… Tinkoff Bank's stock price is plumbing new lows on the London Stock Exchange in the wake of the Rouble Crisis. This brings pressure and dented the image of endless success – he's written books on how to become a businessman – has taken a blow with the cratered stock price.
More roubles, more troubles
Now comes the matter of the cycling team. For Tinkov this isn't a marketing opportunity, it's a lifestyle choice. He might be using his bank's name on the jersey but this is his pet project, his passion. His personal jet is used for the team and he flies around the world to follow his riders. When Alberto Contador stood atop the Vuelta podium, Tinkov joined him. Even when he's not at the races he's watching and tweeting about them. If you were a billionaire you might do the same.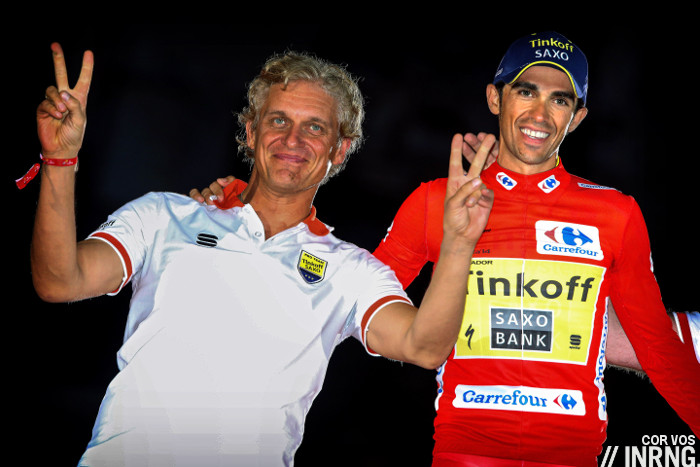 Only all the business acumen used to make billions seems absent. It happens, there are marriage counsellors with lousy relationships, accountants with slapdash personal finances. Tinkov rushed into the sport, buying the team from Bjarne Riis for a giant sum, reports vary between €3-€5 million. He could have waited to build his own team but preferred to buy in straight away, more fun but goodbye "buy low, sell high" given the premium paid. This was compounded by the apparent €1 million annual retainer given to Riis. Now Riis is valuable but as team managers go this is unheard of. In business terms it looks like Riis got the better deal, selling a team and his services for millions, all while a Danish anti-doping investigation threatened him. It's time to seal the deal, Tinkoff first came on board as a sponsor for Riis in June 2012 and was supportive in early July 2013 only by the end of the Tour Riis announced he was looking for a new sponsor as he couldn't get on with Tinkov. Months later Tinkov bought the team and kept Riis on a retainer.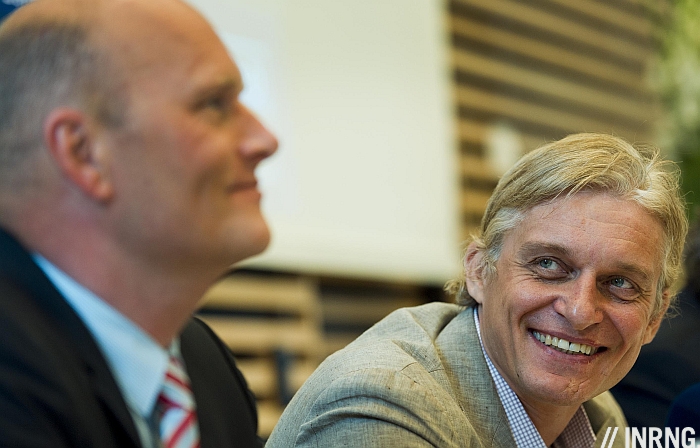 This "buy high" tendency can be seen with the recruitment of Peter Sagan. His career started so well but has reached a plateau since, albeit a very high one. He's not winning this year? Well he's been missing the big moments for some time now. It's too early to tell, the Slovak could win the Tour of Flanders and five stages of the Tour de France. But never mind the could, would or should, for now all we know is Tinkov forked out €4 million for Sagan in a deal done at the top of the market. Sagan was signed just when talk of Team Alonso reached boiling point. Not that Tinkov was alone, the same fevered mood prompted Cofidis to drop €1.2 million on Nacer Bouhanni.
Tinkov isn't the first tycoon to splash the cash in the sport, there are many who have made their fortune in business and spent it on the sport, see January's The Wealthiest People in Pro Cycling for look at the other sugardaddy sponsors in the peloton today. But Tinkov is high profile while Igor Makarov, Michel Thétaz and Andy Rihs are discreet, there's a touch of Bernard Tapie here, the controversial entrepreneur who backed the La Vie Claire cycling team in the 1980s.
If you want to look successful don't sponsor a cycling team
Last year OPQS won the most races with an impressive 62 wins but there are roughly 620 days of racing at World Tour, *.HC and *.1 level in the year so OPQS "only" won about one in ten races. For everyone else wins were even more rare. It's not like, say, football where top team is expected to win almost every week. Not that Tinkov is ignorant of this but sections of the media will have been grilling him on this, "why isn't your team the best in the world?" etc.
The personal passion is great but there's business risk too. Oleg Tinkov might be a dependable partner in business but judging by cycling he's Mr Fickle, tweeting criticism one minute and praise the next. It makes you wonder if Tinkoff Bank is the kind that lends you an umbrella on a sunny day and calls it in on a rainy day. It's not projecting the image of stability and longevity that most banks crave.
Tinkov vs. Team
A clash between Tinkov and Riis goes wider. Several staff members have been ejected because Tinkov didn't like them. Philippe Mauduit and Fabrizio Guidi are driving different team cars this year and Alberto Contador's preferred masseur Valentin Dorronsoro got the chop last year. A "climate of fear" is too strong a term but there is a nervousness in the team with people afraid to upset the boss or to take risks with tactics. Still, that's if Riis goes there's no rush to replace him, the lawyer and general manager Stefano Feltrin can presumably cover plenty.
Tinkov has also taken to baiting the Danish media. The country has an aggressive tabloid culture so Tinkov's hit back with provocation but the Danish interest is obvious. The team might have adopted a Russian flag for 2015 but it's DNA is Danish and there are six Danes on the roster compared to four Russians. Making this core contingent of the team insecure is not going to help.
Soccerization?
Read L'Equipe or La Gazzetta Dello Sports and you'll see numerous "X under pressure" headlines relating to soccer team managers facing the chop after a three game "losing streak". In cycling it's rare, largely because team managers are often team owners. But it's not uncommon, some random examples:
John Lelangue was ousted in a mini-coup from BMC Racing after years of under-performance
There's been a revolving door at Cofidis with several changes over the years
Astana have gone from Marc Biver to Johan Bruyneel to Yvon Sanquer and now Beppe Martinelli
The Kelme team went through several managers
Paul Kimmage's Rough Ride tells of the chaotic changes inside the RMO team
It happens but Riis's suspension is a bigger story. Partly because everything Oleg Tinkov does is observed more closely, he invites publicity when others cultivate discretion. Also Riis has been more than a chauffeur calling the tactics, he founded the team and ran it while riders have joined the team in order to work with Riis.
Non-statement
"Tinkoff Saxo would like to clarify that Bjarne Riis is not being actively involved in the team's activities since last Sunday. However, he was not suspended of his active role because of lack of results nor for financial issues"
The statement issued by the team prompts more questions than answers. If he's not suspended because of results or money, then what was it? In the speculative vacuum people are mentioning an upcoming report from Anti-Doping Denmark. We know Riis had links to Dr Fuentes and it's possible he'll be held to account. All speculation and informed sources say Riis will survive the report.
L'Equipe says it's not so much results but the managerial aspects. For example Tinkov's annoyed with the Kilimanjaro team building camp, as if the riders should have been training rather than walking up a mountain; it's perhaps not so much the tactical choices on the road – although this blew up in Tirreno-Adriatico with DS Steven de Jongh relegated to the second car – but the longer term preparation.
Conclusion
Cycling managers get ejected from time to time but it's a bigger story for Riis who built this team. For now he's suspended but the betting is that he won't go back.
Riis cashed out for a premium, out-trading Tinkov. Lucky for Bjarne but it's not easy for the remaining staff who will be feeling nervous. Imagine if you're a rider whose contract is up this year: crash live on TV and it'll be noted, maybe even the subject of a barbed tweet rather than a sympathetic Direct Message. Meanwhile Alberto Contador has been close to Riis for a long time – the two live in the same town in Switzerland – and now has more to worry about, even being asked countless questions about office politics rather than sporting matters will be tiresome.
Cycling needs outsiders with fresh approaches to management and marketing but so far Tinkov is enjoying the sport as a passion, a fan rather than a man-with-a-plan. It's entirely his right. Those in cycling who have worked with him say he's tough with money but outwardly all we see is expensive signings and provocative tweets rather than the long term investment to build a successful team; the fickle image can't help his bank either. Tinkov can still bring plenty to the sport but if he really wants to win big what's needed is more than his Roubles, it's his marketing genius and the same eyes that spotted those jeans for sale in Uzbekistan.