That's Luca Paolini and Manuel Quinziato in discussion with officials from the Giro d'Italia following the treacherous circuit around Bari where riders were sliding over the road. It's often difficult to know who speaks for the riders and there are regular calls for a rider union, a collective body to protect and strengthen the rights of professional cyclists. Only this exists already, it's called the CPA and every pro is compelled to pay for it. Only few seem to know about it.
As the sport reorganises there's an alphabet soup of acronyms, each fighting for competing interests. There's the UCI itself then race organisers like ASO and RCS who themselves are part of the AIOCC, a lobby group for race promoters. There are the teams, the employers, who form several groups for example their collective lobby is the AIGCP and many also subscribe to the MPCC and there's the newly created Velon too. Will the riders and their union have a say too?
Fractious History
The first rider union was started in 1898. Various organisations have come and gone, often being run on national lines so they never represented the pro peloton as a whole, you had a French union alongside an Italian union all while riders were moving across borders in search of a team from the earliest of days. Finances have also been a problem. For most of the sport's history riders have not been paid much, in fact the concept of a regular salary is relatively new so finding a means to raise money to fund the work of a union has been awkward. Combine the disparate peloton and the lack of money and it's been easy for team owners and races to play divide and rule over the peloton.
Various attempts to organise internationally have tried and failed. "International" had largely meant France, Belgium and Italy with these three nations providing the bulk of pro riders for decades but this small circle still struggled to get on. In the 1920s the first international union appeared, le Cercle International des Routiers Cyclistes or CIRC but little is known about this group or its efforts, Google finds just one reference.

The footage above is from 1978 and shows a rider protest in the Tour de France. Riders were fed up with the tendency to have so-called "split stages", effectively one stage in the morning and another in the afternoon. This allowed the race to collect more money from host towns but it meant the riders were paying the price with late nights and early starts. This strike was the first ever in the Tour de France and it galvanised the disparate national unions to join together in the form of the Association Internationale des Cyclistes Professionnels (AICPRO). It worked as split stages soon fell away and the group got a seat at top table in talks with the UCI. However whether the split stages fell away because of union work or simply a sulking Bernard Hinault isn't clear.
Over time the international coordination of AICPRO seems to have fallen away with national union on the rise again. But the work of these local outfits has been useful but modest, campaigns to ensure promised prize money gets paid is fine but little more than contractual follow-up.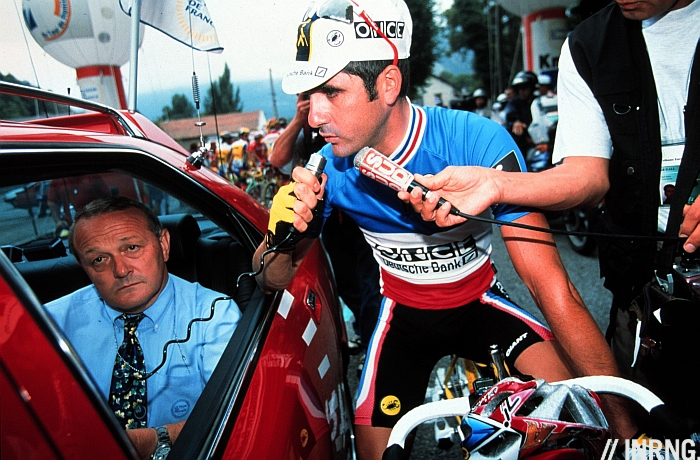 The next big flare-up came in 1998 when police raids in the wake of the Festina affair angered a large share of the peloton. It might be more recent but it seems unfathomable that riders were protesting in the wake of doping raids on the Tour de France, giving the impression they lived in a bubble immune to national laws which prevented the trafficking of medicines or prescription fraud. "We are fed up with being treated like cattle. So we are going to behave like cattle" said rider ringleader Laurent Jalabert, perhaps feeling nervous although it eventually many years until he was rumbled by the French Senate. Riders organised several protests during the race but it was a farce because of the cacophony, in one instance riders sat down on the start line to make a protest while others rode off. All while a bemused public looked on. This showed the trouble of entrusting a protest to a patron, a strongman who stands up but not necessarily with the backing of the whole peloton, nor with the resources and skills to communicate with others.
The CPA
Come 1999 and many riders refused doping controls in the Giro and the Italian union along with the foreign riders present on the race came together to form Coureurs Professionnels Associés was formed under the chair of Francesco Moser. It wasn't a promising start to base a union on such defensive premises but in time the CPA has helped raise rider wages and promote a standard form of rider contract across the teams. It's international but with regional aspects, for example an Italian section, a Scandinavian section, another in the USA and so on. The stewardship has changed over time with ex-pro Cédric Vasseur in charge for a while but he's since become an eloquent TV pundit.
Today former double world champion, helicopter pilot and budding politician Gianni Bugno is in charge. It also demands improvements in safety, secures guaranteed time off work and ensures riders get a certificate stating how many day's racing they did each year. There's now a minimum wage too (World Tour: €29,370 for a neo-pro, otherwise €36,300; Pro Continental: neo-pro €25,300; otherwise €30, 250) although bemusingly some impetus for this advance came from the teams themselves, odd to see employers calling for a high minimum wage. Still rather than being inward-looking as the 1999 genesis suggested it's done some good.
Case Study: one area where the CPA has stalled is the issue of rider contract renewal. There's a rule that riders with a contract ending on 31 December must be told in writing by their teams before the end of September whether they will get a renewal or not. Many riders seem ignorant of this – Steele Von Hoff is a recent example but there are many more – only the same rule says a copy of this notification has to be sent to the CPA. You'd think the CPA would notify all riders on receipt of a letter or that they had not received notice by the end of September. But apparently not.
CPA Funding: 7% of all prize money goes to the union before it goes to riders, split 5% for a retirement/solidarity fund and the other 2% covers the CPA's expenses. It's hard to find out much more, the CPA does have a website but there are no accounts and the latest set of UCI rules, helpfully uploaded for riders, date from 2012.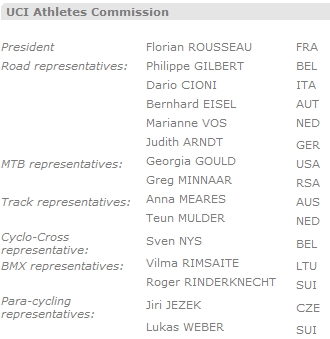 The UCI has tried to incorporate the pro riders too with the establishment of an "Athletes Commission" and this had given riders a voice in some ways and made some achievements but (cleverly?) split the peloton's voice between a union and a commission. The Commission's vanished from the UCI and it had its problems too. Off the top of my head here are three:
Philippe Gilbert took to writing an open letter to Brian Cookson complaining about working conditions as if it was the only way to reach the UCI but he sat on the Athletes Commission
Another road member Dario Cioni had hung up his wheels a while ago
Cyclo-cross star Sven Nys made a public call for CX points to count towards the road too and promised to bring it up at the next UCI meeting. Only these points already did count, he just didn't know it.
If the celebrity members of the Athletes Commission felt ignored and confused, imagine what the rest of the peloton felt like? The Athletes' Commission has since vanished.
Pirates Union
A rider union will always struggle as the job is unconventional. Unlike, say, workers in a factory there's a direct competition between riders and nobody is on a standard wage for a standard job. Take the stalled mooted changes to reduce team sizes to 22 riders, this will see some riders cut from the peloton but those remaining could well be in for a salary rise because they'll get a share of the remaining spoils. It's like trying to unionise pirates.
Conclusion
Last week's story of riders on a World Tour team being asked to pay for their own training camp suggests there's plenty of work to do for a union. When something goes wrong we tend to see a patron emerge rather than a procedure.
The UCI wants to reorganise the sport and teams are grouping together. Can the riders have their say? History says this will be different although the sport has long resembled the Wild West, a free for all where no union could operate if tried. Now it's becoming increasingly regulated and professionalised and in recent years the CPA has had some achievements behind the scenes. But it's not the go-to voice for the peloton for safety disputes and other concerns.