Europcar have a training camp in Spain. Only you'd never know, while other teams broadcast the news, the green team is keeping a low profile. Amid all the fuss about Astana's licence Europcar's ejection from the World Tour has been a smaller story. It might hope to win wildcard invitations to the top races but that requires a UCI licence and it's yet to get one of any kind for 2015. This won't be easy.
Radio silence
The team are in Calpe, Spain but there's no news. At pixel time:
the last news on the website about new signings Guillaume Thévenot and Julien Morice dates from November
the last tweet was a retweet of the Tour de France account and was exactly a week ago
the last Facebook update is also a week old
Compare this to all the other teams in Calpe, busy getting free publicity with pictures of riders pulling wheelies, doing sprint drills, trying new equipment and clothing and the other ordinary, but clickable images of group rides. Meanwhile Europcar are silent, as if they've decided to save the pesky data roaming charges in Spain as part of their economy drive for 2015. Mockery aside this absence is symbolic rather than substantive shows something's not right, they're missing out on free publicity.
Pro Conti Licence
If the team's PR officer is asleep then management won't be. They've been refused a World Tour place but they've not been relegated to the second tier Pro Continental level. Instead they don't have a licence of any kind for 2015 yet. This is being worked on. You'd hope it'll be a formality but it's not so simple. The squad was denied a licence because of a significant budget shortfall.
How much? Last Thursday L'Equipe quoted team owner Jean-René Bernaudeau saying the gap between the budgeted income and planned expenditure was 5% short, on Friday he was quoted in the paper saying 6%. I understand the team budget is just over €8 million so let's call it 5% of €8m and that's a €400,000 shortfall. The UCI had given the team more time to close the gap, either raising new income or cutting costs. They still couldn't make it.
Can they make the savings for Pro Conti licence? Based on last year's data the World Tour licence fee €76,125 while a Pro Conti spot costs €16,000. So there's €60,000, or 15% of the savings needed in one go. But finding more isn't easy. There might be savings from avoiding some races, for example Marc Madiot raged against paying €70,000 to send his FDJ team to the Team Time Trial race at the Worlds so we could deduct that but Madiot might be, believe it or not, exaggerating the cost. But avoiding some races means not collecting the more generous participation payments either while still having to race in smaller events.
One way to save money could be to let a rider go. Under French law riders can't be fired, instead an existing rider could exercise a break clause to move to another team. It'd have to be a big name, first to attract another team's interest and second to score a significant saving. Playing fantasy cycling you could imagine MTN-Qhubeka signing Pierre Rolland on a two year deal, the Frenchman gets job security and the South African team's chances of a Tour de France wildcard go from "maybe" to "oui".
Uncertain Future
Back in the real world Europcar are pulling out of team sponsorship at the end of 2015. We know this because the car rental company told the team early, a polite advance notice allowing the search for a replacement to start early. The team need results to attract a sponsor and the story of "relegation" doesn't help their image. It also places added pressure on the team and the riders. As Velochrono point out the team faces a paradox: since it won't ride all the big races it can focus on the Tour de France but in order to secure a sponsor it cannot wait until July to shine.
In 2010 French telecoms firm Bouygues pulled out and the search for a new sponsor was proving awkward. Come October and riders had enough, Thomas Voeckler had even signed a contract with Cofidis, only just before he faxed it to the team Europcar came in to save the team and he stayed onboard. The experience marked others with Pierre Rolland hinting he'll start shopping for team if there's no news on a replacement sponsor by the mid-season.
Shrinking Empire
The pro team has always been run on a reduced budget and has punched above its weight. While in the World Tour this year it had less money to spend than some lower status Pro Conti outfits, for example red rivals Cofidis spend significantly more. But the team's been shrinking, classics specialists Damien Gaudin and Séb Turgot left last year for Ag2r while FDJ poached former former junior world champion Pierre-Henri Lecuisinier who'd been a stagiaire and now Bryan Coquard's sprint leadout Kévin Reza has moved to FDJ. British U23 rider Owain Doull even turned down a contract to ride.
As the World Tour team Europcar has been the most visible part of a larger cycling outfit. There has been a track cycling cell with Bryan Coquard and Thomas Boudat given time and resources to plan for the Rio Olympics but this will face pressure now that the team needs more immediate results all while the allure of gold will attract sponsors too. There's also the Vendée-U team, Europcar's sister team in the amateur ranks, it's in the French first division and regular supplier of pros. There's been talk of a new feeder team with a training base in the Alps too. All these efforts aren't in the balance but they do benefit from association to the pro team, for example a promising amateur will see less use in going to Vendée-U knowing there's no obvious move onwards and upwards.
2015, a vintage year?
Beaucoup pessimism above so time for some good news. Thomas Voeckler isn't getting any younger but he might get luckier, he had a year to forget in 2014 with two broken collarbones meaning he should be fresh for 2015. Pierre Rolland finds a Tour de France route to suit and Bryan Coquard will win more. One rider who's been overlooked is Romain Sicard but was once the next big thing for French cycling after winning the Tour de l'Avenir win and the U23 rainbow jersey. He faded in the pro ranks with Euskaltel, an injury led to further problems and he made more headlines for a drunken night out than winning anything. But he was back in 2014 with a strong ride in support of Pierre Rolland in the Giro and then rode the Vuelta as team leader to finish 13th overall. Good but not astonishing but behind this is a rider with little coaching support who remains a rough diamond. Perhaps Europcar won't be polishing the goods in 2015 but renewed confidence might see him improve further, a valuable rider.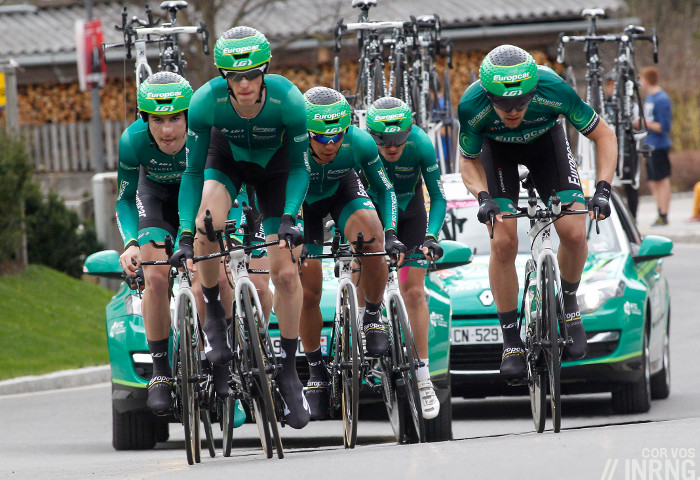 Summary
Europcar aren't just out of the World Tour, they're out of pro cycling all together as they they don't have a UCI team licence of any kind for 2015. They're not even visible on the internet this week either.
Hopefully Pro Conti status will be a formality but if they couldn't find the savings required for the World Tour it's not automatic that they're accepted into the second division. Further pruning of an already diminished team is needed given their reduced status is unlikely to appeal to a new sponsor. All this while the team management are trying to find a replacement sponsor and the riders get edgy about jobs. 2015 will be a hard ride for the team.