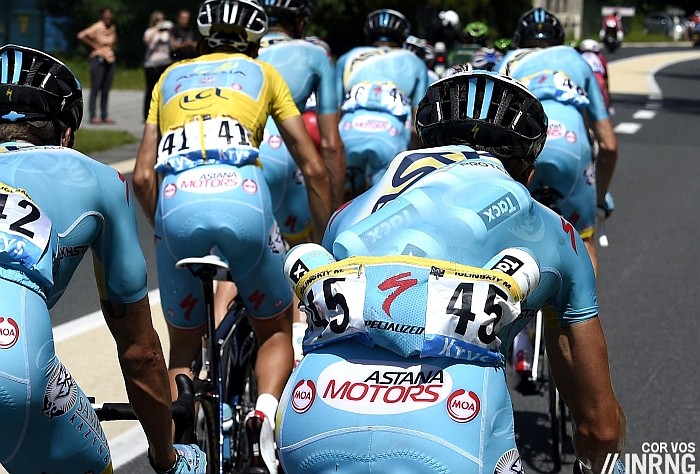 What's the good news of this week? One improvement is the new audit of the Astana team by the Institute of Sport Sciences of the University of Lausanne (ISSUL) imposed by the UCI as a condition of its licence. As well as the investigation audit which will be finished by February, the team has to sign up for a wide-ranging set of "operational requirements" for the whole year.
The ISSUL guidelines imposed on Astana aren't just a mechanism to save the team's licence. Instead they're set to become a core part of the proposed UCI cycling reforms, compulsory for all teams in a few years. They cover a lot of territory from job insecurity to coaching with the twin themes of doping and money. An article in L'Equipe does a great job in explaining some of these changes and here are some of the highlights.
"The team asked us to pay for the training camp. I didn't go because the air fare alone was going to be one third of my [monthly] salary… It's like an employee in a business being asked to go on a course, 'by the way, you're paying for it'. It's not normal in my view. We're a professional team. Already our wages aren't that big and if on top we have to pay…"

"The hardest thing is when you get back to your hotel and the TV doesn't work. There's nothing to occupy your mind so you start to think. You ask why you're doing this job, earning €2,400 a month to throw yourself downhill at 110km/h, especially when it's cold in the Giro. You do everything to avoid thinking about this."
Two anonymous accounts from pro cyclists gathered by researches from the University of Lausanne in Switzerland and relayed in L'Equipe. The job isn't always as glamorous as it can be portrayed, after all most of the work done by a domestique in a race is never seen so all the other tasks like training, travelling, dieting and updating whereabouts are almost invisible. The subtext that some riders feel ignored, they don't value their jobs or rate their employer. At least one squad hadn't even got the money to spend on a training camp.
L'Equipe says the genesis of the ISSUL audit started when the UCI learned that the "True Cheat or Champion" course was being mocked by riders. I've heard of riders "delegating" the online course to team staff, making them click through the course on their behalf. You can see why, clicking online it was almost meaningless as someone refrigerating their blood goes to enough lengths already, a few clicks wasn't going to change attitudes.
The essence of the ISSUL audit is that all teams need to function more professionally with stronger support structures for riders. Sometimes a team will hire a rider, make 12 monthly salary payments a year and expect them to turn up healthy and fit to race and there's little else on top; as the quote above suggests some are even expected to pay for a team training camp. This is far from universal but it shows the attitude that can occur. Certainly the practice of riders being trained by external coaches rather than their team is widespread. It can be fine but the fear is that left to themselves riders are more likely to turn to doping. Or more fatalistically, if a rider does resort to doping then the UCI can pin some of the blame on team management for its failure to provide adequate coaching support and its inability to detect the sudden jump in performance.
10 point plan
Astana are being audited on their compliance to follow new standards. The UCI and Lausanne University have drawn up these standards and as a pilot project eight World Tour teams have signed up for a trial: Ag2r La Mondiale, Cannondale-Garmin, Etixx-Quick Step, Giant-Alpecin, FDJ, IAM, Orica-Greenedge and Trek Factory Racing. Astana are now being forced to participate too.
Take control of training, have a full time coach for every eight riders and ensure riders coached by someone outside the team submit their regime to the team's performance manager
Give every rider a training plan with their race programme, training blocks and recovery periods
One directeur sportif for every eight riders and ensure the DS doesn't have other roles like coach or a rider agent that could cause a conflict of interest*
Ensure a team doctor is responsible for care and first aid and that no team doctor is tasked with coaching
An internal charter for the team to explain the dos and dont's of medical care, when to use who and what
Know every rider's home doctor
Team managers are responsible for ensuring no rider races for more than 85 days a year*
No more than 22 riders in a team*
Have an internal secure communication system so managers and riders can communicate, a team must get in touch with a rider at least twice a week
Team managers, coaches and team doctors must all be UCI-certified *
The asterisks signal ideas still up for debate between the teams and the UCI. I know the final point annoys teams who feel aggrieved having to get UCI certificates, after all if a doctor has trained for, say, seven years and practised for more is highly qualified, some UCI paperwork doesn't add much more, all while adding extra costs. Still this will all become obligatory in 2016 and in 2017 teams that don't comply will be fined or even lose their licence.
Stats
Lausanne Uni has stats showing 58% of doping cases from from riders aged 30 or more while this age cohort represents 25% of the pro peloton. This suggests, but doesn't prove, that older riders turn to doping as a means to keep going and get results to land new contracts
Some teams spend 80% of of their budgets on wages with the remaining 20% reserved for everything else. ISSUL says the better teams spend 60-40% of their budget on wages. By implication a larger share of the budget goes on coaching staff, training camps, wind-tunnel sessions
Old school, new school
As part of their interview process with riders and teams, the Lausanne researchers spoke to a World Tour in 2012 who is also tasked with training 10 of his riders (my translation from here):
"I keep an eye on the number of hours in the saddle and the intensity too. More, I can't do that with precision because I don't have the skills. For example I don't know what doing 10 minutes at 420 watts with a break at 400 watts. I don't have the knowledge to analyse these kind of data. That's why I don't use them and I think the most important thing is the number of hours spend in the saddle."
At least the manager is counting hours rather than distance. But this attitude to training is outdated and many low category amateurs get sophisticated coaching. One of the world's elite pro teams is supposed to be leading the way.
It seems self-evident that teams should coach their own riders but theory and reality are different. Encouraging teams to invest is a difficult business. We've seen some teams stop racing riders because they know they're leaving for another squad, teams will think twice about spending money on a rider if their contract is up. Put another way money spent training a rider sees the costs incurred by the team while many of the benefits are enjoyed by the rider who can jump to a new team on a big contract thanks to improved results; of course the team doing the coaching can get publicity from the initial successes. It means with short term sponsorship deals it's hard to create this long term culture. In other words good practice has a big cost and introducing these rules is only a component part of a wider overhaul of the system.
Patrick Lefevere is not happy
The OPQS boss rarely seems the cheerful sort and L'Equipe discovers the UCI's adoption of the ISSUL programme is another source of misery for the manager. He's got some valid points though, saying just because a French team leaves a rider to himself – his words – shouldn't mean a whole set of regulations are imposed on teams which already make the effort to supervise their riders. Also the starting point was that a team should have one coach for every five riders, now this is for every eight but that's still a large expense especially if the UCI is considering making the coaching role unique, excluding directeur sportifs from the role when he says some of his staff like Tom Steels can do both jobs well.
All teams will be wary of these rules and fans might be too. After all the rules say "don't dope" but it happens, adding more rules alone won't change things. The danger with this is creating a compliance culture where teams see meeting the rules, and being seen to meet the rules, as the goal. Instead the rules are supposed to encourage a more supportive environment for athletes and this ought to be the goal.
Wider Approach
Anti-doping is primarily approached by governing bodies as matter of toxicology, the search for banned substances in blood and urine samples. But the incentives to dope are not chemical, they are often financial and cultural. The wider idea behind the ISSUL operational ideas is to explore the sociological factors behind the decision to start doping and address these. They're soft ideas and alone won't fix matters but are worth exploring in the upcoming trials.
Conclusion
Sometimes pro cycling isn't all that professional and one example is training where riders can be left to their own devices. The ISSUL plan is to change this with guidelines to encourage all World Tour teams to become as responsible for a rider's training and preparation as they are for their racing. Several teams are trialling this and now Astana have been compelled to adhere. If it goes to plan the UCI wants to impose it by 2017 as a condition for a World Tour licence.
Being surrounded by supportive coaching staff should help a rider make the right choices, entourage matters. These ideas seem to be good and the academic research behind it is a fascinating read if you like that sort of thing. Translating it into practice is the harder part. It should be good for business to have a team environment that supports riders, even on a cynical level a rider is an asset and and a weekly stock-take makes sense. Ideally teams would adopt the same ideas out of enlightened self-interest. Some do because and the danger is making them compulsory just forces reluctant teams to comply without believing them, hiring the cheapest coach possible to email a group of riders once a week rather than establishing a genuine performance culture. But if teams do the bare minimum to comply then they could still find themselves on the hook should a doping case arise, the UCI will ask teams what they did to provide a healthy environment.
The scheme will impose extra costs so it's normal some teams are sceptical. As an academic project it has merit but transforming it into a practical scheme will be interesting to watch.
Sources: much of the above is from L'Equipe today, a article by Dominique Issartel. I'd link but at pixel time it's print-only. The underlying material and academic work can be found online. If you can access certain academic journals search for Oliver Aubel's work, in particular "Doping as a result of the professional rider's ecosystem : a survey for reforming ICU doping prevention policy". Or see mysciencework.com if you have a log-in. If not this free PDF in French includes a good summary of the work, interviews and hypotheses.