Forget Tinkoff-Saxo's temporary training kit, here's the real deal on camouflage cycle clothing: the French army cycling team. They've been an amateur squad but now turn pro for 2015.
The Armée de Terre team has been one of the strongest outfits on the French amateur circuit and well-supported too with the trappings of a pro team like a fleet of vehicles. Now the whole squad is moving up a level and they will ride at UCI Continental level in 2015. But it's not been easy because to have a pro team you need riders on pro contracts. Only the Armée de Terre team have soldiers and all the riders have signed the standard three year military engagement contract meaning they're soldiers, not cyclists. Now they'll ride their bikes all the time but in the eyes of the law they're military first.
Why? Well the army wants to show itself in a better light and to offer budding athletes it can foster their careers; Pauline Ferrand-Prévot might race for Rabo-Liv but she's also on the payroll of the French Defence Ministry as an elite athlete which adds a new meaning to "defending champion". It's still a state-funded sports team and you wonder if  the money might be better spent on a proper national development programme rather than a military sideline but this is a tale of ministerial budgets and pet projects. One of the leading forces behind the team is defence minister Jean-Yves Le Drian, a politician from Brittany… where he was instrumental in getting the Bretagne-Séché team off the ground too taking it from a regional team to the Tour de France last summer.
The Race to Race The Hour
There's now a race to beat the Hour Record with several riders announcing plans to have a go early next year. In fact it's not really the riders themselves but their teams, this is a big show for manufacturers to ensure the spotlight is on their bike. Breaking the record is great, even holding it for a short while means the name is engraved in cycling's history book. But failing could be miserable, there's a good chance someone slips up. It all feels like the recent wave of attempts are only keeping the record warm for Bradley Wiggins.
Santa's Little Helper


I feel sorry for Mauro Santambrogio. It's bad enough to be busted for a banned substance while still serving a ban but then he surrenders any remaining dignity by going public about problems with his pecker. There are claims and counter claims about the effectiveness of testosterone here and it seems all about the dosage, too much and it doesn't help fertility and hinders it as the male body stops producing it naturally. But a little can top off low levels says The Internet.
Regardless of whether it works or not there are no excuses as strict liability applies: it's a positive test and since he held a racing licence the only question is if he gets a lifetime ban as this is his second offence after the EPO bust or will the hearing just take pity? Either way his time's up in pro cycling.
Armstrong and van Garderen
Talking of lifetime bans, a quick comment on the reheated story of Tejay van Garderen's association with Lance Armstrong. It came to light earlier this year but didn't seem to get much traction. Now it's flared up again because Rouleur interviewed Armstrong and the pictures appeared. It's foolish to say the least and in last week's media day at the BMC Racing training camp van Garderen couldn't understand why he could ride George Hincapie's gran fondo or speak to Christian Vandevelde on TV but risked a roasting for training with Armstrong. Well there's the perception to start with, riding an event or being interviewed on TV is not the same as being trained by someone. But the factual point is that the likes of Hincapie and Vandevelde eventually confessed and cooperated with USADA while Armstrong used every chance to deny, lie and block investigations and this, combined with his instrumental role in organising the US Postal/Discovery team doping programme, meant when he was finally caught he got a life ban.
Ulissi
For those who say the Christmas holidays can be stressful, see the case of Diego Ulissi. The Tuscan tested positive in the Giro for a maxi-dose of asthma medicine and underwent trials to prove it was all normal. Now his hearing is being this Tuesday.
Ferrari loses his touch
For all the Padova file's allegation Michele Ferrari seems a figure of the past. The recent scandals relate to alleged links in 2010 and 2011 and there's little to suggest contemporary activity although there are whispers that the old camper van has been on the road. In fact even for those determined to dope he's gone from asset to liability given many of his clients have been caught despite paying for his services. He's lost his touch.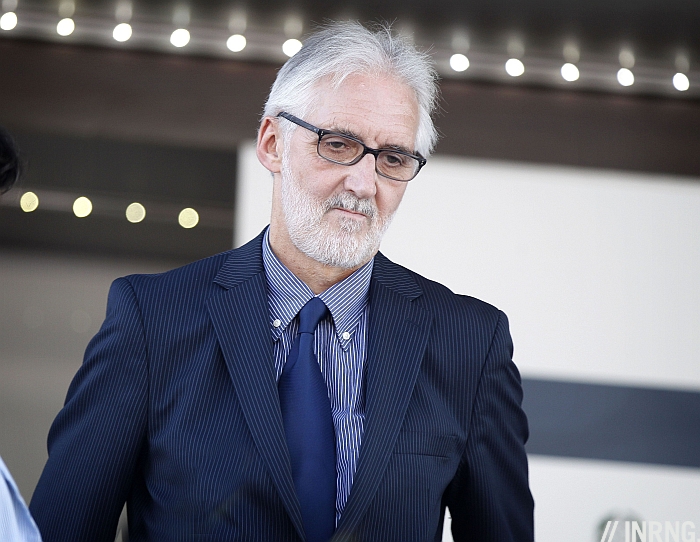 UCI Tribunal
Brian Cookson gave a lengthy interview for Saturday's La Gazzetta Dello Sport some of which has been translated by cyclingnews.com into English. One thing cyclingnews missed is that he says the new international anti-doping tribunal will be up and running in January. As a reminder the UCI – perhaps you too- had grown frustrated with national federations and agencies ruling on their local riders and what we could call home bias at times meaning the UCI resorted to an appeal at the Court of Arbitration for Sport in order to achieve a ban or other conviction.
Now all riders in the World Tour and Pro Continental levels will have their cases heard by the UCI's International Tribunal rather than a local agency. It's a good idea in theory but the practice will be worth watching.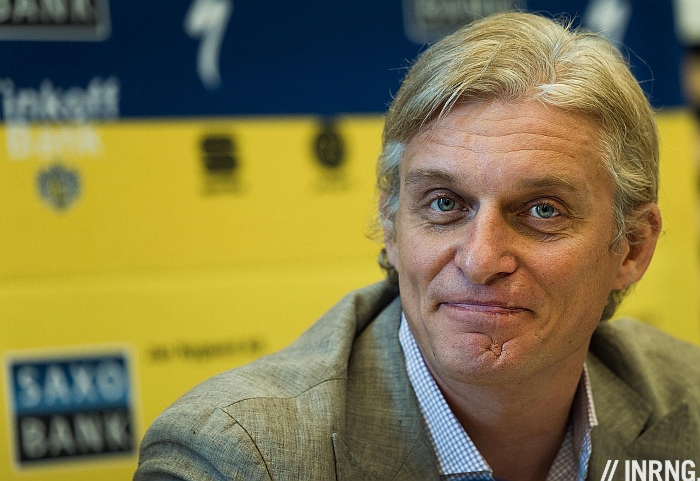 Oleg Tinkov, millionaire
Talking of former glories, many might still refer to Oleg Tinkov as a "billionaire". He's probably not any more. How do you define billionaire anyway? Either way he's lost a lot of money of late. The value of his Tinkoff Credit Systems credit card business has fallen so much the chart looks less like a downhill stage of the Giro and more like the profile of a heli-ski trip. Interest rates were raised from 10 to 17% the other day in Russia. To keep it short the interest rate is the price of money and for a credit card company it means the price of their raw material soared all of a sudden. The good news is that he did sell a lot of the shares at a high price and, like any wealthy Russian, presumably retains most of his wealth outside of Russia. But the bad news is that he still owns about 50% of TCS meaning his net worth has fallen. The team's in no danger because if he's no longer a billionaire, he's still worth hundreds of millions.

Last but not least if Christmas is all about giving then buy yourself a cap or two as the profits help keep this blog on the road and the support is much appreciated. Thanks to all those who've helped already and I've enjoyed the emails and tweets showing the caps out on rides around the world plus a few podium places already.
They're just £7.50 (about $12 / €10) plus postage which depends on the destination. They are now made in two sizes and available in black or white. To get your hands on one visit the prendas.co.uk shop.