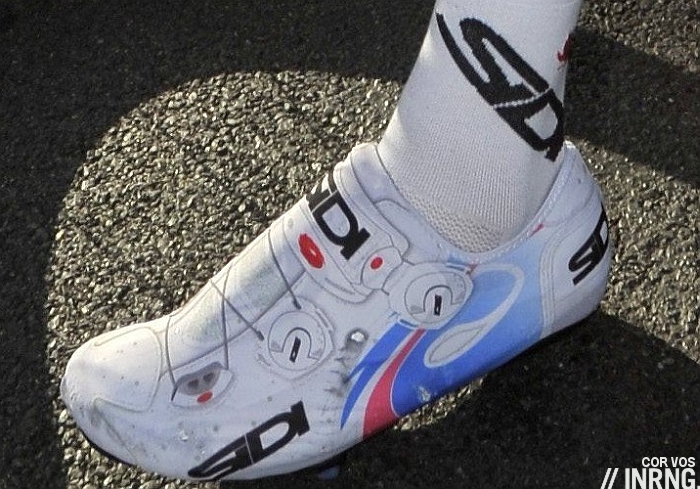 When is a shoe not a shoe? When it's an elaborate Sidi trompe l'oeil. Look at the image above and it looks like a Sidi Wire but look again. Those ratchet dials are flat and it's an elaborate shoe cover made to look like a Sidi. The next photo reveals another version, this time with perforations to help on a hot day.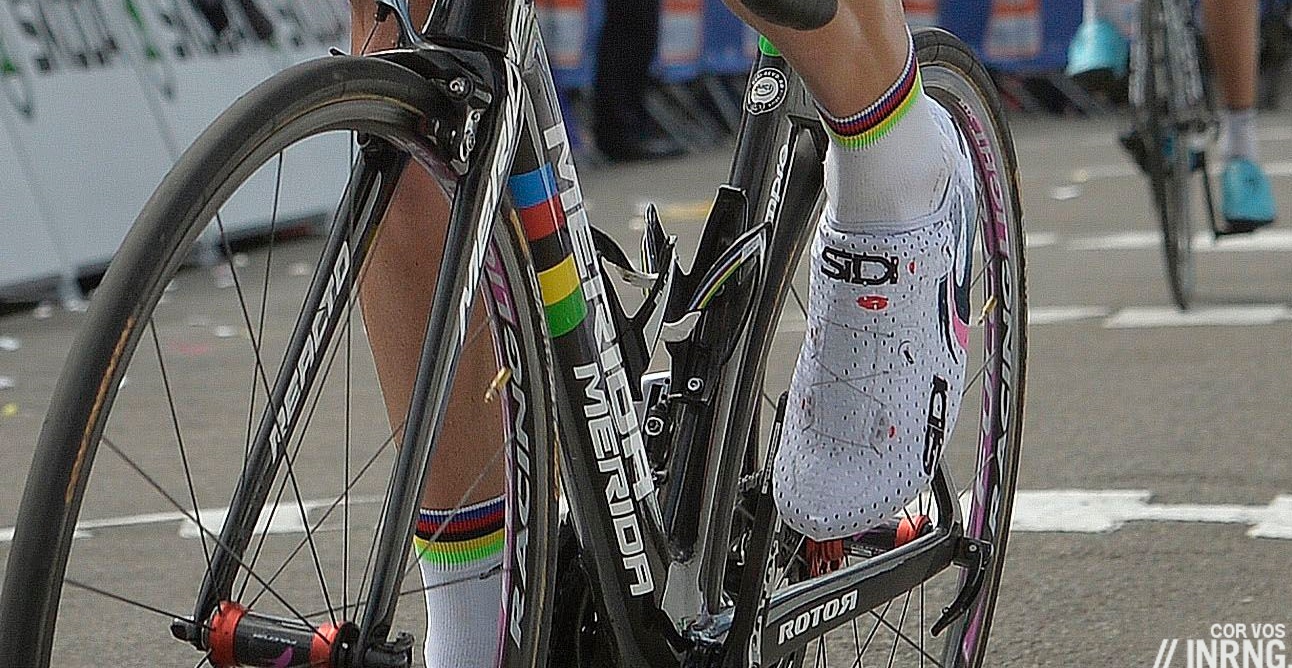 As you can probably guess by now these are the shows of Rui Costa, the reigning world champion who rides with Lampre-Merida. The team has Sidi as a sponsor. The company's promoted "vanity overshoes" that look like their own shoes but look closely and it seems the shoe underneath isn't a Sidi. For example there's no shape of the ratchet dial under the cover. It seems he's wearing Bont shoes underneath, he's been wearing the Australian brand before and the shape under the cover matches. Thanks to an eagle-eyed reader for the tip.
What's amusing is just how well it's done although a giveaway is that Rui Costa has more rainbow stripes on his frame, socks, helmet, gloves, socks, shorts, saddle and sunglasses but has the Lampre-Merida team issue fuschia on his shoes. It's not new and a reminder that some riders might have shoes or saddles where you see one logo but the product is made elsewhere. It doesn't mean there's a problem with a particular shoe, just that the rider might be morphologically suited towards another product and something worth bearing in mind as the contact points on a bike are personal.
Talking of being in uncomfortable shoes, the people in the photo might not be laughing so much today. On the right is Sergey Chemezov, the CEO of RosTec and the latest name added by the US government for sanctions in retaliation for Russian activity in Ukraine. As well as a Kremlin corporate chieftain, Chemezov's the chairman of Russian Cycling Federation and on the board of the Katusha team. The sanctions won't change much for the team but are a reminder that Katusha is Team Kremlin and there's the possibility of wider sanctions being imposed which could hit Igor Makarov, owner of the Katusha team and UCI board member. I imagine the UCI would say sport and politics don't mix… but they do.
One Year On
It's a year ago that we got the news that the Kimmage Fund money was missing. Money was donated by many to help support Paul Kimmage in the face of legal action brought by the UCI. The action was dropped and a pledge to repay the money is still outstanding. It feels so much longer ago especially because this time last year we were looking at Pat McQuaid standing unopposed for a third term.
McQuaid Reappears

Pat McQuaid's kept a low profile after losing out to Brian Cookson. He appeared at a race in Kazakhstan last year and now he's in Turkey and sat down for an interview with Cüneyt Kazokoğlu for mtbtr.com. He comes across as more relaxed, presumably life's easier now he's freed from having defend himself from decisions like trying to block USADA's US Postal prosecution. Notably he says the World Tour reforms are "going to be disaster for the sport".
UCI Points Blame
For some the UCI's existing system is bad. Not a month goes by without someone blaming the UCI points system for killing off exciting racing and it was cited as a factor for the cautious racing in Liège-Bastogne-Liège. But a reminder that for 2015 the system will see teams ranked on the basis of their five best riders. This means a squad can have 25 riders without a point between them or more practically a rider with a handful of points is irrelevant, only those with a sackful will count.
Crucially it's gone from the total points haul of 15 riders in a team down to five which means if teams were racing for points, they tactics would change as the count changed. But they haven't, which suggests the point system might not be to blame. But if these changes are a fact, not everyone knows about them including riders who still believe their worth is dependent on their points.
Distance?
Was Liège-Bastogne-Liège simply too long? Look at the grand tours where stage distances have been reduced substantially, the idea being that fresher riders are able make sharper accelerations. Bastogne-Liège anyone?
Team Sky call for Tramadol Ban
To mind-numbing races of a different kind. After Michael Barry said he and others were using the powerful painkiller at Team Sky the squad's said it would support a ban. Contradictory? Perhaps but it explains something because if a drug is legal and potentially confers an advantage then some will use and abuse it. A ban prevents this, much like the Geneva Convention is supposed to limit the weaponry used in warfare. Sky's joining the call by the MPCC for WADA to add the substance to the banned list. Rightly so, it should be available for injuries but if anyone needs a painkiller this strong they need to be resting, not racing.
But where are the six other teams: BMC Racing, Cannondale, Movistar, Omega Pharma-QuickStep, Saxo-Tinkoff and Trek Factory Racing? Hopefully everyone can agree something soon because WADA monitors this product and it has noticed many cyclists are using it in competition.
Team Sky Part II
It is said that on hearing of the death of a Turkish ambassador French diplomat Charles de Talleyrand is supposed to have said: "I wonder what he meant by that?" It's a tale of looking for significance and signals in events. In the last shorts Team Sky's absence from races was a topic and reader Sam pointed out the injuries in a comment. I found it interesting to read the comments elsewhere with many assuming a plan by the British team, that this was all deliberate. It's a tribute to the team's PR that many fans today adopt the Talleyrand stance of thinking that everything the team does comes from a master plan and has a meaningful significance.
ASO to introduce "podium boys"
On the subject of deliberate decisions the exhibition women's criterium La Course will offer the winner the same prize money as a stage of the Tour de France. Among the other features from the press conference with Tour patron Christian Prudhomme and peloton patronne Marianne Vos was news of a podium ceremony with "podium boys". It sounds daft but it's the podium that's got people talking about the race.
The whole race is a publicity coup by ASO because it's got a closed circuit, a waiting public and TV cameras in place and better still live TV will have something to show while the men soft-pedal to Paris.