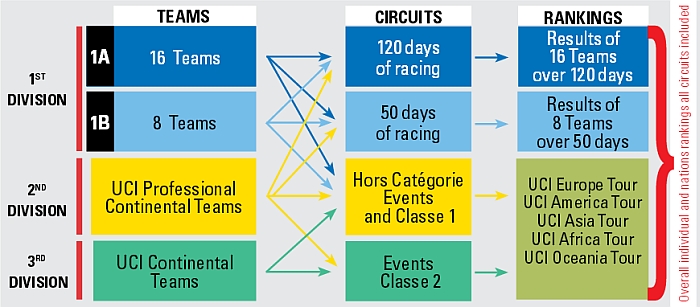 The UCI has announced bold and sweeping reforms to the men's pro cycling system only they're inside a PDF newsletter lurking on a quite corner of the UCI website. These build on plans announced last autumn, involve radical change and they are coming faster than expected. Let's take a look.
There are three elements to this: the calendar, the teams and the timing.
The Calendar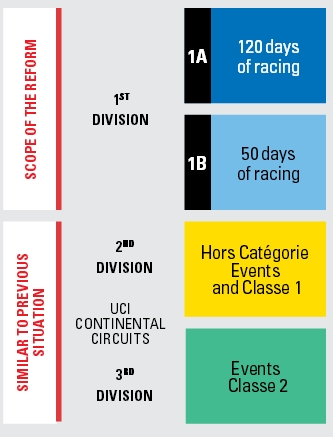 There will be a first division split into two. Category A of the First Division (1A) will consist of 120 days of racing including the biggest events on the calendar: Grand Tours, major stage races, classics and what the UCI calls lucrative moneyspinners "promising emerging events". Category B of the First Division (1B) will be made up of 50 days of racing and the component races are not known. the terms like First Division and 1A/1B are labels and will be rebranded with more friendly terms when the calendar is launched.
The UCI says the second and third division is unchanged and relates to current races on the UCI calendar with the HC or .1 suffix. This could be the Criterium International, the Nokere Koerse or the 3 Days of De Panne to list examples of upcoming events currently with this status. But I'm less sure as currently the system is reasonably fluid, the "second division" is mixed bag with some historic races of big prestige alongside newer or temporary races.
The calendar will be organised to ensure a big race every weekend of the season with no over-lapping events, goodbye the clash between Paris-Nice and Tirreno-Adriatico but also the three week Vuelta and the Vattenfall Classics, the GP Plouay and the GP Montréal plus Québec. The UCI also reports there will be no "competition between 1A and 1B events" which implies no overlap but doesn't say it. The UCI adds "the spring classics will be held over an uninterrupted six-week period" which is what we have now except we also have a series of other overlapping World Tour races like the Volta a Catalunya or will we see a situation like the Tour of the Basque Country which currently runs from the Monday after the Tour of Flanders to the Saturday before Paris-Roubaix, no overlap… but it doesn't matter as climbers go south, classics riders go north. Cycling embraces a reasonable diversity in bodytype and we're unlikely to see Nairo Quintana smashing the cobbles and Tom Boonen forced to ride the Mur de Huy.
There's also a mention of "high quality" television production. Note the word production, this presumably means an agreement about technical standards. But it's not a solution to the jumble of broadcast rights agreements that leave fans to subscribe to a range of channels to watch different races and where many events simply are not available in their home country via legitimate means. In short the broadcast video will be good but you might not notice it under those pirate pop-ups.
It's manna for ASO who end up with more a larger percentage of the prime calendar. They've bought the Vuelta (in the news this week, on here last November) and will control many of the big races. As the graphic above shows the prime calendar is being reduced to 120 days. Currently the World Tour has about 150 days and this reduction will be achieved by shrinking existing races, eg a week long stage race is reduced to five days but also ditching a few events. With fewer race days teams won't need such a large roster which brings us to the teams…
The Teams

The big change here is the top tier goes from the present situation of 18 teams with a permitted roster of up to 30 riders down to 16 teams capped at 22 riders. A second tier of eight teams, 1B above will also have a max of 22 riders but these second teams cannot ride all of the top races, they are guaranteed 50 days of the prime races.
With a smaller squad there will be a consequent effect on mechanics and masseurs will follow. If some jobs go others will be created as all of these 24 top teams will be required to have a development team; a similar requirement exists today. Note development means U-23, no mention of women's cycling.
All 24 teams can dip their toes in the lower level of racing. The existing UCI Pro Conti and Conti teams or at least their essence will remain but it's hard not to see them as demoted down a rung. In a way it's what we see right now with the Pro Conti circuit split between major teams like IAM, Cofidis, NetApp etc who hog the wildcards and more modest outfits like CCC Polsat, Topsport Vlaanderen and Rusvelo as examples.
Again the labels used will change. They will have to as you cannot have a first division where a team is relegated from first division to the first division.
New criterion: All the usual current standards to join the top-tier remain, the so called admin, financial, ethical and sporting criteria. Only a team's sporting value will be measured on the basis of its five best riders. This places an emphasis on a squad with a few star riders rather than a deep roster of domestiques each with a handful of ranking points. This continues and concentrates the trend to measure a team's sporting value on the basis of fewer and fewer riders every year. It means a team of 22 can have 17 riders without a UCI point between them as long as the remaining five have beaucoup points. In recent years riders with a few points have seen their salaries shoot up as teams scramble for points, now we will see only those with a sackful of points rewarded.
Note reducing a team's roster down from 30 to 22 might not result in any big budget savings. Save eight riders at UCI minimum wage means about a third of a million euros but we could well find star riders rent-seeking their way to bigger salaries as bidding wars see teams scrambling for points.
In addition there's a fifth criterion: "organisation". This relates to the working conditions and in particular the training of riders. The UCI is nudging teams to ensure riders are coached in house rather than going to outside coaches. Entourage is a big deal in anti-doping and it's long baffled me why many teams hiring riders on huge contracts let them train by themselves or resort to a preparatore. How the UCI assess this is another matter.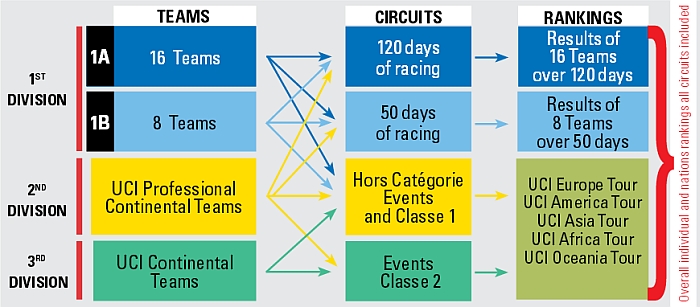 It's hard to be conclusive on the first division concept. The top-16 teams look comfortable and able to pick their events but the next teams in the 1B bracket may be confused. As we see above UCI Pro Conti teams can still do the biggest races if invited so I'm unsure about why a team would want to be in the 1B bracket given they're capped at 50 days of prime racing and presumably don't hold the golden ticket of an automatic right to start the Tour de France. But the system seems to be more about rankings and points rather than races.
The Timing
It starts now and will fall into place for 2017. For 2015 the 16 top-ranked teams will qualify for the World Tour. The two remaining places will be awarded to the two teams (UCI ProTeams, UCI Professional Continental Teams or new teams) with the highest accumulated points total from their best five riders on the UCI WorldTour in individual ranking. The same system will be used in 2016. In simplistic terms this means the best 16 teams plus Alonso's team and the best of the rest will get a ticket to ride.
In 2017 the 16 best teams on the 2016 UCI WorldTour ranking will make up Division 1A. The teams ranked 17th and 18th will join Division 1B alongside the other teams registered in this category. For 2018, a promotion/relegation system will be introduced. Each year the top team in Division 1B will be promoted to Division 1A, while the bottom team in Division 1A will be relegated to Division 1B.
Conclusion
This is massive and if was emailed out to some subscribers for everyone else – you – it's tucked away in a PDF on an unloved page at UCI.ch, hiding in broad daylight if you like. But it's not the first time, much of this builds on the 2020 proposals also announced in the back of a PDF bulletin last October.
But nevermind the means. We go from proposal to execution and the pace speeds up, this is not for 2020 but everything will be in place by 2018 and the changes start now. For example teams planning to stay in the World Tour for 2015 need to ensure they have five riders under contract for 2015 with big points to stay safe.
The clearer promotion and relegation system looks good but the 1A/1B system of teams confuses me. With few automatic rights – in fact being capped to 50 days of big racing – a team might prefer to drop down to second division and hope for wildcards. Some certainties:
The plans are going ahead and there's a timetable to complete the job by 2018
Teams will be smaller with the 22 rider limit, down from 30
Only the top 16 are sure of riding the Tour de France
The World Tour calendar will be shrunk from 150 to 120 days
ASO get stronger as they will control a larger percentage of the prime calendar
Teams will be ranked on the basis of their five best riders to qualify for the 2015 World Tour
All this looks set to bring more clarity but that doesn't mean everything gets obvious. I'm still confused by a system where teams get relegated but can still ride in the top league, just not all the time. If this blog post has used up 1,500 words in a brief attempt to explore what's coming, pitching the concept to fans, TV executives and sponsors is a big ask. Beyond this there are plenty of questions, uncertainties and unintended consequences.