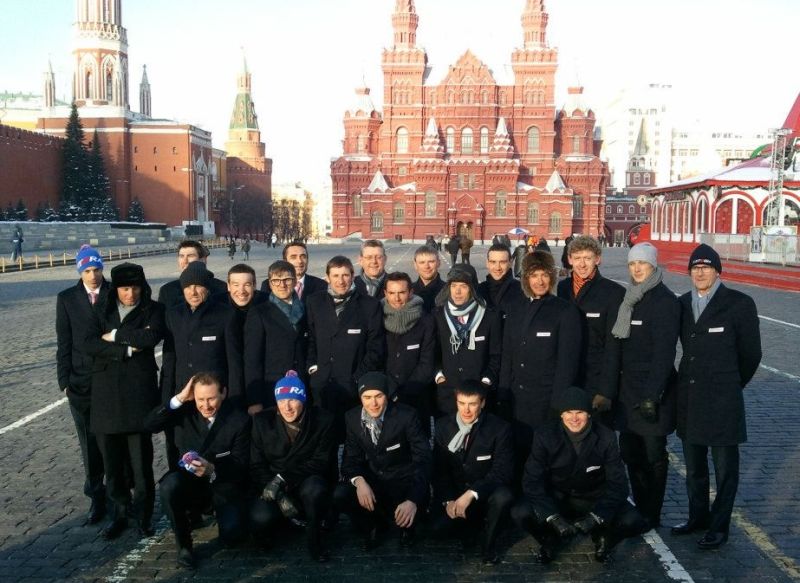 The Katusha team has yet to deliver the results that match its ambitions and its budget. Joaquim Rodriguez and Denis Galimzyanov have had some good wins but for me the most fascinating aspect of the team is the network of people who stand behind the squad.
This is a tale of secret agents, oligarchs, oil and gas, presidents and prime ministers as well as pro cycling. It is like no other team.
First step back in time
Let's go to Dresden in the late 1980s. Once the capital of the Saxony and a vital city filled with wealth and baroque architecture, Dresden was razed to the ground in 1945, it was a key military target but the controversial British carpet-bombing was also an attempt to demoralise the citizens.
The war over, Germany was partitioned and Dresden's misfortune continued, it was stuck behind the Iron Curtain and became a dull city in East Germany. Reconstruction brought concrete buildings, uniform and utilitarian and this was deliberate, partly to save money but the new communist rulers wanted to slip the city's bourgeois past.
But this is not a tale of architecture. Instead it concerns two buildings. The first is a drab rectangular block of flats, the grey concrete darkened by coal soot. The next is a villa on Angelikstrasse, number 4 to be precise. Because these buildings were the home and office respectively of two secret agents from the KGB, Russia's intelligence agency. Their names: Sergey Chemezov and Vladimir Putin.
You must be familiar with Putin, he is the Prime Minister of Russia and probably the world's most powerful man. President Obama has too many pesky checks and balances; Chinese Premier Wen Jiabao is a cog in a party machine, albeit a large one. Chemezov too is powerful, more of him soon.
Tracking the activities of KGB agents is not the simplest of tasks but a range of literature suggests Putin and Chemezov were neighbours both involved in recruiting informants, whether from the local technical university or within the numerous military research institutes in Dresden, a surviving aspect of the allied bombing.
Exporting sport
As the same time the Soviet economy was gradually collapsing and the need for hard currency became ever greater. Many exportable products were of inferior quality and subject to trade boycott. A new trade emerged: the export of sportsmen.
The model was simple, the USSR had many champion athletes and topped the Olympic medal table whilst the Western world paid top dollar for sporting talent. An agency called Sovintersport was created to sit at the intersection of this demand and supply and earned money via the services of Soviet athletes. For example it brokered deals with boxing promoters, charging $200,000 per boxer (whilst the boxer themselves were lucky to take $900 a month). Similar deals saw ice hockey players sent to Canada and Switzerland.
This practice extended to cycling. Italian firm Alfa Lum has been manufacturing aluminium windows and doors for many years and back in the 1980s it sponsored a cycling team that enjoyed moderate success. But a deal was done with Sovintersport and the best riders of the Soviet Union were dispatched to Italy in the late 1980s in exchange for an undisclosed sum. Suddenly the likes of Maurizio Fondriest found new team mates like Dimitri Konychev, Andrei Tchmil, Piotr Ugrumov, Djamolidine Abdoujaparov and others from a variety of Soviet nations.
"I was involved in creation of Alfa Lum, the first Soviet professional team in 1989"
Sergey Chemezov, February 2010
Chemezov, Putin's old neighbour, was Deputy Director General of Sovintersport and some reports say he was placed there by the KGB, the agency was keen to oversee – and perhaps influence – the lucrative business.
For things to stay as they are, things will have to change
Chemezov and Putin's path's had separated, Chemezov was involved in this agency whilst Putin returned to his hometown of St Petersburg and soon popped up as a deputy to the mayor and some say he was placed by the intelligence services into this influential job. But the two were to reunite later.
The Soviet Union was vanishing and opportunities arose for some. But amidst the chaos the secret police and intelligence services remained a constant. The KGB itself was wound down but in the same building, Lubyanka – Moscow's Scotland Yard if you like – was born the FSB and most of the old faces continued under the new initials. Chemezov and Putin's careers took off.
Meanwhile in Turkmenistan
At the same time a top track cyclist from the former Soviet state of Turkmenistan in central Asia was adjusting to the new realities… by selling jeans on the street. Igor Makarov was his name. Harvard's Marshall Goldman, author of Petrostate – Putin, Power, and the New Russia, tells the tale:
A native of Turkmenistan, Makarov was a poor boy who became a world-class bicycle racer, bringing glory to Turkmenistan and becoming a local hero. As a result he was befriended by the Turkman president, the President for Life or Turkmenbashi, as he called himself, Saparmurat Nizarov.

After the collapse of the Soviet Union, Turkmenistan found itself with almost no convertible currency and as a result, in serious need of basic consumer goods. Through his friendship with Niyazov, Makarov was given access to Turkmenistan's natural gas, which Makarov was then allowed to use to barter for food and other consumer goods.
Full gas
Gas was available in vast quantities but getting out of the country and moving to where it was wanted was another matter. Makarov set up a business called ITERA with two others and then agreed a deal with Russian gas company Gazprom, today one of the world's largest energy companies. But Gazprom was not interested in Turkmen gas, after all Russia has vast reserves and fresh supply would only have driven down the price. But Ukraine needed gas and was prickly towards Russia, understandable given it had been under Moscow's control during the Soviet era and was now trying to re-emerge as a nation its own right. Makarov struck a deal to export Turkmen gas via Gazprom's pipelines straight to Ukraine. ITERA hit the jackpot, selling gas to Ukraine and other countries in exchange for cash and even bulk deliveries of cereals, sugar and meat.
Makarov went from selling denim to a key player in the world energy business and earned untold wealth. He bought a mansion in Jacksonville, Florida and re-registered ITERA's corporate HQ to the US, in hindsight a clever means to ensure his money was safe in the Western system and beyond the reach of any political turmoil in the old Soviet states.
Since it was created ITERA, like many a Russian energy company, has been a mystery when comes to determining ownership and control. In fact ITERA has over the years been a partner, owner, rival and subsidiary of Gazprom. The late 1990s were fast and loose times. Gazprom barely paid any tax and this leniency saw it become the fiefdom of its executives. During the maelstrom Rem Viakhirev, then boss of Gazprom, cut several deals with Makarov and ITERA in what Marshall Goldman describes as "asset stripping" and indeed ITERA went from being a mere gas trader to an energy giant, acquiring oil and gas fields in odd-looking dals. "Almost all the trustees of ITERA seemed to be close relatives or mistresses of senior Gazprom executives" writes Goldman. An example of this was Purgaz, which controlled hundreds of billions of cubic metres of gas and ITERA acquired one third of this for $1,200. A sum more normally associated with the annual heating bill for a good sized house than a prolific gas field.
The Putin era
Fast forward to 2000 and Putin became President of Russia, a long way from the drab Dresden flat. One of his first acts to rein in the new oligarchs who controlled so much of Russia's natural resources – as well as more sinister figures who lurked in the shadows. Gazprom was a prime target. Putin ejected Vyakhirev and in came Dmitry Medvedev and Alexei Miller. Today Medvedev is President of Russia today and Miller is boss of Gazprom.
Whilst some oligarchs enjoyed protection from Moscow, others were imprisoned, for example Mikhail Khodorkovsky and Platon Lebedev. Makarov seems to have found a fortunate middle route. ITERA was made an offer it could not refuse for the assets it had once acquired from Gazprom. Just as it had acquired the assets at a eyebrow raising discount, it was now forced to return them for a knockdown price. Wisely Makarov and ITERA complied.
During this time Putin's old neighbour Sergey Chemezov was enjoying rapid career progression. Sovintersport vanished but Chemezov emerged as the director of Promexport, a state-owned arms export business that merged in 2000 to become Rosoboronexport. Chemezov runs this today, a crucial job in Russia. Rosoboronexport has the monopoly on defence technology exports, in other words it takes a percentage of every aerospace and arms deal and has strong-armed companies like jet fighter aviation company Sukhoi into accepting this control.
In recent years the US has sought to thwart Chemezov and Rosoboronexport after dissatisfaction at Russian arms sales to the likes of Venezuela, Syria and Iran but the tune has since changed and these days the US is buying helicopters from Russia. In fact Chemezov has become even more powerful as he heads another venture Rostechn, known in English as Russian Technologies, a sprawling holding company that owns stakes in a wide variety of Russian companies across the defence, aerospace, technology and automotive sectors, for example it supplies Boeing with titanium forgings for the new Dreamliner aircraft and is working with Renault.
And now for some pro cycling
The careers of Vladimir Putin, Sergey Chemezov and Igor Makarov have been examined – albeit briefly – and along the way people like the cyclists Piotr Urgumov and Andrei Tchmil have cropped up, as well as Alexey Miller, the boss of Gazprom and Dimitri Medvedev, the former Gazprom executive who is now President of Russia under Putin.
How does all of this relate to Katusha and Russian cycling?
the well-connected Sergey Chemezov is the chairman of the board at Russian Cycling too and his Rostechn empire is a sponsor of the team. Unlike the days of Sovintersport, these days Chemezov imports Europeans to ride for a Russian team. And his wife Iganatova reportedly owns 5% of ITERA.
Igor Makarov continues to run ITERA whilst he is also President of Russian Cycling and the boss of the Katusha team, which is sponsored by ITERA.
Makarov is also now a senior official at the UCI – where he finds time, I don't know – after he was elected by the European Cycling Union, an umbrella group of European Cycling Federations, to serve on the UCI's Management Committee. Weeks before being elected, ITERA generously poured money into the ECU and, lo, Makarov was voted in.
Another sponsor featured on the Katusha jersey is Miller's Gazprom, without doubt Russia's most important business and Miller is closely-tied with the Russian government.
Together Chemezov, Miller and Makarov are the trio who run the Katusha team's supervisory board. In short this is team Kremlin.
Astana
There are parallels with the Astana team, the Kazakh squad exists to showcase the oil-rich nation and sprinkle celebrity on its leader. But arguably the team is a vehicle for Alexander Vinokourov and above all, Astana simply doesn't have the same clout lined up behind it.
Conclusion
From 1980s Dresden to Moscow today, Putin and Chemezov are siloviki, a Russian word that roughly translates as "figures of power" and relates to the those who have risen from the security services. Makarov and Miller form part of Putin's komanda, his inner circle. Some of these people were involved with Russian pro cycling in its earliest days with the Alfa Lum team. Today the people behind the Katusha team are the same people who behind Putin. By definition Putin stands behind the Katusha team.
Makarov in particular has had an amazing career. From world-class track cycling to selling jeans, then becoming a crony of the Turkmen president and onwards to gas sales in Ukraine and surviving allegations of asset stripping and his Florida business being investigated by the FBI to becoming a close associate of the Putin government. He's made some enemies along the way but always kept close to powerful protectors. He's also a senior figure within the UCI now. Nobody else within the governing body has the same wealth, connections and influence.
The "Russian global cycling project" wording on the jersey, team bus and website is not a slogan, it is a statement of fact. These billionaire oligarchs, with vast wealth and power, curiously run a cycling team. Just as the Soviet Union once sought sporting success, Moscow is today aiming for similar glory. Cycling is a chosen sport but there are others, the 2014 Winter Olympics are another part of this impressive spend and Katusha even sponsors a sailing team, making it surely the first cycling team to be a sponsor, rather than sponsored. And note the overlap between the state and sport, for example the Russian intelligence services knew a week in advance of the announcement that Russia would host soccer's 2018 FIFA World Cup.
The pro team is just one part of Russia's spending on cycling, there is the Itera-Katusha development team and Pro Continental team Rusvelo too. With a man in the UCI it can only be a matter of time until Moscow gets a World Tour race and if the Putin komanda retains power for long enough, we can probably expect the World Championships there before 2020.
Some teams sell flooring, banking or satellite television. Katusha sells Russia. This is a team like no other.