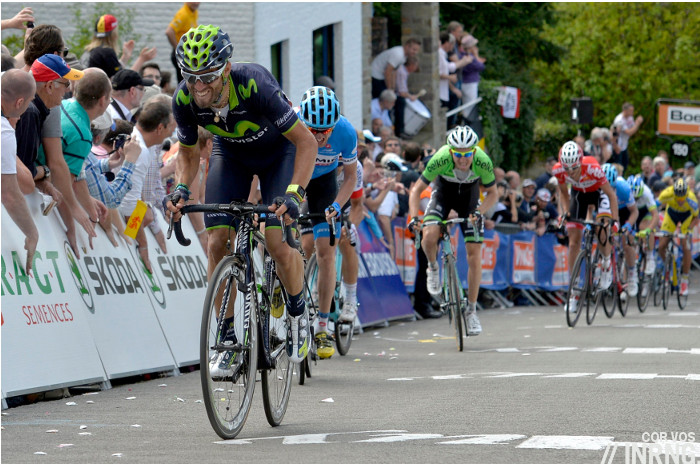 I didn't bother with a "The Moment The Race Was Won" piece for the Flèche Wallonne because the race is so predictable. It's got a tough course and a hard fight just to get to the foot of the final climb. But it always comes down to the final kilometre and the Mur de Huy. North of the Pyrenees Twitter wasn't full of joy at Valverde's win. Indeed there were insinuations of doping and overnight I got a couple of emails asking if Valverde is doping, after all he'd set the fastest every time up the Mur.
For starters if I knew he was up to no good it'd be front page news or maybe WADA or the UCI would get the tip. But let's not speculate. Instead his ride up the Mur de Huy was a triumph of experience and I suspect that if we could compare his power data to that of others we'd see a much more linear curve for the climb compared to the others, very high but perhaps more consistent. Meanwhile Mollema, Kwiatkowski and Martin's power data would each have a big peak in watts well before the line thanks to their attacks. This put them into the red and allowed the more experienced Valverde to ride past as their watts faded. As for Valverde's time, if it's indicative of anything then surely the same applies to Dan Martin who was almost as fast? None of this innocents or condemns anyone but Valverde's win was tactically perfect.
Flèche II
FDJ's Marc Madiot railed at the race saying "people were getting bored watching TV" and implying it's a formulaic race. It's true and he was probably upset because apart from Jérémy Roy's late attack, the team wasn't visible with Ardennes aficionado Benoît Vaugrenard first home in 44th place. It was made worse for his countrymen by French TV's decision to show the race with about a 10 minute delay meaning viewers in France risked having their experience spoilt by the Internet. But if it is an obvious problem, there's still nothing like the Mur de Huy.
Flèche III
What to do with the Mur de Huy? Show it in slow motion. A slow motion replay would be good. The climb is over before you know it, riders swarm over the road, and if it's 150 seconds long it seems to fly by. Website Youtubeslow.com is a useful way to review the race but a full HD TV slow-mo would be superior.
Evans in Pink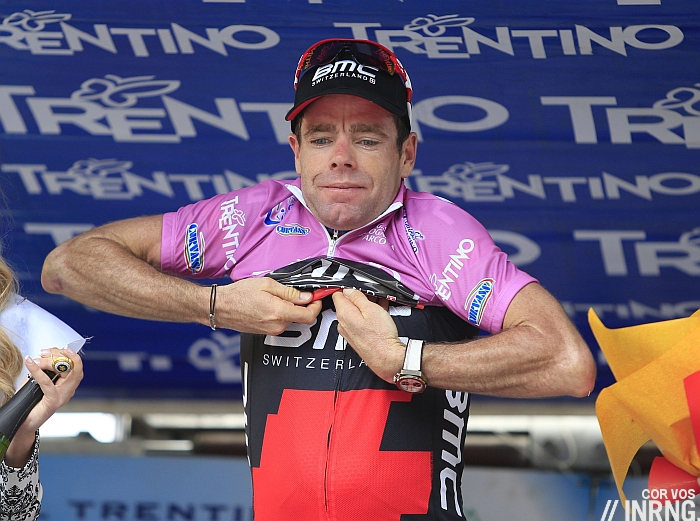 Cadel Evans dons a pink jersey. No it's not a Photoshop impression of what could happen in the Giro but the Giro del Trentino on right now. Evans leads the race with one stage left featuring the legendary Monte Bondone. It's impressive but of course the Giro is an altogether different test. But if anything I'd imagined Evans doing a steady Giro and climbing up the GC over the three weeks much like he did last year but it looks like he's very sharp already. All the better if this form lasts to make the Giro a wider contest.
Invisible Sky
Whether in Trentino or at the Flèche Wallonne Team Sky have been fielding a reduced team. Lacking an obvious leader in Flèche Wallonne they were invisible David Lopez was the first rider home in 126th place. Now sometimes a race just doesn't go to plan but they started with just six riders compared to everyone else with eight. It's not because all their riders were racing elsewhere either, in the Giro del Trentino they are also two riders short. Illness, injury or does the team prefer Teide to racing?
Just the ticket
Team Sky will send a full team is the Tour de France. The Yorkshire Grand Départ is planning to sell tickets for the team presentation of the Tour de France. Wow, tickets for an event that's normally free? Actually not, the 2011 race saw people obliged to buy tickets to enter a theme park. You might remember it, the crowd booed Alberto Contador and laughed at Thor Hushovd's hammer.

You have to pay to get into the VIP stands at the Tour de France stage finishes too and other races have ticketing. Not that this is agreeable, cycling's thrived with an open model where the public get to see a show for free and in exchange get their retinas seared with clothing that so covered in logos it looks like Shinjuku by night.
All this work and promotion for the 2014 Tour is wonderful but do they realise the Tour arrives in town one night and is gone within a couple of days? Like standing beside the road, it's the present day anticipation of what's to come that's often better than actually seeing the race flash past.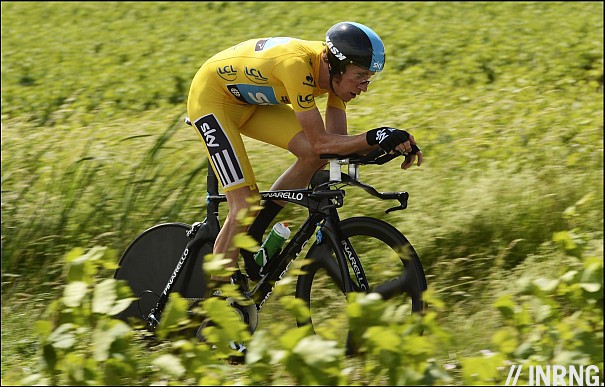 New UCI rules for tall riders
To technical matters now and taller riders have long complained about the UCI's rules on time trial positions. The rules are awkward to summarise but in essence all riders had to fit within a standard position created by particular measurements such as reach and saddle setback. No problem for shorter riders who could fit inside the prescribed "space" but taller riders have found it hard to get the right position because the rules were absolute and not proportionate to rider size. This is changing as the UCI is announcing some leeway for riders over 190cm tall, so the likes of Bradley Wiggins, Taylor Phinney and David Millar qualify. If the original rules are complicated the allowances aren't simple either but the changes allow taller riders more room lengthwise, the measurement from the bottom bracket to the furthest point of the bars. Pity those who are 189cm tall. Longer term the UCI is undergoing a full review of its rules on bike positions but conclusions and changes are not expected before 2016.
Garmin growth

More certainty with Garmin's new products. The company's fortunes soared until the financial crash of 2008 and since then there's been talk their products are being overtaken by smartphones with GPS tech, for example why bother with an in-car satnav device if your phone will do it for you? That's true and Garmin's income reflects this. But cycling's shown a new way and the fitness device market is booming. Having a pro team is a good way to market the wares. Now it seems they want to take on Strava with a revamped website complete with segments and devices that are primed to signal them during a ride as opposed to the user uploading data post-ride and discovering what happened. But if fitness products sell well for Garmin, they're still a small component of the company's total sales. Here's a chart from the company's 2012 annual report, remember fitness is cycling plus running, triathlon etc.


Win a rainbow jersey
Finally this blog has many readers in the US so a heads up for a gran fondo ride, the Tour of Winston-Salem Gran Fondo. Why? Because it's part of the UCI's international series and those who come in the top 25% of the age group qualify to ride the "UCI World Cycling Tour World Championships" in Slovenia at the end of August where the winners that day get an official UCI rainbow jersey. As well as the US round there are more events to qualify around the world. More info at uciworldcyclingtour.com