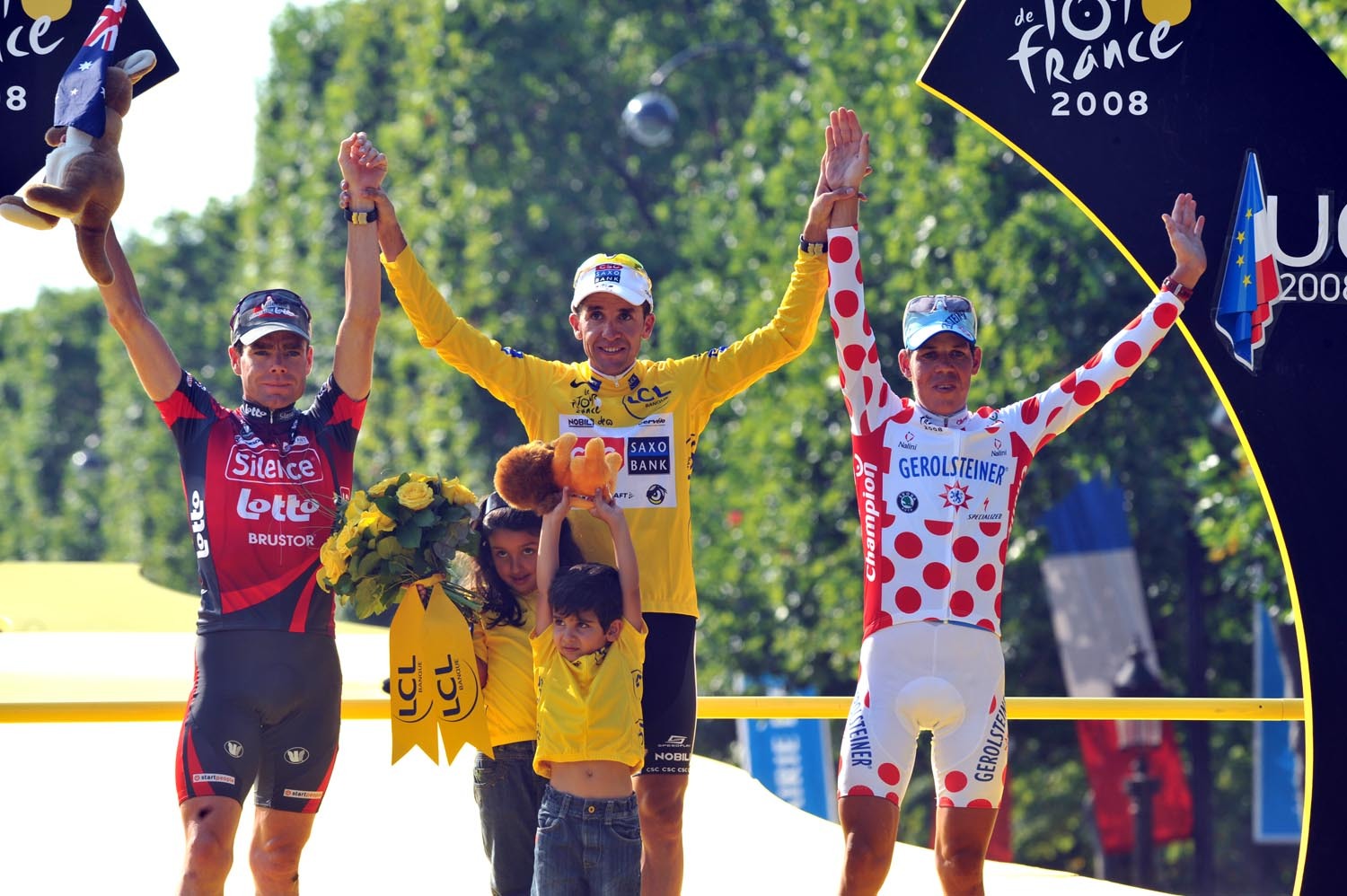 Did you know the three cyclists on the 2008 Tour de France podium all used bikes produced in the same factory? Yes, the design and decals might have varied but there was only one manufacturer behind all three riders.
Once upon a time an artisan would build a frame in their workshop and stick their name on the downtube, a practice that still goes on today but only in a niche of the racing bike market. Instead your Cannondale, Cervélo, Giant, Scott and Specialized was probably not made by these companies but by a factory in China or Taiwan belonging to a completely different firm.
The excellent Cycling IQ blog explains the process, known as the OEM:
Original Equipment Manufacturers (OEM's) are responsible for taking a bicycle brand's unique design and fabricating it into a finished product. Depending on the client's requirements, "finished product" can mean different things. It could be:

–        tubesets
–        a raw, unpainted, frame
–        a commercially-ready frameset, boxed in after-market packaging
–        a commercially-ready complete bicycle, boxed in after-market packaging
I'd really recommend the full CyclingIQ article, indeed the whole collection of Vertical Limit pieces explain in detail how the industry works. Taking the quote above we can see how the OEM in Asia works to the specification of a more well-known brand. For example Cervélo and Scott have used a company called Ten Tech Composites to manufacture their frames.
Ten Tech branches out to other firms and subsidiaries, for example Donguan Taihe is a supplier of composite materials, carbon to you and me. Here's a quote that you've probably never read:
2008年世界环法大赛中,我司生产之自行车独揽环法大赛前三名
If like me you don't speak Mandarin, that quote says "our production monopolised the top-three places of the 2008 Tour de France". That means Carlos Sastre on his Cervélo, Cadel Evans on his Ridley and Bernhard Kohl on his Specialized (Kohl was since rumbled for doping).
Either way this means one company in Guangdong province is making the high end bike for several brands. It's not alone, look closely at the pictures below:
All three photos come from a factory tour by CanadianCyclist.com, the same factory but we see a Giant frame, Bontrager rims destined for Trek bikes and a Scott box. This time the factory is run by Taiwan's Giant Bicycle Corporation, the world's largest cycle manufacturer. There wasn't room to fit the picture on the page but Colnago frames are made there too.
Globalisation
The process is relentless. First manufacturing started in Taiwan but in recent years this has moved to China because of cheaper operating costs, mainly labour. But Europe levies import duties on Chinese bicycles so production is now moving to other areas, notably Vietnam and Thailand. One issue specific to the cycle trade is the bulk of the product, unlike, say, Apple with its tiny phones which can be stacked in their thousands into a cardboard box, a bike or a frame takes up a single box and so shipping costs are an important element of the bike trade.
This is not unique to cycling. For me the auto sector is a good example because the name on the outside isn't that helpful. The design can be done in house but often consultancies are hired to provide advice on market trends or aerodynamics. Once production begins the car is made from thousands of pieces made by different companies. Ford and Subaru don't have steel mills to make the body panels, Peugeot and Pontiac don't make rubber tyres. Indeed, drive a Porsche then it might have been made in a factory in Finland belonging to a paper and packaging company. So who made the car? A global supply chain did.
Fake plastic frames
There's some talk of finding $400 frames that are sold by some brands for $4,000 or more. Indeed the UCI President said frames are made in Asia for $30. But a cheaper carbon frame is like to be heavier, user cheaper raw materials and involve a less sophisticated manufacturing processes. Let's spare the judgement of whether the price tag merits the performance increase, that's subjective. I simply want to suggest that a high end frame typically involves more than the price tag.
Some bargains can involve products rejected by the factory quality control, for example a frame that emerges with a defect should get crushed to dust but "entrepreneurial" workers could sneak these out of the factory gates and sell them online. Indeed there are stories of counterfeit frames. You can fake fashionable jeans and handbags out of denim and leather with relative ease in a sweatshop but a frame is something else, you still need the composite materials and the sophisticated machinery. My guess is that the fakes are being made in the same factory as the genuine products but on the sly, either by the factory owner for extra income or by employees when the boss isn't looking; or using old molds no longer in use in the plant.
This isn't to say you pay for quality alone. Indeed the price you pay in the shop or online for the finished goods are not the cost of the frame, you are paying several people along the length of the supply chain, you're repaying the marketing budget used to fund the pro team and there's a down-payment on future support in case something breaks when you're "just riding along". If you could buy a premium brand frame on the grey market from the factory gates then you would make substantial savings.
From producer to designer?
Of course many carbon frames are made in-house, for example Look or BMC. But increasingly the OEMs are branching out, look at Giant and Merida for obvious examples that make plenty of frames for others but also offer their own branded products and distribution channels. This puts them in an interesting position, able to see what potential competitors are up to and to survey massive sales.
Summary
There's a good chance your carbon frame was made by a company you've never heard of. Many companies still make their own frames but the majority of 2012 Pro Tour team bikes are made by OEMs. Make no mistake, the frames used for the 2008 Tour de France were premium products requiring sophisticated design, but still they were all made under the same roof by a company you probably hadn't heard of.
Perhaps we should not expect cycling goods to be any different to other consumer products that rely on OEMs for much of the manufacturing but few are aware of the actual companies and workers who made your bike.