It might look inelegant but the photo above from a seller on ebay reveals the ancestor of almost every modern road bike.
This is the tale of a radical designer and a scrap mountain bike frame meeting mass production and global trade to eventually reshape racing bikes.
You've probably seen the pictures used to illustrate the theory of evolution where via a series of diagrams we go from the ape on all fours to an upright human. We can do the same for cycling, starting with the early hobby horse or vélocipède and then via a series of leaps we get the chain, the freewheel, pneumatic tyres and then derailleur gears and more. In more recent times there's been an evolutionary leap that has defined most of the bikes you can see, whether at a pro race or in your local shop. The ancestor with the engineering DNA is the Giant Total Compact Road from 1997, pictured above.
The Who Made Your Bike piece on here has been one of the most popular reads and it tells the tale of mass production in Asia. Following this I'd been meaning to look at the rise of Giant, the world's largest bike manufacturer and a recent episode of The Bike Show via podcast has prompted me to get on with it.
For decades cyclists would buy a frame by the seat tube length and then check the top tube length, the head tube and then review the geometry, namely the angle of intersection between the tubes. This can still hold true today but for most buyers there's no need to revive the trigonometry. Today more familiar sizes are often used, for example frames come in Small, Medium and Large. Just like a t-shirt.
This consumer-friendly shift took place in the mid-1990s. Here Jack Thurston interviewed Mike Burrows who told the tale of his involvement with Giant in designing the first "compact" road frame. The genesis of the frame says plenty about the cycle industry. It wasn't the result of CAD design, it wasn't demanded by management or accountants. It came from the mountain bike world and Burrows explains his initial venture with Giant:
To go to the road you needed ten sets of tooling because of the ten sizes of road bike needed. So the manufacturing company in Taiwan was saying to the sales company in Europe "no we're not going to tool up, it'll cost us tens of thousands, hundreds of thousands of pounds and you won't sell enough bicycles to justify it".

I was sitting in on these conversations… I'd made this little sixteen inch time trial bike and I'd ended up with a Fisher Mountain sixteen inch mountain bike and I thought could I have a sixteen inch road bike? I got them to send me one of their scrap mountain bike frames, 16 inch one and built that up as a road bike. A long aero seatpost, a pair of road forks.
The relentless sales of the mountain bike were built upon mass market production and frames came in regular sizes. The obvious thing was to extend this to the road frames. Suddenly "compact" frames took over with their sloping top tubes, allowing weight savings and, in the frame at least, some extra stiffness but it wasn't easy to enter the more conservative world of road cycling.
At the top the UCI was uncertain about these new machines. But a meeting between two Dutchmen, the UCI President Hein Verbruggen and the boss of Giant in Europe, Jan Derksen. The UCI was worried about sweeping technology changes and wanted to ban the design but Giant was able to convince that this was cheaper and more affordable.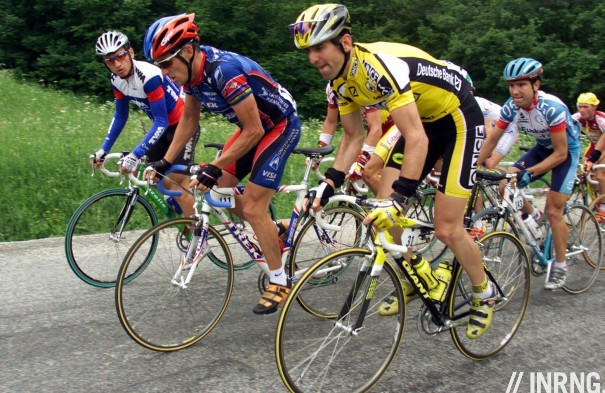 For the mass market the next step was to sponsor a pro team. Giant was not selling much in Spain and their local agent approached ONCE, then the top team in the world and thanks to money and design the team was sponsored by Giant in 1999. Note the image above of Abraham Olano on the compact frame with sloping top tube whilst Lance Armstrong's Trek OCLV looks retro. Validation at the highest level was crucial to high end sales and the company has never looked back since, even if the Spanish team imploded after doping scandal.
Evolutionary leap
Students of evolution and genetics know that evolutionary changes are not always gradual. Sudden environmental changes can prompt some species into extinction whilst others might thrive. In the 1990s the change was one of trade and development. Asia became increasingly linked with the "western" economies of the US and Europe and low cost manufacturing in Asia was able to deliver cheap bicycles on an unprecedented change. This went from ordinary street bikes right up to the machines used in the biggest races.
If you're still on a frame from the 1980s or riding an bespoke frame from an artisan builder then maybe your ride doesn't share the Giant and Burrows design DNA. But if you're riding a recent team replica, a frame made in Asia or if your bike has a sloping top tube then the ungainly bike pictured above is its ancestor. The reduction in frame sizes simplified production, no longer did a craftsman need a jig to carefully angle the tubing in various sizes but TIG welding allowed a worker, still skilled, to make a frame a lot faster. In short frames went into mass production and in a limited number of sizes. Giant got here first for pro racing bikes but almost everyone else followed.
Summary
Over the years we've seen refinery and improvement rather than evolutionary leaps in bike technology. In some ways a machine from the 1930s with derailleur gears, pneumatic tyres, quick release skewers and lugged steel isn't too far from a bike today. Each component has been improved rather than replaced.
But the radical design of Mike Burrows was crossed with Giant's ability to mass produce frames and the Giant TCR Compact Road was born. Today's bikes – whether mass produced composite frames from China or even handmade frames with sloping top tubes – can trace some of their history to this single bike.