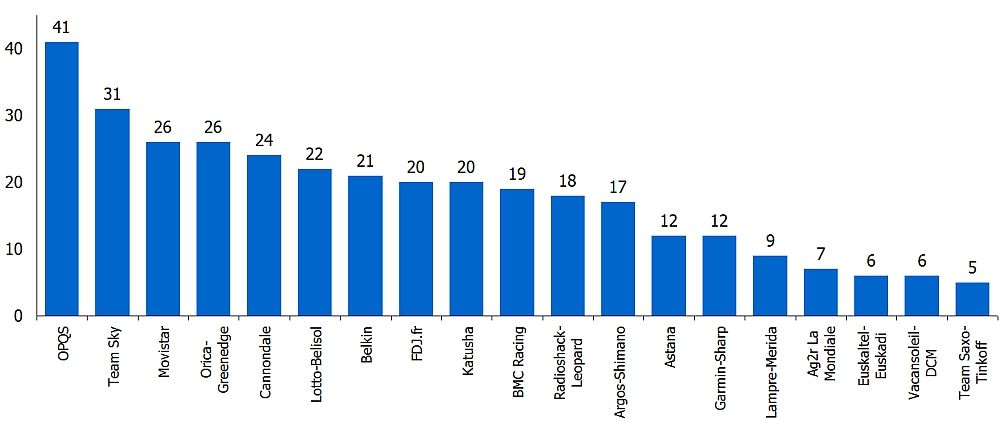 With the final stage of the Tour of Denmark Mark Cavendish took his 16th win of the year, putting first for the number of wins this year, ahead of Marcel Kittel and Peter Sagan.
These rankings are simplistic they still help explain plenty, from departing sponsorship to in-race strategy. And behind the numbers we can see the gap between the World Tour and the lower level Pro Continental ranks which is both quantitative and qualitative where the second division teams win less but, uniquely, are keen to avoid promotion.
Saxo-Tinkoff have a good week with two stage wins by Matti Breschel in the Tour of Denmark but this success doesn't change the fact that the team has only won five races this year. Similarly Ag2r La Mondiale have been very visible with Christophe Riblon but still have just seven wins. For all the disappointment generated by BMC Racing they sit mid-table and above fellow big budget team Astana.
Cavendish is obviously influential for his team's success but without him OPQS would still sit in fourth place in the table above. The two teams most dependent on one rider are Argos-Shimano where Marcel Kittel has 15 of the team's 17 wins and Cannondale with Sagan taking 14 out of 24. It's good to see teams with clear leaders but a crash or an injury to a star rider can ruin the fortunes of the whole team. Note Chris Froome has 13 of Sky's 31 wins.
Once again this is only a numerical ranking, there's no accounting for the quality of wins. Take Astana who have "just" 12 wins but this includes the Giro. But there is a value in these standings, they indicate team morale and if you're wondering why Euskaltel and Vacansoleil are pulling out of the sport, a glance at the numbers shows why. Sure all teams get plenty of airtime even when they're not winning but images of success are far more valuable.
Note sprinters bring in plenty of wins but Sky and Movistar show there are other ways to win. These two teams are especially interesting as Sky are one of the biggest budget teams in the World Tour whilst I believe – no firm numbers available – that Movistar have the smallest budget.
All teams in the second division, known as "Pro Continental", now have at least one win but we can see the gulf between the World Tour and the Pro Conti ranks as the win rate is much lower. It's not as simple as being bigger fish in a smaller pond because most of the time these teams are racing alongside bigger squads. Note Vini Fantini's second place is still including Mauro Santambrogio's wins because if his A-sample has flashed up, his B-sample has not and subsequent sanctions have yet to be imposed.
No Promotion
There are 19 World Tour teams at the moment but there are supposed to be 18. However with Euskaltel-Euskadi and Vacansoleil-DCM in the ejector seat we could see the World Tour with just 17 teams because nobody else wants to get promotion, the likes of Europcar, IAM and Cofidis have ambitions but see the costs and burdens of a licence and promotion as unreasonable and unattractive. There can't be many sports where promotion to the top division is actively avoided.
Looking Ahead
The shrinking World Tour has consequences for all races next year. Because if we get 17 squads then races might take it upon themselves to issue five wildcard invitations rather than the standard four, or the three we had this year. A small change but self-reinforcing because the lack of promotion to the top league means more invitations are possible.
Conclusion
August is the busiest month of the year for racing with plenty of races so the table should over the next few weeks. Still OPQS lead and it's near-impossible to overhaul them. Their ambitions are easy to see for 2014, hiring Rigoberto Uran for more success next year and Mark Cavendish is getting a sprint train with high speed wagons like Mark Renshaw and Alessandro Petacchi which can only add to the wins, especially if Tom Boonen has a good spring.
As simple as the rankings are, they do hint at why some sponsors come and go and help shine a light on which teams have momentum or matters like dependence on a star rider.