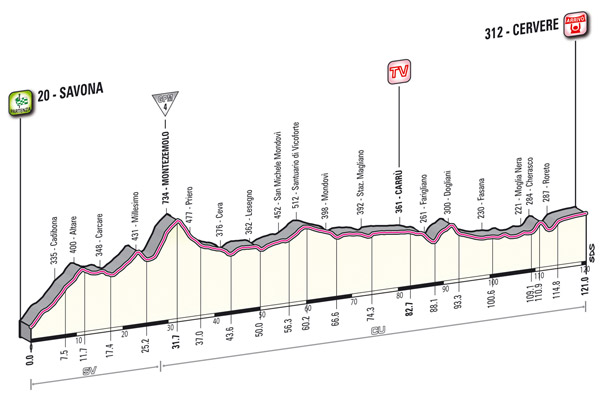 A strange stage, this is the just 121km and a sprint looks likely. There will be two races on today, the first to ride as fast as possible to win the stage and the second to go as slow as possible to save energy ahead of tomorrow and the Alps.
The start in Savona brings back memories of Eddy Merckx. Not directly of course, instead I enjoyed two biographies about the best rider of all time (reviews: here and here) and he infamously left the Giro after testing positive during the race following a stage to Savona. The town isn't known for too much else, a industrial city with a port and once famous for its steel and shipbuilding industries. It is linked – like every town on the Italian coast it seems – with Christopher Columbus.
The race then heads inland and once the climb to Montemozolo is done, sticks to flatter roads. The race will pass many vineyards where they make easy drinking red wines with the dolcetto grape. Sometimes the wine can have a fizz and acidity to it and we'll see if the racing matches this. But the short distance could mean a high tempo race and all efforts to escape get corked by the sprinters' teams. Although with Matthew Goss recovering from injury, the work will fall heavily on Team Sky. Still, many should try since they'll know their chances of winning a stage are fast diminishing with the Alps looming. The area is also famous for its white truffles and if a rider wants to win from a breakaway today he'll need to sniff out every opportunity possible. In short, a breakaway might get away uphill but teams might combine to set up a sprint finish.
For once the finish looks safer on paper with a finishing straight over three kilometres long in the small town of Cervere. At 121km this is a "sprint" stage but will the sprinters have their day? Probably since there's only one stage left in the race for the sprinters afterwards. Meanwhile the second race should see the overall contenders trying to soft-pedal their way through the day, saving every possible calorie in order to ensure fresh legs for tomorrow and the first Alpine summit finish showdown of the race. Everything will change.