Merckx: Half Man, Half Bike by William Fotheringham
525 wins. Some of these were kermesse races that aren't recognised today but this only reminds us that Eddy Merckx didn't got for recovery rides, he raced.
I'm learning about cycling every day but I know surprisingly little about Merckx. Various ideas come to mind. The rocking shoulders, the sideburns, winning all the jerseys in the Tour de France in the same year, the son of a shopkeeper from a Brussels suburb, the brown Molteni jersey and more. William Fotheringham's book links all these mental images together and builds them into a fine history of the Belgian's career.
The book takes a chronological path through Merckx's life, beginning with a brief tale of murder and collaboration during the Nazi occupation of Belgium that went on to touch on Merckx's career. There is plenty on his young life and family environment. We learn of his nervous father, the time when a young Merckx divided his time between school, his parents' shop and riding his bike.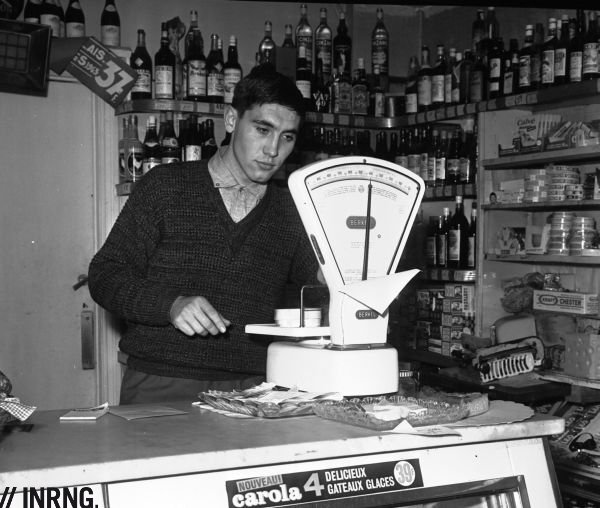 There are so many small anecdotes, many make impress and wow. Small details, like how Merckx needed a chair in his shower after a race because he was so tired he could not stand. He would smoke from time to time, getting cigarettes off the team's smoker… another rider and apparently it relaxed the lungs. Other nicknames for "The Cannibal" have not lasted, "The Crocodile" for example.
These nuggets appear time after time as Fotheringham chronicles Merckx's triumphs. Often individual stages of a grand tour win are recounted. Today we might think the Tour de France is won thanks to a few key efforts on top of consistent and conservative strong riding. Yet Merckx thought nothing of attacking with 100 kilometres to go on a mountain stage or even a flat one. If he had five minutes lead on the overall classification then Merckx did not feel satisfied, instead he would attack to increase this margin just in case he punctured or crashed later in the race and lost time. The new style of racing is recounted in impressive detail, it appears Fotheringham has sifted newsreel footage, documentary films, race reports, press cuttings and interviewed people present in order to retell Merckx's greatest rides.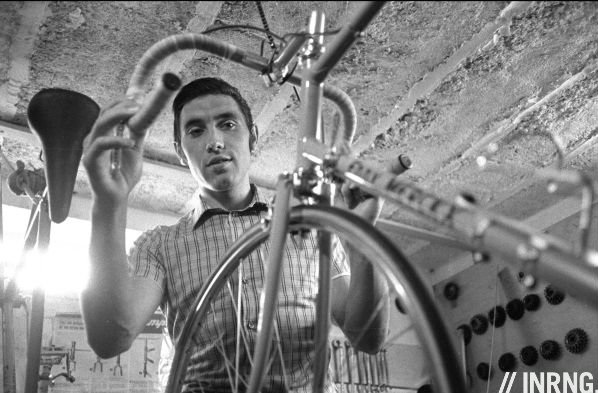 As well as races there is reflection. Attacking when you have the yellow jersey and comfortable lead might sound like outrageous domination but the book hints at insecurity too. Merckx just worried he could lose the lead, better to increase the margin. Similarly Merckx was constantly tinkering with his bike, adjusting saddle height mid-race or even demanding a frame is put on the next plane to Switzerland so he can race on it the next day because the geometry was better.
I was pleased to see Antoine Blondin regularly cited. Blondin chronicled the Tour de France for L'Equipe, taking a poetic stance on each day's events, often fuelled with wine and brandy. After Merckx's victorious solo breakaway of 130km across the Pyrenees in his debut Tour de France Blondin wrote:
"There is something of the Olympic flame in the red wick that illuminates the sunset as Merckx sleeps in the purple cradle where living gods are born".
You don't get phrases like that today. Blondin delivered this lyricism daily in July. L'Equipe and Blondin's need to find new angles on the racing reveals one frustration with the book. "Merckx wins" is repetitive, both to write and to read. Back in the day race organisers, the media and public all found this too repetitive. Like rushing through an art museum, if you read too much of the book in one sitting then everything gets blurred into one. It is as if Merckx had five minutes lead on the cobbles of the Passo Stelvio during a snowstorm on his way to another win in the Vuelta a Espana.
When asked if Merckx's imperial rule was harming the sport, Fotheringham writes:
The French writer Pierre Chany saw this, producing the perfect riposte…"has anyone wondered whether Molière damaged theatre… Bach harmed music?"
I agree but just as you wouldn't sit through all of Bach's compositions in one go, I suggest you pace yourself with this book to get the best out of it.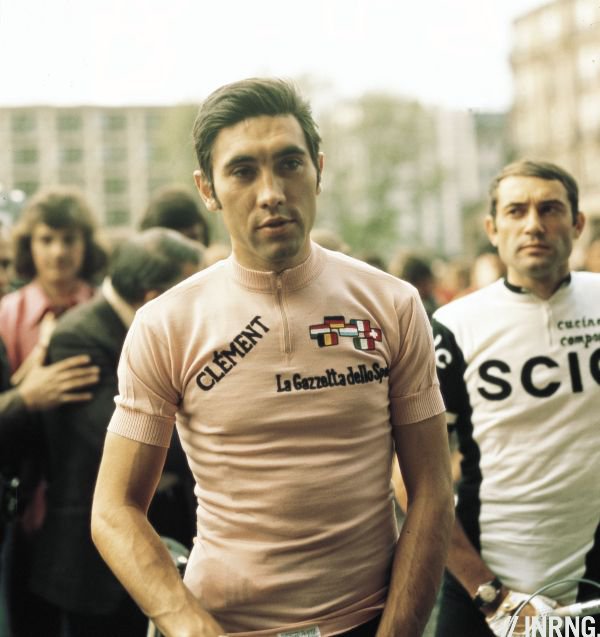 One unanswered question is what made Merckx so able? Fotheringham explains the psychological factors that drove Merckx in great detail, all the way from childhood to team tactics but there is little mention of his physiological qualities, except admiration for his resilience. The phrase "sports science" probably didn't exist during Merckx's time so I don't know if anyone even measured his VO2 Max or lung capacity. But I'm still keen to know just what made Merckx so strong. Before I was interested in cycling I heard tales of Merckx and recall someone saying his thighs were disproportionately long compared to his lower limbs, giving him more leverage; I don't know if this claim is true nor if it offers bio-mechanical advantage. But was it down to long legs, giant lungs or what? If he often performed well in the cold, did he suffer in the heat? My curiosity here isn't yet satisfied.
Summary
I enjoyed this excellent and well-researched book that tells of Eddy Merckx, his background, the victories and even how he changed cycling. Thanks to this book I'm now far more appreciative of Merckx. If you enjoyed seeing Andy Schleck or Alberto Contador attempt long range breakaways in the Tour de France last July I think you'll like this book; if you want to learn more about Merckx this is a must read.
There's a strong a focus on the motivational forces, along with detailed accounts of his greatest triumphs and even the lows he experienced. Just don't try to cram this book into a single session like a long haul flight, I think you will find it more rewarding to read a chapter and return at a later point.
Disclaimer: this book was sent by the publisher for review.
A list of book reviews is available at inrng.com/books.