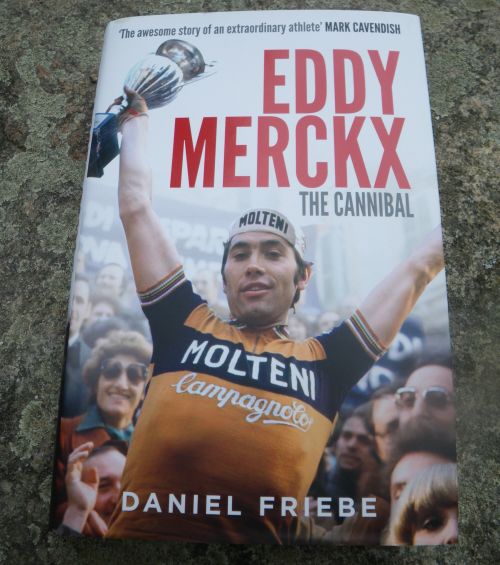 Eddy Merckx, The Cannibal by Daniel Friebe
During his career Eddy Merckx won roughly one third of all the races he started. For an unbroken period of seven years he finished no lower than first in every grand tour he completed.
Daniel Friebe's biography is more than the story of Merckx, it is a history of cycling under the reign of rider known as The Cannibal as told by interviews and anecdotes from the riders who saw their hopes, ambitions and earnings swallowed up by the insatiable Merckx. Yet many now seem cheerful about the whole experience.
The book follows Merckx's career in chronological order, the early years right until the painful decline in public. Friebe has an enjoyable writing style with some florid language at times. Eddy Merckx's agent Jean Van Buggenhout is labelled "Van Bug" and described as a "big kahuna". The writing style comes alive when interviews with rivals of Merckx. You almost laugh when Friebe describes the domestic scene of Roger De Vlaeminck and his younger wife. Observing his technique of dabbing spilt coffee, Friebe describes how the Flemish legend looks out from his kitchen window onto a muddy field where a pet llama stands to declare the beauty of the Flemish countryside.
Across all landscapes the consistent theme is utter domination by Merckx and how his appetite meant famine for others. One typical tale comes from the 1970 Giro d'Italia. A Tuscan winegrower offers 40 flasks of wine for the winner of a bonus sprint in the middle of the stage. It's not for a jersey, nor a time bonus, just some red wine. Dino Zandegù notices Merckx readying himself but outfoxes him to take the sprint. Merckx was livid and declared "that Chianti was mine" and threatened Zandegù with never riding a criterium again, an important source of income for riders in those days. After the stage Merckx tracks Zandegù down in his hotel room to demand half of the wine. Zandegù relents. Already the highest paid rider in the sport here we see Merckx enraged that someone can beat him in a sprint for some wine, even going as far as threats and spending, even wasting time hunting Zandegù to demand half of the prize. All for some wine. The book recounts other incidents when races and reputations are at stake. For example in the 1974 Tour de France Merckx refuses to allow a sprinter to take the yellow jersey for a day or two early in the race, "it's my yellow jersey" he declares. And worse, all the others got in return was pain.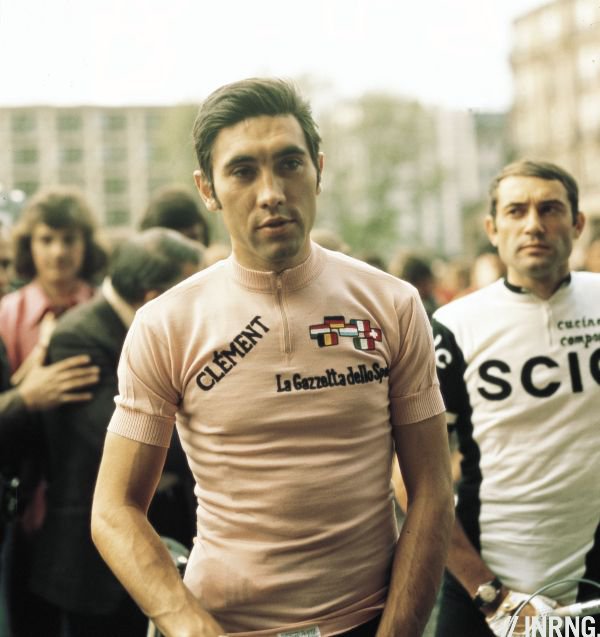 We see Merckx through the eyes of Felice Gimondi, Roger De Vlaeminck, Bernard Thévenet and other big rivals during the period. Don't forget that as well as depriving them of wins, he also deprived them of money. Put simply had Merckx taken up another sport their lives would have turned out very differently. But these interviews are conducted in the present day and with some hindsight the riders also appreciate some good fortune to have ridden with the greatest ever rider especially since they were amongst those able to beat him.
The book is full of great little stories, for example "The Cannibal" nickname was not the invention of a senior journalist or a rival eaten alive during a race… it came from a little girl. And I never knew that the brown Molteni jersey was really supposed to be gold, the sponsor's colour. Presumably nobody could make gold wool jerseys. There's more.
It's not a hagiography, Friebe examines the monopoly, allegations of a "mafia" racing style that used force and even violence to intimidate others. There also the doping in the era with Merckx's positive tests as well as speculation on undetectable methods. It's handled sensibly in my view. Levity and analysis ensure the book is a page turner because it's easy to read but also because you want to find out more.
One thing that is lacking is an index at the back. I'd love to look up incidents and anecdotes again from this book but it's harder without the index.
Summary
Lively writing makes this an enjoyable read, especially the way the book progresses through Merckx's career through the eyes of others. Friebe's observational skills come to the fore with interviews conducted in the present day, not just for what we learn about Merckx but for what we learn about these 60 year olds who once fought with Merckx. But it is the tale of Merckx that impresses, his relentless ability across all terrains all year long.
Merckx vs Merckx
Having reviewed William Fotheringham's "Merckx, Half Man Half Bike" a few weeks ago, comparisons are inevitable if you're in the market for a book on the greatest ever rider, arguably the twentieth century's finest sportsman. With next to nothing in English, suddenly two books come along. Amusingly both books are published by companies within the Random House publishing empire but neither arm knew what the other was doing until late. Sales of one book could cannibalise sales of other.
The more I read about Merckx, the more impressive his riding. Two accounts of his exploits just aren't enough and each book complements the other. There is obvious overlap, tales from the past are told twice yet these are different books. Fotheringham's book is more an account of Merckx's career with a second angle of trying to look inside his mind, his mental state as motivation for his cannibalism and has the feel of a slick well-researched documentary. Friebe covers the supremacy too but often the way it experienced by others and with a touch more colour and poetry. Should you do get both books, I've read both within a short space for the sake of review but ideally you should to space them apart by a few months.
Disclaimer: this book was sent by the publisher for review.
A list of book reviews is available at inrng.com/books.