In the absence of any big World Tour races and out of competition news like Egan Bernal's crash and rehab, the promotion and relegation battle among teams has been a big story of the start of the season. Perhaps you haven't been watching races with a spreadsheet to hand, but watching Cofidis win this and Intermarché-Wanty win that has been to think of all the points they're racking up.
As a reminder, at the end of the year normally the best 18 teams based on the sum of the team ranking points from 2020, 2021 and 2022 will qualify for World Tour licences, as long as they've applied and meet all the admin and financial requirements.
Among the top-18 teams on these rankings today are Alpecin-Fenix and Arkéa-Samsic, while Cofidis and Lotto-Soudal currently face relegation. Here's the ranking of teams from last Sunday, the red line marks the drop zone.
The data for the chart is public as in you can find the 2020 and 2021 standings but there's no official ranking, you need a spreadsheet to tot up the points for yourself and then drop in the 2022 standings each week.
With Jan Hirt winning the Tour of Oman that finished on Monday that's an extra 125 points for Intermarché; Arkéa-Samsic placed two riders in the top-10 their so they harvest more points (you can see all the points per race in this blog's UCI Points and Rankings Tables Explainer). Tim Wellens was second in the Clasica Jaen Paraiso Interior one day race, more points while Arkéa-Samsic and other Lotto-Soudal riders also scored big.
So far this season there's actually no change. Alpecin-Fenix and Arkéa-Samsic are still both in the top-18, Cofidis and Lotto-Soudal are still out. But there's a charge by Arkéa-Samsic and Intermarché who have been rising up the ranks, and others are beginning to slide. Bike Exchange are and Israel face nervous times if Cofidis and Lotto-Soudal keep scoring. But these two need to score 1,000 points to overtake Bike Exchange and Israel. Bike Exchange are interesting because they don't race that often, they tend to do the World Tour races and fewer events outside the big series and while this means they show up fresher than a VB in a stubbie holder out of an esky for the World Tour, but it's costing them points because they're not fishing in smaller ponds.
Now it's mid-February and the season goes onto October so, obviously, there's a long way to go. But it's still worth noting a couple of things. First we'll have the World Tour races start and our lesser teams will find it a lot harder to score, although Caleb Ewan will surely be fine here. So the teams in this battle have been making hay while the sun shines in races where by definition not all the World Tour teams can start and where a chunk of the field is made up of pro-am UCI Conti teams. And there are a surprising amount of races early in the year, this Sunday there are four overlapping stage races in the Tour des Alpes Maritimes, the Tour du Rwanda, the Volta ao Algarve and the Ruta del Sol… plus the World Tour UAE Tour and the overall classification in these races offers a lot of points. Sensibly few teams will try to take on UAE and Pogačar in the UAE Tour but they can score big by winning elsewhere this weekend.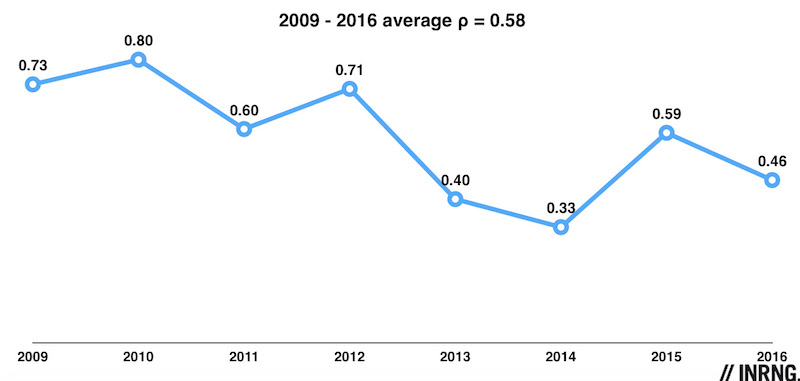 Also a strong start to the season doesn't mean the rest of the season is a runaway success either. I've looked at wins (not points) in the past and there was only a mild correlation between a good or bad start to the season between January-March and winning in the rest of the season from April to October in the more recent years. So you can come out of the traps flying into 2022… but turn stale by Easter. If you want to nerd out on the stats and rho rates, see Does Early Season Success Bring More Success from 2017.
There's a lot at stake. Arkéa-Samsic have turned down a place in the Giro d'Italia because as a French team they're all in for the Tour de France and their B-team of riders are better deployed on the French calendar in May to score in races like the Four Days of Dunkerque rather than try and, probably struggle to win any UCI points in the Giro. Lotto-Soudal is an institution of a team with a lineage that goes back to the 1980s but they risk becoming Lotto as we know Soudal is going to Quick-Step for 2023 and any interested inbound sponsors will be nervous about sponsoring a team that, as things stand, is not going to be in the World Tour for 2023. Which is probably why Caleb Ewan's been lined up to race Kuurne-Brussels-Kuurne (200 points) rather than stages of the UAE Tour (40 points).
One question is will Alpecin-Fenix will move up? They've done very well under the current system but having a UCI Pro Team licence but exploiting the rules to win qualification to all the biggest races. It's like buying a second class ticket but being upgraded to first class every time they travel. But there's not that much of a difference in price actually, the UCI licence fee difference is small and if they ride one grand tour a year they have to pay the World Tour race of anti-doping so the cash saving on the admin side is about €50,000, nice but tiny. The real cost is having the roster of riders, support staff and logistics to ride the all the World Tour events all season. Still better to apply to be in the World Tour and get the assurances that go with it, what if the UCI rewrites the qualification rules? Or what if they don't score enough points this year because they've had a bad start and are very dependent on Mathieu van der Poel which means they might not get automatic invites in the future. Getting that World Tour spot is cheap insurance against being left out.
Which brings us to the relegation point. Teams that do drop down can still hope to keep their heads above water. The rules that give Alpecin-Fenix and Arkéa-Samsic qualification to all the top races still apply next year, only it's for the best scoring UCI ProTeams in cycling second tier… plus any World Tour teams that are relegated for 2023, their points from this year will be compared as well. Which means a World Tour team facing the drop can still get plenty of invites if it scores enough in 2022 (2022 only, no 2020, 2021 points in play) to beat all the other teams.
Teams can only try to hunt for easy points, they can game the races they ride but have to win, it's hard to buy points. Mid-season transfers are possible but should a rider change teams, their points haul scored with their old team stays with the old team. So a team can only buy in a rider capable of scoring big, rather than a rider who has scored big but you wonder if any emergency transfers happen. All the while Covid is a big issue in the peloton with riders and whole teams dropping out of races because of positive tests and this feels unfair, you can accept a puncture or a crash stopping a team from scoring as a sporting risk but the viral aspect seems too random.
Conclusion
For all the success of Arkéa-Samsic, Intermarché, Cofidis and Lotto-Soudal, no change so far in the standings with the former on track for promotion, the second staying still and the latter two still in the relegation hole. But they've all scored so well that the tension's rising and the likes of Bike Exchange and Israel will be nervous already as they been standing still.