Here are the answers to the Christmas Quiz questions. As usual there's the answers and some opinion and comment added on.
1. Dressed in red he makes his way through the snow. It's not Santa in the picture above, which World Tour pro is it? It's Anton Palzer, the Bora-Hansgrohe rider who began the year as a pro skier and uphill runner and ended it having finished the Vuelta.

That Was The Year That Was
2. Who had the most pro wins this year in the men's and women's peloton? Roglič, Van Aert and Pogačar were all tied on 13 victories, impressive in a category that's normally taken by the sprinters with Démare, Groenewegen and Viviani winning in the last three years. Lorena Wiebes topped the women's rankings, also with 13 wins.

3. What was the narrowest winning margin of the three grand tours? The Giro with Damiano Caruso making a late charge back at Bernal but the Colombian never really looked under pressure to finish 1m29s ahead. The Tour and Vuelta saw runaway winners.
4. What was the highest altitude summit finish in the World Tour this year? Usually you'd think the Alps, but this time it was the Pyrenees thanks to the Col de Portet in the Tour de France, the time when Richard Carapaz seemed to be bluffing in order to win the stage but Pogačar won ahead of Jonas Vingegaard. The trio formed the final podium in Paris.
5. This photo is from the roadside of a race held earlier this year. It looks like an ideal coffee tea stop. Can you name the race? It looks British but "Gout Temps"? Perhaps it's Belgian eccentricity? No, it's from the Tokyo Olympics course.
6. Thanks to an attack on the last lap, this Tour de France stage winner had time to sit up and freewheel as he (and his horse) crossed the line. Who is it? It's Sylvain Chavanel who's retired from the pro peloton but not sport, he's become a keen equestrian in part thanks to his kids taking up riding but he's still racing his bike for his local club, he took part in a local cyclo-cross race the other day, finishing 16th..
7. How many times did Romain Bardet race in France this year? Not once on the road… and if you checked procyclingstats you'd think this was the answer. But the day after finishing eighth in Lombardia he took part in the Roc d'Azur MTB race (pictured) and finished 11th.
History Round

8. Stuart O'Grady and Robbie McEwen share a drink and strike a pose. What's going on? Recreating the sprint in Tours where they tussled for points… and being friendly about it too.
9. This racer is now in charge of a team, who is it? Vincent Lavenu from the 1989 Tour de France, he was on the Fagor team, a French squad sponsored by Spanish kitchen appliance manufacturer. He now runs the Ag2r Citroën.
10. Colnago frames have an ace of clubs logo. Why? The story goes that it's because Michele Dancelli won Milan-Sanremo on a Colnago. Sanremo in Italy is known for three things, first the music festival, second as the "city of flowers" and third as the finish of the spring classic. The flowers come from the mild Mediterranean climate and are big local export and once Dancelli won there, Ernesto Colnago hit on the "ace of flowers" as it's called in Italian.
11. Primož Roglič used to be a ski jumper. But what other winter sport did he compete in before as well? He did nordic combined as well, the winter duathlon sport of ski-jumping and cross country skiing so nordic combined or XC skiing. He still skis in winter for fitness and fun but on groomed tracks rather than down ramps.
Chief Commissaire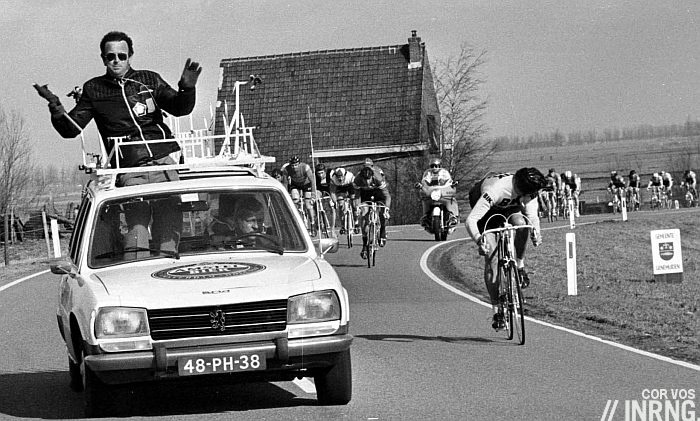 12. What's the UCI minimum wage for the men's and women's World Tour in 2022? €40k for men if they are salaried by their team, €65k if hired as contractors, less for neo-pros. For women it's €27.5k and €45k, a gap but it's been closing each year and will be narrower still in 2023.

13. What's the UCI penalty for dropping litter in a World Tour race? 500 Swiss Francs and crucially 25 UCI points. Remember the fuss this caused in the spring? For all the brief noise though the sport has tidied up its act here and it's been more than a symbolic gesture as the image of riders slinging waste into the countryside looked terrible on TV. But it's a small step compared to evaluating the sport's wider environmental impact.
14. Name a country with more pro teams than pro races? Israel and Bahrain comes to mind but the question was posed in the wake of the Tour of Utah being scrapped for 2022, there are several US men's and women's teams but they have almost no international races to ride at home. This is a problem and much more so than missing a race in Bahrain. Although if you did launch a World Tour race in the US, would it get as big an audience as the Tour de France? Put another way, can US teams get enough local value thanks to the Tour's media reach, both for the men and now the women?

15. This chart shows the annual budget of a World Tour squad over the years. Which team? It's Lotto-Soudal and while rider wages and team budgets in general have grown over the years, this team's finances have stayed flat. Let's see if the accounts are worth a closer look for a full blog post.
16. When was the last doping case in a pro team? Depends, do we cite Villalobos getting a four year ban the other day, or De Bonis's positive test at the start of the season as cases closed? Or Edwin Avila who is provisionally suspended but still yet to receive a formal conviction? "Who?" you might be thinking and that's one of the reasons for asking, to highlight how this kind of scandal has vanished. In one interview even Vini Zabù management (the sponsor) didn't know who De Bonis was although they would say that, wouldn't they. Now this doesn't mean doping has gone away of course, just that it's not been front page news for a long time. I think the last World Tour ban was Bahrain's Kanstantin Siutsou getting done for EPO. The Doctor Freeman case rumbles on very slowly in the UK and has probably generated the most headlines although it's strictly a medical tribunal for now.
Random round

17. Who's the middle man in the photo above? Javier Guillén, the director of the Vuelta. While Mauro Vegni's been a race organiser for four decades and Christian Prudhomme's been on French radio and TV for five decades. Guillén's a lawyer who rose up inside Unipublic to become the Vuelta boss in 2008. He's bound to be known to Spanish fans but doesn't cut such a public figure despite being so influential on stage race course design with the "tapas cycling" format of short stages and few sprint finishes being copied by many.
18. What does DSM in Team DSM mean? Was wondering if we'd get some snarky replies like "Doesn't Sign Meaningfully" but let's not joke too much, it's originally Dutch State Mines but is now a life sciences company called DSM. Yes the team has made headlines more often for contractual contests this year than results but underneath is a decent team trying to operate on its own terms.
19. Name a current pro who is also a wine-maker? If you struggle, name a retired pro who is at it. Matteo Sobrero, currently with Astana and off to Bike Exchange does. So does Thomas Boudat of Arkéa-Samsic. It seems in the past a lot of riders used to come from farms, less so these days. Talking of farmers, Cofidis-bound François Bidard makes ice cream on his family's dairy farm.
20. That's the mascot, now name the race. The Tro Bro Leon. The race is know for its off road sectors as much as the porcine prize for the best Breton.
21. After crashing out of the Olympic Mountain Bike race, what food did Mathieu van der Poel console himself with, a large tub of yoghurt or a large sushi meal? Both according to the innkeeper of Kona Stay, himself a keen cyclist. This was where the Dutch team based themselves during the Olympics.
22. How many paved mountain passes are there in France and Italy? Give it a good guess. 2515 in France and 1060 in Italy according to the "Chauvot", the bible of the 100 Cols club. Quite a playground, imagine doing them all? Then you can do the unpaved ones, France has over 10,000 mountain cols if you include the unpaved ones, for Italy the total is 7,600.

Picture round

23. Get the rider's name from the pictures above. Kobe-Goose-Suns > Kobe Goossens, a decent signing by Intermarché-Wanty-Gobert for 2022. And no, his parents are not basketball fans, nor was he born in the steelmaking city of Japan: Kobe is a Flemish version of Jacob.
24. Get the rider's name from the pictures above. Olaf-Koi > Olav Kooij of Jumbo-Visma. The team's released Dylan Groenewegen to Bike Exchange because Groenewegen wasn't going to get a look-in for the team's Tour de France squad… but also they have up-and-coming replacements to score sprint wins in other races and Kooij is one sprinter, plus a name to remember for the classics.


25. Get the rider's name from the pictures above. Fin-Fisher-Blaak > Finn Fisher-Black, the New Zealand neo-pro with UAE Emirates, he's tall, he's just turned 20 and is a promising and versatile rider, useful against the clock and can climb with the best too.