Headache? Could be too much to drink, could be the virus, or it could be this quiz. As ever there's a mix of fun and fiendish questions, and if you're left scratching your head, don't worry. Nobody can know all the answers and some questions should make Google DNF… so wait for the answers next week which might be more interesting that the questions.
1. Dressed in red he makes his way through the snow. It's not Santa in the picture above, which World Tour pro is it?
That Was The Year That Was
2. Who had the most pro wins this year in the men's and women's peloton?
3. What was the narrowest winning margin of the three grand tours?
4. What was the highest altitude summit finish in the World Tour this year?
5. This photo is from the roadside of a race held earlier this year. It looks like an ideal coffee tea stop. Can you name the race?
6. Thanks to an attack on the last lap, this Tour de France stage winner had time to sit up and freewheel as he (and his horse) crossed the line. Who is it?
7. How many times did Romain Bardet race in France this year?
History Round

8. Stuart O'Grady and Robbie McEwen share a drink and strike a pose. What's going on?
9. This racer is now in charge of a team, who is it?
10. Colnago frames have an ace of clubs logo. Why?
11. Primož Roglič used to be a ski jumper. But what other winter sport did he compete in before as well?
Chief Commissaire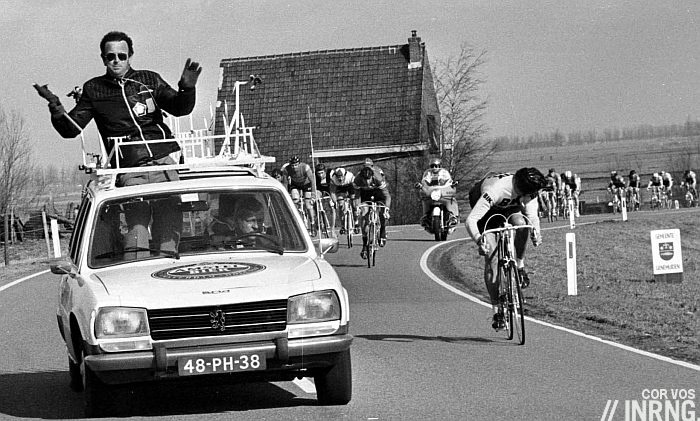 12. What's the UCI minimum wage for the men's and women's World Tour in 2022?
13. What's the UCI penalty for dropping litter in a World Tour race?
14. Name a country with more pro teams than pro races?
15. This chart shows the annual budget of a World Tour squad over the years. Which team?
16. When was the last doping case in a pro team?
Random round
17. Who's the middle man in the photo above?
18. What does DSM in Team DSM mean?
19. Name a current pro who is also a wine-maker? If you struggle, name a retired pro who is at it.
20. That's the mascot, now name the race.
21. After crashing out of the Olympic Mountain Bike race, what food did Mathieu van der Poel console himself with, a large tub of yoghurt or a large sushi meal?
22. How many paved mountain passes are there in France and Italy? Give it a good guess.
Picture round

23. Get the rider's name from the pictures above
24. Get the rider's name from the pictures above.

25. Get the rider's name from the pictures above.
The Prize
If you want to have a go, post your answers in the comments below. Readers can collectively crowdsource their way together. The most correct answers get wins a prize: curated gifts from the Tour de France caravan (aka trinkets pulled out of a ditch that'd I'd forgotten about)
Small print: the deadline is midday Euro Time on Wednesday 29 December. The most correct answers wins and if there's a tie then a name gets picked at random. Obviously people can copy off each other which spoils the point of it all but if you want to deploy an eleventh hour copy-paste job… well that's cycling where you can toil into the wind only for someone wheelsucker to sprint past in the finishing straight.
As loyal readers will know the quiz has some hard questions which can't be googled in one go, half the point of the quiz is to take a sideways look at things in the answers which will appear here later next week. Happy holidays…