Having covered Team Sky's budget the other day, here's a closer look at the team budget of Ag2r La Mondiale, the French team in the World Tour sponsored by one of France's largest mutual insurance firms and one that is about to get even bigger.
That's a grab of the accounts filed with the court clerk in Chambéry, the Alpine town where the team has its HQ and you can see the budget for 2017 for €16,846,389. Again it's 2017 and not this year, these are from the team's accounts for the year ending December 2017 which are then compiled, audited and filed… and a reader kindly emails a copy over.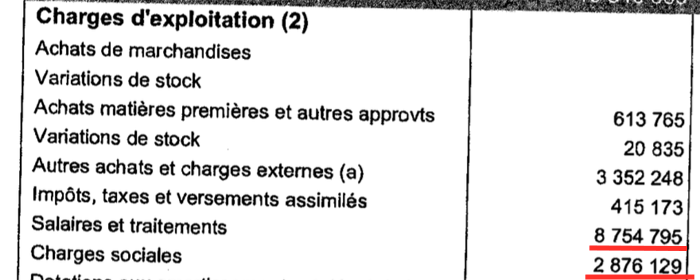 The entire wage bill for the team is €8.75 million on top of which is added €2.88 million of "social charges", French jargon for payroll taxes. As we saw with Team Sky's accounts the British team doesn't have riders as employees but hire them as contractors or service providers but in France it's the law that riders must be employees and on top of this come the French payroll taxes which equate to 33% of the wage bill to be met on top. This means if Ag2r want to match a salary offered by some other teams when bidding for a rider then if they hire them they have to budget a third again on top in taxes. It shows that simply imposing a budget cap in isolation could close the gap but it won't level team finances.
As this team publishes the accounts annually we can trace the budget over recent years and the chart above shows a compound growth rate of 10.8%. The team has grown its spending but the World Tour as a whole has seen budgets swell far beyond inflation and for all the "the sport is broken" chants, there's always more money coming into the sport and this team are no exception. What is different here is the sponsor is onboard until at least 2020 and this security has enabled them to offer several riders long term deals.
Wise spending?
This isn't a big budget team, as we can see the team's budget is less than half that of Team Sky. But it has delivered repeat podium places in the Tour de France with Jean-Christope Péraud and Romain Bardet and had podium finishes in the Monuments with Silvan Dillier Paris-Roubaix. Whether by design or chance the team has made some clever hires in recent years with Oliver Naesen who is capable of a big win in the spring classics and then worth his weight in gold as a bodyguard during the Tour de France, a role he seems to relish when other Flandriens might be on the beach in the summer; a similar story with Silvan Dillier who has brought expertise and experience from BMC's team time trial prowess to the team. They also have a productive feeder team, CCF Chambéry that supplies them with a conveyor belt of talent including Bardet, Dillier and Pierre Latour. One thing missing is a sprinter: Ag2r are one of the few teams without an obvious house sprinter and it shows given they've only had 14 wins this season.
Team Matmut?
Ag2r La Mondiale is a mutually-owned social insurance company in France offering pension plans, health insurance and suchlike and is the market leader in several categories in France. It's merging with Matmut, another mutual insurance company which is orientated more towards accident, motoring and household insurance (note French rivals Groupama-FDJ have Groupama, another mutual insurance giant as their title sponsor too.). The merger is expected to go through on 1 January 2019 and could well see the enlarged group take on a new name with fresh branding. Who knows, maybe the brown shorts could be designed away?
Conclusion
If only this blog could cover every pro team's set of accounts it would but, alas, only Ag2r and Sky file theirs for now although we might see Groupama-FDJ file theirs given the team used to be a subsidiary of FDJ but is now a joint 50-50 entity between the two sponsors. But for now that seems to be all we can get, all team have accounts of course and team budgets are audited by the UCI but it's private and were they to be public it'd show they're all on the up. Ag2r's budget is up again and this time by 10% reflecting the general trend in rising team budgets.
Exchange rates at 31 December 2017: €1 = US$ 1.20 = AU$1.53 = £0.88 GBP