After using the Garmin 820 Edge for six months here's a review of this bike computer. Tech reviews are rare here but this one is partly prompted by glowing reviews elsewhere which seem way too generous for a product that struggles with the basics like usability and battery life.
What it is? A bike computer and GPS navigation device all in one. In the box you also get a wall charger, a USB cable and mounts for your bike, both the small ones that you fix to your stem with rubber straps as well as an "out front" arm which clamps onto the bars with the help of an allen key bolt.
The device is suggested for retail at €399 / $399 / £369 but you'll find it on sale online for 20% less.
The unit has a medium sized screen, bigger than a watch but smaller than a smartphone. You can adjust the display settings a lot in order to have ten data points on the screen or just one and then you can swipe across to another screen with more data, then another with maps and so on. It pairs with a range of Ant+ and Bluetooth devices and even has Wifi so you can upload your rides to Garmin's Connect website and Strava in an instant.
The GPS works well, it is quick to find a signal and if the unit can use the Russian Glonass network as well this always felt excessive given the pinpoint accuracy, at least for road use.
Another plus is the processing power, you can upload a long route and it's reasonably quick to start the course, it's not instant but it makes good progress. Similarly during a ride the device happily follows a route and your path along on a map is smooth, even during a fast descent the screen scrolls with a mellifluous manner. The memory is huge too, you can pack it with maps and keep many rides and courses on it.
The display: The display is of reasonable quality but still behind the resolution and ease of use we take for granted in smartphones today. This is ok as you're not oogling photo albums or playing computer games, nobody needs 500 pixels per inch and perfect tones to follow maps or read your average speed. The supplied maps from Garmin or uploaded versions from OpenStreetMap are clear and easy to follow.
So far, so good… but now comes the first of several problems. That display is fine to look at but it's a touch screen too so you use it for a lot of the operations too and it's here that the issues begin. A touch screen seems modern and dynamic in theory but the practice is not so perfect. The screen size is an issue, it's roughly one third of the size of a credit card which is tidy for visuals during a ride but crowded for manual tapping and swiping. The touch needs to be linear and deliberate to succeed, you can't just drag a finger across the screen, instead you have to pick your start and finish points and press firmly during the manoeuvre. Also the reaction time isn't always instant so you may tap the screen, think nothing has happened, tap again only for the device to belatedly register two taps. Sometimes it might not register either touches. This isn't a user issue where an oafish owner swiping like a caveman needs to make make genteel gestures, instead it's just plain unresponsive. Even if you're as dexterous as a surgeon or a pianist you'll still find it awkward at times too. This video found online shows the kind of frustrations involved, jump to 1m20s to see the problems for yourself:
It's claimed you can use gloves with the screen but the experience varies. Light De Feet ones work, thick Castelli Estremo gloves don't. Talking of winter use the inbuilt thermometer seems is always wrong. The device reads to one decimal place while it's consistently off by three to four degrees Celsius. Thanks to the ability to tweak the display once you've established it's no better than your fingers or nose at guessing the ambient temperature you can deselect it but it's another flaw. Switch climates, or just ride indoors and a drop of sweat landing on the screen can confuse the device into thinking you're trying to operate the screen. Luckily it seems all right in the rain.
Battery life is the next gripe. "Up to 15 hours GPS training mode" says Garmin's website but chances are you'll be charging it at much more regular intervals. You can pair the Garmin to your phone via Bluetooth to get notifications and more but this will use more juice. Even with wifi and Bluetooth off if you leave it on the maps screen during a ride it'll run out of battery within five hours, or at least this unit did. Bikeradar's review fared worse with "just a little over four hours". You can make it last longer by avoiding the mapping screen and just having, say, your speed and distance; presumably the plain black and white display is economical and there's no need for processing power to constantly redraw the map. This means the device is good for eight or nine hours and helpfully turn instructions flash so you can navigate and if you need more visual clues you can swipe to the map and check There's even a special battery-saving mode that will shut down the display totally only to wake-up just when you reach a turn to give you directions. Handy but this is a GPS navigation device and following a course ought to be a primary function. If you're out for an all day ride you want to enjoy the moment rather than worry about the device bonking.
A further problem with this device is it's crash prone. Since buying the device last summer and updating the firmware several times the unit has had more bugs than a backpacker's hostel. For example it goes wrong when following a course, not always but it's happened several times. First was during a long ride on unfamiliar roads in a foreign country and having uploaded a route for navigation, it worked fine for three hours until in the proverbial middle of nowhere where it duly went wrong and began to crash like a Buster Keaton slapstick: no sooner was it reset, told to follow the day's course and the start button pressed did the screen go blank again. And again. This unreliability isn't encouraging, a navigational device that gives up just when you need it is frustrating but a reminder that you should always try to keep the day's map in your mind in case the device wants to DNF during your ride.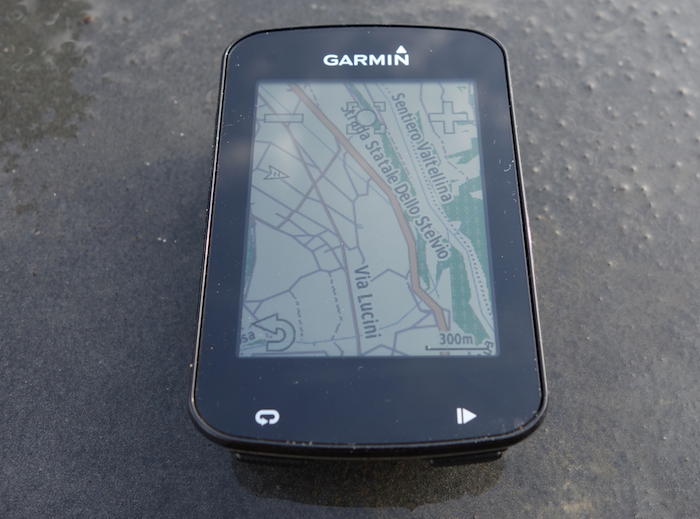 The Verdict


Two chainrings out of five. When it works it's a handy tool, the display clearly shows your route and your ride data and all in a compact device that looks the part as it fits snug on your bars or stem. It has a lot of features and Garmin has its own version of an app store called Connect IQ which lets you add even more widgets.
The device seemed to get "very good" reviews (here, here and elsewhere) but sometimes these same sites rate almost everything as exceptional which apart from being a literal impossibility suggests they're not discriminating enough. How can a device that runs out of battery after four hours when used for its primary task be praised? Firmware updates have tried to improve the touch screen experience but forums are filled with enough complaints to suggest the experiences recounted above are recurrent rather than the result of buying a lemon by chance. Kudos to Cycling Weekly who describe the touch screen as "rubbish".
For all the add-ons and esoteric extras it's the basics that let the device down. The screen is great to look at but clunky to interact with. Whereas you can operate any smartphone with ease today, using the Garmin 820 is like having one of those conversations in a foreign language where you talk slowly and worry you're being misunderstood even if the message eventually gets through. Battery life is another fundamental flaw, no biggie if you don't ride more than five hours at a time but if you wanted a navigation device for a day's touring or to recon a couple of Giro stages in a day then you're going to have to shepherd the device during the day just as you'd plan your food or pacing. If it's the latest model in Garmin's bike range it feels ancient, like you've unboxed an old Nokia phone. This should not be the case with a product that costs 400 Euros.