After looking at the wealthy World Tour team owners and sponsors last week, they're merely the people who spend their money building teams in order to take part in the races. So who owns the races? Here's a chance to look at the millionaires a and billionaires out to earn money from the sport. As ever the point isn't to gawk at wealth but to offer an introductory "follow the money" piece so you know who pulls the strings.
Wang Jianlin has leapt into the rankings because of his wealth and his role in the sport. He's the Chinese billionaire behind Wanda, a real estate and entertainment giant in China that's increasingly shopping abroad. "If they are willing to sell, I am willing to buy Paramount Studies" Wang told the World Economic Forum last week, a familiar phrase given concurrent sources say he tried to buy the Tour de France and Giro d'Italia only to get told they're not for sale. Wang started out as a Chinese border guard and went on to command a regiment before going into business and owning hundreds of shopping malls, hotels, cinemas and karaoke bars in China and now he's on a shopping spree around the world buying a real estate, plus a stake in Athletico Madrid football team which will please China's football-loving President Xi Jinping. Wanda's bought the Ironman triathlon business, the Velothon gran fondo race series from of Lagardère Sports which also includes several unloved pro races like the Hamburg Cyclassics or the Velothon Wales. Wanda's also bought Infront, a Swiss sports marketing agency with has a joint venture with another Swiss firm Ringier and InfrontRingier run the Tour de Suisse so this large race falls under Jianlin's umbrella too. Plenty to chew on but there's more.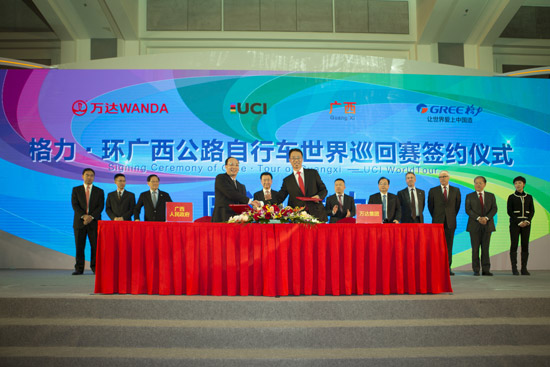 Now he's launching his own event with the Tour of Guangxi that's been fast-tracked onto the UCI calendar by a compliant UCI who coincidentally have signed a multi-million dollar deal with Wanda too. As such Wang has taken up a prime spot in the sport. Unlike other billionaires in and around the sport he's not a cycling fan. He recently told the World Economic Forum that cycling and football offer networking and access, that they "can grant you access to other global business that would otherwise be very difficult to get into" as Spanish newspaper AS put it. A means to an end? Yes but wasn't the Tour de France created just to sell newspapers?
Christian Prudhomme is often seen as the Tour de France boss and he does rule the race but he's still a salaryman and real power in the sport resides with the Tour's owners, not its employees. ASO, a subsidiary of the Amaury Groupe, is a family business owned and controlled by Marie-Odile Amaury who took over the reins when her husband died in 2006, one of only two women in this series. Readers probably know ASO owns the Tour de France and other races in France but it also runs other sports events like the Paris-Dakar rally and they've taken 100% control of the Vuelta a España and are about to relaunch the Tour of Germany next year. ASO has been a small cog in the wheel of a larger media empire but the family sold Le Parisien newspaper meaning the Tour de France and sports events have become more central to the business while L'Equipe's future is uncertain, an irony that the Tour de France might outlive the newspaper that created it. The Amaury family own the firm 100% after buying out minority shareholders a few years ago and the quietly-spoken Jean-Etienne Amaury (pictured) is being groomed for the top job. He trained as a software engineer and spent several years working discreetly on Bloomberg's IT systems in London before leaving to do an MBA at Stanford University and then assume a role in the family business.
If the Amaury family became rich and famous after acquiring newspaper titles and their subsidiary bike races, across the Alps the Bonacossa family are a wealthy clan of aristocrats who had money long before buying into La Gazzetta Dello Sport during the 1920s alongside other activities in politics and sport. They remain the owners today of the pink paged paper even if they "rent" the paper out in complicated, and apparently private, pact that includes running the Giro d'Italia but not outright ownership. RCS had been the firm running the Gazzetta and the Giro, as well as a larger publishing business with titles like Marca in Spain but last year the group was taken over by Cairo Communications, owned and controlled by media mogul Urbano Cairo. He began work as a protégé of Silvio Berlusconi and ended up with a criminal conviction for fraud but the slate was wiped clean and he launched himself into media and advertising and set about buying TV Channel La7,  duelling with Sky for sports rights and buying football club FC Torino. Now he owns the Giro and we can expect a shake-up of the race, he's already talked about taking it away from state broadcaster RAI (to La7 of course) but this may just have been a negotiating ruse to bid up the rights.
Wouter Vandenhaute must be a busy man right now because he owns more and more of the spring classics. He's journalist and TV producer and after making his money and branched out into other activities. He's got fingers in many pies, literally with ownership of restaurants but also Humo magazine and he recently stepped down from managing SBS television. For cyclists, he owns 50% of Flanders Classics, the business that owns the Tour of Flanders and other Flemish fixtures. The other half is owned by Corelio, owner of, among other things, the Het Nieuwsblad newspaper. Vandenhaute's been snapping up races to package them under the Flanders Classic label – Dwars Door Vlaanderen of late – and put them on the World Tour. This concentration has allowed extra sponsor sales and other cross-selling tactics like hospitality. If you're still smarting about the Tour of Flanders moving away from the Kapelmuur to the Oude Kwaremont and Paterberg in order to install VIP zones then here's the man to blame but he's bringing business acumen to the sport and while traditionalists rage De Ronde has grown into a huge event in Belgium and beyond.
There are others in the sport who are wealthy and have an active role. James Murdoch, son and heir-apparent of Rupert, is still a keen cycling fan and CEO of media company 21st Century Fox. Last year he rolled up his sleeves with Sky, the UK, Irish, German and Italian television arm of the Murdoch family empire by taking up the role of Chairman at the firm and then launching a takeover bid for the 60% of the shares he and 21st Century Fox don't own. Murdoch is an active supporter of the Velon venture, his interest in the media and Sky's transformation of the British football premiership make this natural. But how long does he want to stay in cycling, British audiences must almost expect a Sky win in the Tour de France where to triumph is to repeat rather than to wow. But as hobbies go it's cheap as Team Sky's entire budget represents 1% of Sky's annual marketing spend.
Michael Drapac gets his name on a World Tour jersey. He's made a fortune over the years as a property developer in Australia and the West Coast of the US and after sponsoring the eponymous Drapac Pro Cycling team has folded this into the Cannondale team to form Cannondale-Drapac. Another wealthy man with so much money he spends it on his hobby? Yes and no as the team is much more than a glorified version of Velogames. He's long had a keen interest in rider wellbeing with a focus on planning for retirement with riders encouraged to study and to be open about retirement rather than hoping that day is so far away it's not worth contemplating.
Others…
Mike Sinyard sponsors three World Tour teams (Bora-Hansgrohe and Quick Step) via his Specialized firm but doesn't venture many public opinions on the sport; John Burke at Trek took over the business from his father and the US firm as seen sales soar making him wealthy not in the league of those above; it's taken Segafredo to help find the budget to recruit more riders while Burke has more views on politics than bicycling. King Liu has been the boss at Giant after founding the company and turning it into the world's largest manufacturer of bikes but again it's a marketing operation without much power or politics and he's handing over the reigns to his niece Bonny Tu. Doug Ellis has been a generous backer of Slipstream but his wealth doesn't put him in the same bracket as others above. Bahamian fund manager Mark Holowesko also sponsors the Cannondale team and also George Hincapie's team, Citadel-Holowesko but he's not active in directing the team; still it seems he's helped introduce Citadel to cycling, it is a giant hedge fund run by Ken Griffin who the internet says is worth $25 billion and worth watching to see if Griffin gets hooked. There are more sponsors of course of other teams but they don't take such an active role in their teams yet alone the wider sport.
Conclusion
Cycling's long been a poor sport, it's never attracted the money seem in football, yachting or horse racing but this is changing. The arrival of Wang Jianlin is the big story, he's effectively taken over the Tour de Suisse and is attempting to put the sport on the map in China again with a new World Tour race and a deal with the UCI and his wealth and reach makes the Amaurys look parochial.
Yet for all the billionaire oligarchs and tycoons surely the Amaury's are the richest people in pro cycling? Not on account of money or "net worth" but because they own the sport's prime asset: the Tour de France. Even the riches of Wang aren't enough to let him buy this race.